MicroLED costs to limit adoption through 2026, DSCC says
By Mike Wheatley
- 12 November 2020
Worldwide revenue from MicroLED TVs is set to grow quite explosively, rising from $25 million this year to around $228 million by 2026, according to a report from Display Supply Chain Consulting.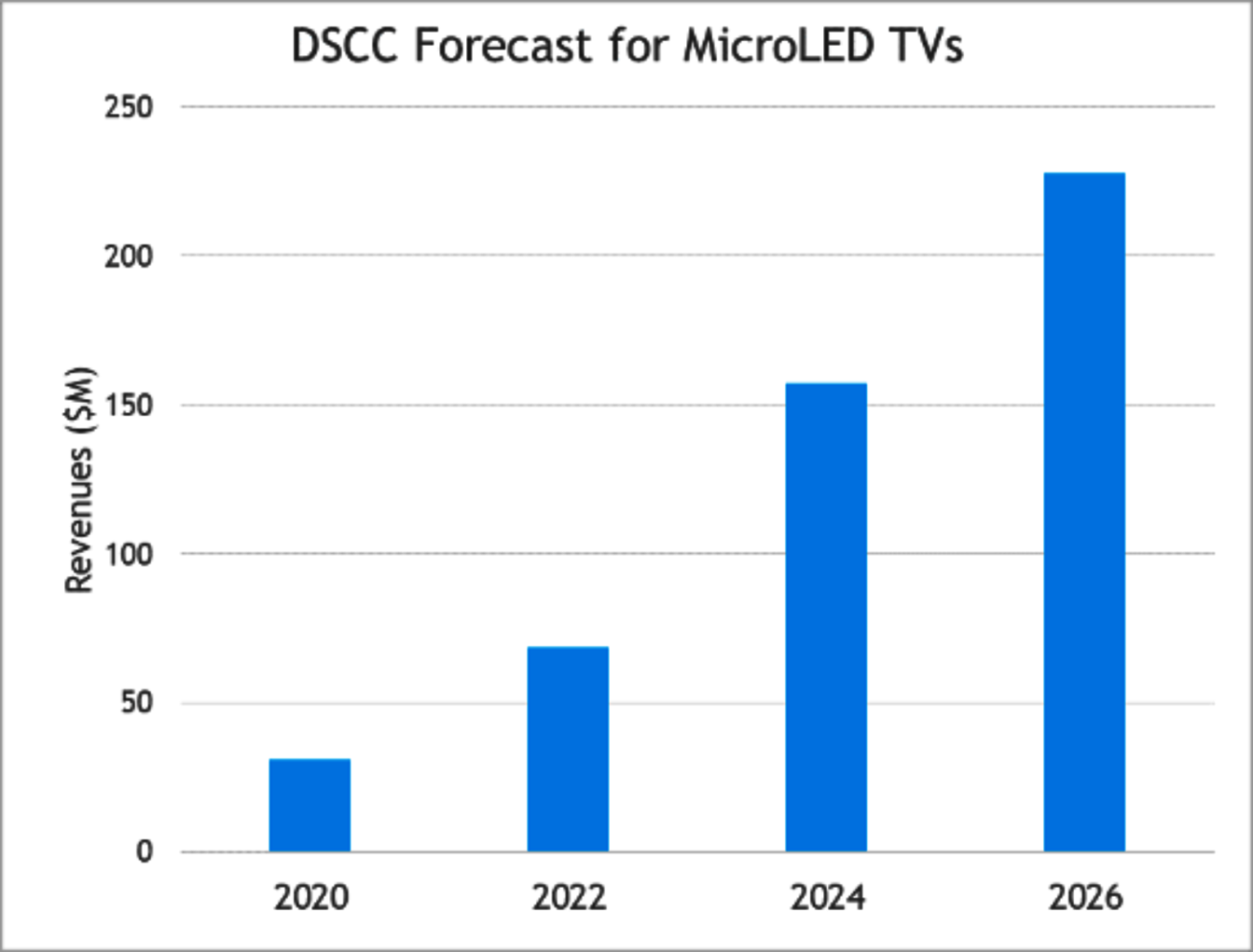 But although that sounds pretty impressive, it still represents but a small fraction of overall TV sales, and so MicroLED is likely to remain a niche product for some time to come, DSCC said.
The reason? The incredibly expensive price tag that comes with any MicroLED TV.
MicroLED is a new display technology that's somewhat similar to OLED as it has self-emissive properties. But rather than using organic light emitting diodes, it's made up of extremely tiny, non-organic LEDs that can potentially be much brighter than OLEDs, while providing better control over dimming zones. MicroLED has a second advantage due to its modular, which makes it possible to build displays in almost any shape or size one could conceive of. This means MicroLED displays can support any resolution, even beyond 8K, as the pixel density can be maintained no matter how large the screen is. They can also be made to any kind of aspect ratio.
With so many advantages, DSCC says consumers remain enthusiastic about MicroLED technology, but it's still unlikely that many will get to own such a TV in the coming years.
Sony was the first company to demonstrate a MicroLED TV way back in 2012 during that year's Consumer Electronics Show, but the product was never released. However, the company did eventually announce a 16 x 9 feet Crystal LED display for commercial customers that was launched in 2019. The only problem is the cost – it was priced at a whopping $877,000 (or £704,000), putting far beyond the reach of the average guy on the street.
Samsung Electronics followed up with its own take on MicroLED, called "the Wall" at CES 2019. The Wall is also a modular MicroLED TV that comes with pixel pitch options of 1.68mm, 1.26mm and 0.84mm, DSCC said.
DSCC's report notes that Samsung's 0.84mm module went on sale last year, but said a 146-inch display with 4K resolution would need 16 such modules, which translates to a price of more than $300,000. Samsung has since launched additional MicroLED display sizes, including 75-inch, 88-inch, 93-inch, 110-inch and 150-inch models, though these have a smaller pixel pitch and are manufactured using a different process, DSCC said. Even so, the cost remains very excessive compared with other display technologies such as LCD, OLED, Mini-LED and Quantum Dot-OLED.
LG Electronics also recently launched its first ever MicroLED display, and that model is also very expensive.
Indeed, it's looking likely that most TV manufacturers are going to adopt Mini-LED, which is seen as a kind of bridge technology between LCD and MicroLED that offers better contrast, next year. Samsung Display meanwhile is said to be focused on mass producing QD-OLED panels and could sell them to brands including Sony, Panasonic and TCL next year.
DSCC said its cost analysis show that MicroLED will struggle to compete with those new technologies on price for some time to come. As such, MicroLED is expected to remain a niche display technology and will not become mainstream for some time to come, it predicts.
As to what Samsung Electronics makes of this, well that's anyone's guess. Samsung's TV manufacturing arm has notably signalled its disinterest in Samsung Display's QD-OLED panels and Korean sources say that it apparently remains focused on bringing MicroLED to mass market, regardless of all the naysayers.
HDTVTest's chief reviewer Vincent Teoh also believes MicroLED will remain a niche product for some time to come, and explains why in this video: