After teasing fans with its flagship JZ2000 OLED TV earlier this year, Panasonic has announced its full 2021 TV lineup, comprising no less than four OLED models and three LED-LCD TVs.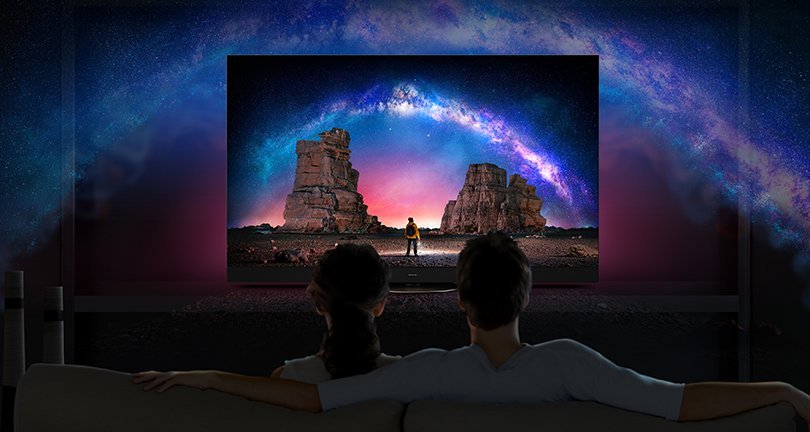 Probably the biggest takeaway from its announcement is that this year's step down model, the Panasonic JZ1500, which sits just below the flagship JZ2000 (pictured, above), will also get a much brighter display in the shape of the company's Master HDR OLED Professional Edition panel. In previous years that panel was reserved exclusively for the company's top line OLED sets, but now the company is making it available to those who don't want the additional sonic oomph that the Panasonic JZ200 provides.
In a video analysis of Panasonic's announcement, HDTVTest reviewer Vincent Teoh said this decision was the result of feedback from customers that already have expensive sound systems set up. There is apparently a lot of people in this position who would like to enjoy the very best OLED experience Panasonic provides but they don't see any sense in spending extra cash for the built-in soundbar with up-firing speakers that comes with the company's flagship model, as they wouldn't need those features.
With both the JZ2000 and JZ1500 offering Panasonic's Master HDR OLED Professional Edition panel, it means the Japanese firm is the only TV brand that will offer two different models that feature a much brighter display. That's unlike LG Electronics and Sony, which are also selling high-end OLED TVs with a brighter panel this year but only offering one choice, the LG G1 and the Sony A90J, respectively. The hope is that the Panasonic JZ1500 will be somewhat more affordable than LG's and Sony's brighter OLED sets, though we'll have to wait and see as the company has not announced pricing details yet.
Also for the first time, Panasonic revealed it will offer a 48-inch OLED Model in its JZ1500, JZ1000 and JZ980 TVs. This, Teoh said, is a nod to the huge market for video games players who desire the most advanced games features on a compact OLED TV that will not take up so much space in their bedrooms.
With that in mind, all four Panasonic OLED TVs this year come with two HDMI 2.1 ports that enable a new "Game Mode Extreme" setting that makes use of an input lag that Panasonic says is "among the very lowest in the industry". Panasonic claims its OLED TVs have a low latency of just 14.4ms, and said a promised update later this year will enable essential gaming features such as 4K at 120 frames per second, Variable Refresh Rate, and AMD FreeSync Premium, the company said.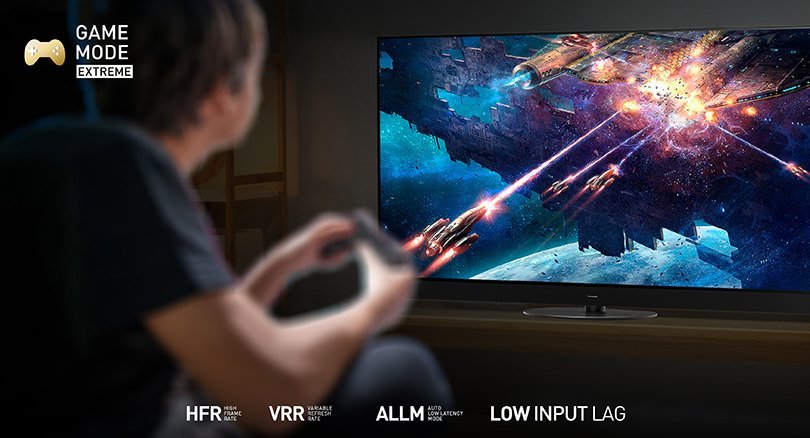 "At the time of shipping, these ports will support 4K input, but, in the case of 4K High Frame Rate and 4K@120Hz VRR, will only display half the vertical resolution," Panasonic said in a statement to FlatPanels HD. "During 2021 we issue a firmware update which will restore full support for 4K High Frame Rate. In the case of 4K@120Hz VRR we will make a further announcement in due time. Please note that resolutions other than 4K@120Hz VRR, such as Full HD and 4K@60Hz VRR, will be supported from time of shipping without issue."
What there won't be is a 48-inch version of the Panasonic JZ2000, most likely because the company is unable to shrink its soundbar to fit that size. Instead, the Panasonic JZ2000 will be available in 55-inch and 65-inch sizes, while the other three will start at 48-inches and max out at 65-inches. Notably though, the 48-inch JZ1500 will not feature the company's Master HDR OLED Professional Edition panel.
All four of Panasonic's OLED TVs this year benefit from the colour tuning skills of post-production specialist Stefan Sonnenfeld, who has worked with Panasonic for a number of years already. In addition, the new TVs will each run Panasonic's newest HCX Pro AI Processor, which uses AI to analyse the content displayed on the screen and make optimal adjustments to the picture and sound. Users can tweak the settings if they prefer, or leave the TV in Auto AI mode and let it calibrate everything automatically. Panasonic said the new mode will detect the kind of content being played, such as films, TV shows, music, news or sports, and deliver the optimal picture and sound for it.
Other features include an updated version of Panasonic's My Home Screen platform, introducing a new "My Scenery" mode that plays a selection of relaxing images and videos when the TV isn't in use, and a "Dual Bluetooth connection" that makes it possible for the TV to send sound wirelessly to two Bluetooth devices at once.
The Panasonic OLED TVs will also get support for the AV1 video codec for the first time. AV1 is a royalty-free codec that's growing in popularity, supported by the likes of Netflix, Facebook, Google, IBM, Intel and Microsoft, and is said by many to be more efficient than the older HEVC spec.
There will be a new remote control for the OLED TVs too, featuring a more ergonomic, rounded edge that should make it more comfortable to hold, the company said.
Panasonic's TVs also have some of the widest HDR support among all brands available, with Dolby Vision, HDR10, HDR10+ and HLG all included, as well as the new room adaptive version of HDR10+, fittingly called HDR10+ Adaptive, and Dolby Vision IQ. The last two both use sensors to take into account the ambient light within the room and adjust the picture accordingly.
New LED Models
For those who can't afford or don't want the step up to OLED, Panasonic has a selection of new regular LED TVs for 2021, including the flagship Panasonic JX940 TV (pictured, below) that comes in a choice of 49-inches, 55-inches, 65-inches and 75-inches. The next step down is the Panasonic JX850, available in 40-inches, 50-inches, 58-inches and 65-inches, followed by the Panasonic JX800, in a variety of 40-inch, 50-inch, 58-inch and 65-inch flavours.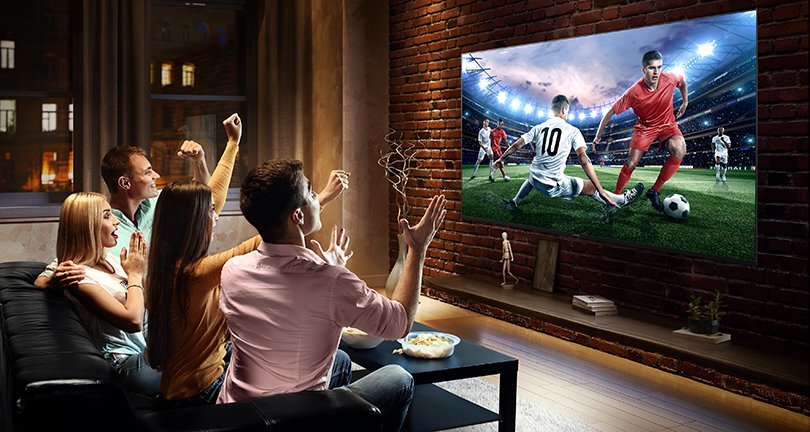 The good news is that while these TVs might lack the OLED display smarts, they have pretty much everything else those models offer. Panasonic said the JX940 and JX850 run the same HCX Pro AI processor onboard and they also have HDMI 2.1 ports that support the gamut of high frame rate, VRR and AMD FreeSync gaming features. The Panasonic JX80 meanwhile, comes with the company's older HCX processor found on last year's high-end TVs, and runs the Android TV platform instead of My Home Screen.
Of note is that none of Panasonic's LED models support the newer Mini-LED technology that has been embraced by other brands such as Samsung Electronics, LG and TCL for example. Mini-LED uses thousands of miniature LEDs to create more local dimming zones that supposedly help to improve things such as contrast, but Panasonic has indicated that it's not a big believer in the technology, saying it still doesn't come close to matching the picture seen on OLED TVs, hence it has opted not to embrace that technology.
Instead, Panasonic has focused on other aspects, such as its Intelligent Clear Motion tech that helps to smooth out dynamic actions for better, flicker-free viewing, available on all three LED models. And it says one advantage of its LCD displays is they enable much wider viewing angles that make them ideal screens for people that want to have big gatherings of friends around to watch movies and play games, but only once they've been vaccinated of course!
The Panasonic JX940 and JX850 both support Dolby Atmos and all three models come with a pedestal stand that can be raised to accommodate a soundbar, if desired.
Panasonic is yet to announce pricing or availability for its OLED or LED TVs this year, but we're expecting them to go on sale by the summer.