Samsung teases 76-inch MicoLED TV and says bigger models will ship this month
By Mike Wheatley
- 3 March 2021
Samsung Electronics has said that it will start delivering its much-vaunted Micro LED TV to consumers by the end of the month. The company, which first announced its consumer-grade MicroLED models in December, also revealed that it's planning to launch a smaller, 76-inch version of the TV as part of its "future roadmap".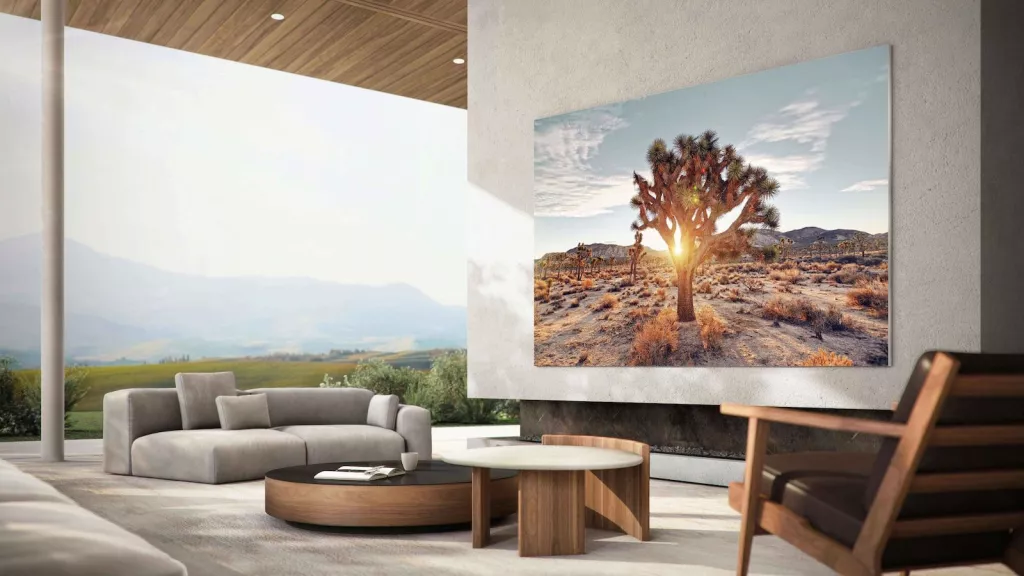 The announcement means Samsung will, eventually, offer a choice of four different models for interested consumers. The company previously announced a 110-inch model at the high end, plus 99-inch and 88-inch versions. The first two will start shipping globally by the end of March, while the 88-inch screen is due to arrive in autumn, the company said.
For the unfamiliar, we need to point out that MicroLED is a very big deal as it's a next-generation display technology that promises to be superior to anything seen in people's living rooms so far. MicroLED is a self-emissive technology is said to take all the best bits of OLED but without its shortcomings. The self-emissive properties mean that each pixel can switch itself off, just like OLED, to be completely black, while those next to it can display incredibly vibrant colours to create stunning contrast that simply isn't possible on a regular LCD TV, for example.
MicroLED pixels are actually brighter than their OLED equivalents though, so it means the TVs should be able to deliver more spectacular contrast and better pictures overall. Samsung said its MICRO LED TVs have a peak brightness of 2,000 nits, which is around double that of OLED. In addition, MicroLED pixels are said to be inorganic, which means they won't degrade over time and suffer from issues such as image retention.
Samsung said the consumer MICRO LED models will be pre-assembled as flatscreen TVs, which is different from its existing commercial MicroLED displays that are delivered as smaller modules and can be assembled in different configurations.
The Samsung MICRO LED models also run the Tizen operating system, feature multiple HDMI inputs and an integrated sound system – in other words they are true consumer TVs, as opposed to the commercial displays that lack many of those features.
One cool feature of the MICRO LED TVs is that they're able to display content from up to four sources at once by splitting the screen into different segments. So if you invest in the 110-inch model, you'd be able split the TV into four 55-inch displays and watch different movies at the same time.
Samsung still hasn't revealed the price of its MICRO LED TVs, but the word on the street is that they're going to be incredibly expensive. Reports in South Korea say the most expensive 110-inch model will be priced at around 170 million won when it goes on sale there, which translates to around £110,000.
Of course, Samsung's announcement that it will ship a smaller 76-inch MICRO LED TV later on down the line gives us hope that it will be able to reduce that price somewhat, as do reports from South Korea that it is working on implementing new production techniques that aim to reduce the price of manufacturing them. But it's likely going to be some time before MicroLED becomes a mainstream, affordable technology that everyone can enjoy.
For the immediate future then, enthusaists will have to make do with Samsung's new Neo QLED TVs that feature a new display technology called Mini-LED. Mini-LED is really just an advanced LCD technology that uses lots of miniaturised pixels to squeeze more of them onto the display, resulting in more local dimming zones and hence, a better picture.
Samsung still hasn't announced when it will start shipping its Neo QLED TVs, but it did provide some tidbits of information, highlighting the improved gaming experience they will provide thanks to features such as 4K resolution, 120 frames per second smoothness and an ultra-low response time of just 5.8ms. It also announced a Gamebar feature in the NeoQLED TVs that brings up various in-game information and enables users to switch to the new Super Ultrawide Gameview mode that uses a wider aspect ratio. Lots to look forward to then.
Samsung's Neo QLED TVs will include the 8K QN800A (pictured above) and QN900A, which will be available in 65-inches, 75-inches and 85-inches, and the 4K QN94A, QN90A and QN85A models.
Besides them, Samsung also announced a new 75-inch version of its outdoor TV, The Terrace (below). Part of Samsung's Lifestyle range of TVs, The Terrace is a QLED TV that comes with weather-resistant features and extra-high brightness so that it can be enjoyed outside in the pouring rain while viewers are simultaneously basking in glorious sunshine. Ideal for everything the U.K.'s notorious weather can throw at it, in other words.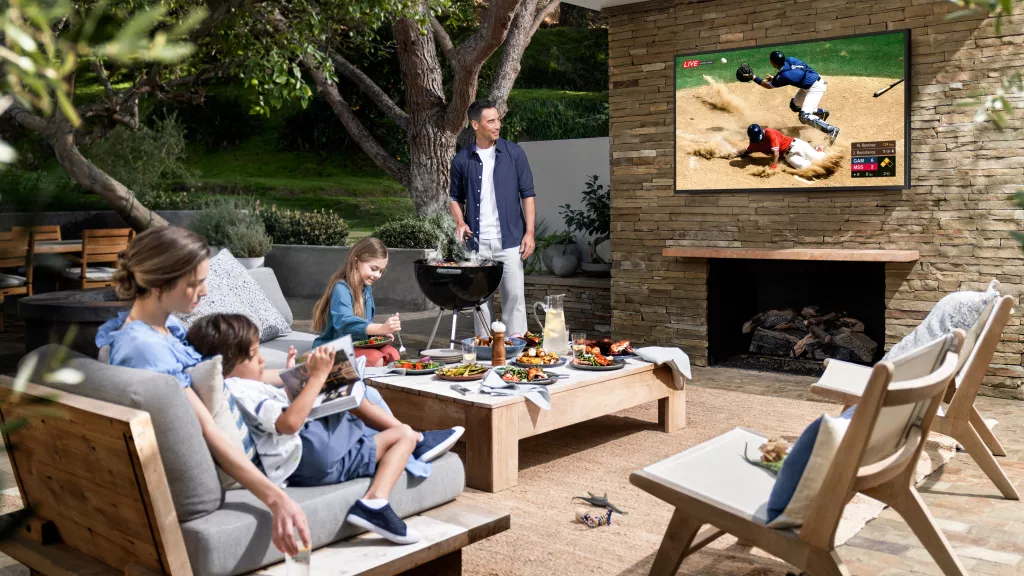 Perhaps the most notable feature of the new Terrace is its peak brightness of 4,000 nits, plus the addition of a special film on the screen that helps to reduce glare. Samsung hasn't revealed pricing or availability just yet.
Finally, Samsung also lifted the lid on its new soundbars for 2021. They include the new flagship offering the Q950A, which is an 11.1.4 channel soundbar with support for the immersive Dolby Atmos and DTS:X sound formats and enhanced with a new Bass Boost feature. Samsung said the Q950A, which replaces last year's Q950T, will work with voice assistants such as Amazon Alexa and Bixby. It also has an interesting new "Tap Sound" feature that makes it possible to play music from smartphones and the like simply by tapping that device against the soundbar.
Samsung also announced the new Q900A, Q800A, Q700A and Q600A soundbars to replace last year's full lineup. Release dates and pricing for those are yet to be confirmed.