Samsung to Ship its Enormous 292-Inch 'The Wall Luxury" MicroLED TV in July
By Mike Wheatley
- 13 June 2019
Samsung has just announced that one of the biggest televisions its ever built will go on sale next month. It's called "The Wall Luxury", and is an update to its original "The Wall" TV that comes with a new user interface and customisable décor frame that ensures the enhanced display will look simply magnificent in any living space.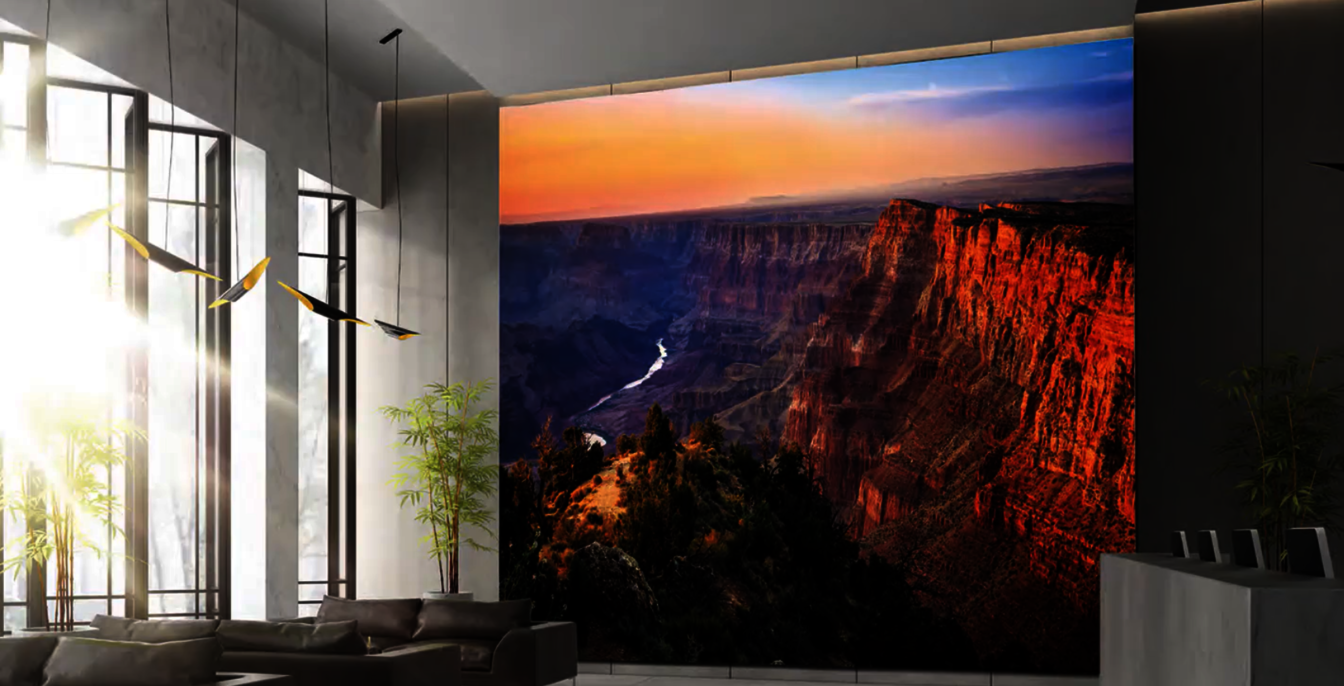 Even better, the ridiculously large 292-inch, 8K resolution The Wall Luxury is based on Samsung's new MicroLED display technology, which many say is the most exciting innovation since the emergence of OLED. MicroLED displays are made up of millions of inorganic and microscopic red, green and blue LEDs that can also emit their own light, in the same way that OLED screens can. But Samsung says that MicroLED's inorganic element – OLED uses organic emissive elements – can also help to eliminate burn-in issues and help the TV to last longer. It reckons the self-emitting diodes used in its MicroLED displays are good for up to 100,000 hours of use, for example.
Samsung showed off a precursor to the Wall Luxury for the first time at the Consumer Electronics Show in Las Vegas in January. That model, which is 'only' 219 inches, dazzled spectators at the event with its dizzying colours and stunning brightness.
Samsung said it was able to scale up The Wall Luxury to 292-inches due to the expandable nature of MicroLED. This 'expandability' is one of the  "four factors of freedom", Samsung spoke about at CES. MicroLED displays are said to be "modular" in nature, which means it's possible to build them in any shape or size. The displays also have "freedom of resolution" because the pixel density can be maintained no matter how large the screen is. MicroLED displays also benefit from "freedom of ratio" as they can deliver any kind of aspect ratio. Finally, they also have "freedom of bezel" due to their modular design, which means that like The Wall Luxury, there's no need for a bezel at all.
At its official launch ceremony this week, Samsung offered up a few more details about the enormous TV, saying it has a screen depth of just 30 millimetres, and will feature a so-called "ambient mode" that displays a range of curated paintings, photographs, videos and other artworks with digital frames when not in use. Samsung added that The Wall Luxury delivers up to 2,000 nits of peak brightness at 120Hz, enabling it to deliver stunning images even in the most sunlit rooms. The Wall Luxury also comes sports a brand new processor called the Quantum Processor Flex that uses artificial intelligence to optimize the source video regardless of its resolution, scaling the images to whatever display size the user requires. The full specs are available here.
Samsung hasn't yet said how much The Wall Luxury, or the smaller 75-inch and 2019-inch versions it's planning to launch, will cost. But it's safe to assume they'll all be very expensive when they hit the shops this July.