Samsung Announces Massive 219-Inch MicroLED TV AT CES 2019
By Mike Wheatley
- 7 January 2019
This year's Consumer Electronics Show is all about MicroLED TV displays as far as Samsung is concerned. The South Korean firm held a special event on Sunday evening where it unveiled two new MicroLED TVs, including a smaller 75-inch model and a gargantuan 219-inch version.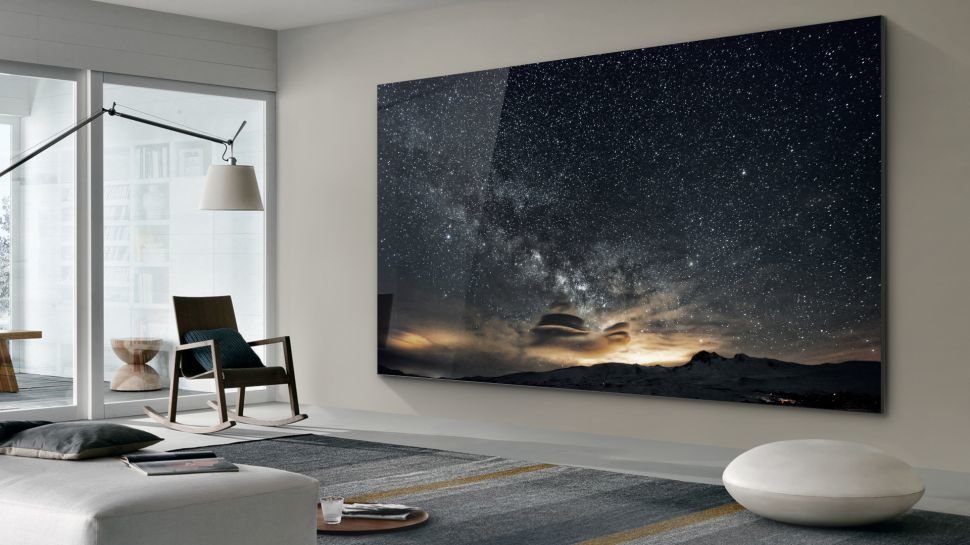 Samsung says the 'smaller' of the two will be known as "The Window", while the monster-sized screen is the latest iteration of "The Wall".
Samsung's original wall TV was itself a fairly hefty 146-inch flatscreen, and it made a huge impact at last year's CES for its near-perfect black levels that are similar to OLED and its high contrast.
MicroLED is one of the most exciting new TV display technologies in years. The displays are made up of millions of inorganic and microscopic red, green and blue LEDs that can also emit their own light, in the same way that OLED screens can. But Samsung says that MicroLED's inorganic element – OLED uses organic emissive elements – can also help to eliminate burn-in issues and help the TV to last longer.
The only real disappointment with the new TVs might be the resolution. Samsung said the 75-inch version will be available in 4K, while the 219-incher will be "something above" 4K, without saying exactly what. Given that MicroLED is still a fairly nascent technology that's maybe not such a surprise. But then again, with some of the 8K TVs we've been hearing about recently, it may still be a slight disappointment for some.
Samsung did try to address concerns over the resolution in its "four factors of freedom", which it argues make MicroLED a superior choice compared to other technologies. These include the fact that MicroLED is "modular", which means screens can easily be made into almost any kind of shape or size. MicroLED also enables "freedom of resolution", Samsung said. That's because MicroLED's modular nature means that the pixel density can be maintained no matter how large the screen is. So MicroLED TVs could in theory be built up to 10K resolution or even higher, though clearly not just yet.
The other two factors that give MicroLED an advantage include freedom of ratio – the MicroLED TVs can offer just about any aspect ratio you'd like. The TVs also have "freedom of bezel" thanks to their modular design, which means they could in fact be made completely "bezel-free" if the customer desired it.
Samsung hasn't mentioned any official release date for either of the MicroLED TVs at this point, so we can only speculate when it might be possible to get your hands on one at this point. However, the one thing that does appear certain is the largest of the two display will be expensive, with last year's 146-inch model being estimated to cost around $100,000 (around £78,000), although Samsung never did officially disclose the price.