Samsung Registers "The Window" Trademark for New Television
By Mike Wheatley
- 1 November 2018
Word on the street is that Samsung Electronics Co. Ltd. could be about to launch the world's first commercially available "transparent TV". The rumour follows reports that the Korean firm has applied to trademark the term "The Window" with both the US Patent and Trademark Office, and the European Union Intellectual Property Office.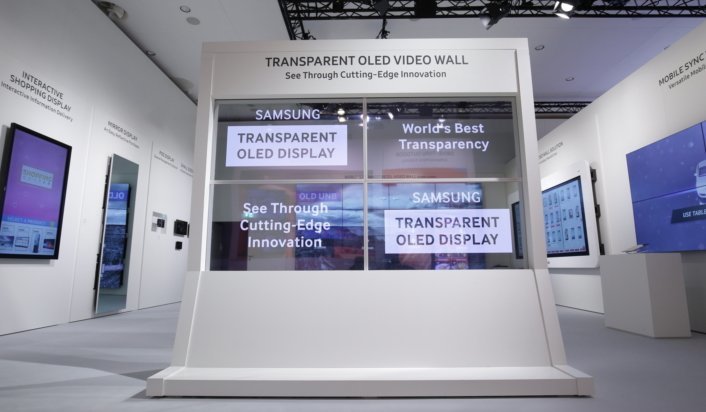 The trademark application filed with the USPTO falls in the "televisions" category, giving credence to claims that it will be used for a new TV model. Samsung has previously used such literal trademark names for earlier models, including its "The Frame" and "The Wall" televisions.
The Samsung Frame TV can be used to "frame" a piece of digital art on the screen, or alternatively display an image of the wall it's hung upon to create a kind of camouflaged look. Meanwhile "The Wall" TV was even more literal, essentially just a massive 146-inch modular MicroLED display that's large enough to cover almost the entire surface area of your average living room wall.
There's little information to go on in the trademark application itself, which basically just states it was filed by Samsung and that the status is currently pending. As such there's no guarantee the trademark will be granted, nor is it certain that the device really is a transparent TV.
Still, if we had to put money on it, Samsung's naming traditions suggest that a transparent TV of some kind is the safest bet. Rivals including LG and Panasonic have both demonstrated their own transparent TVs in the recent past. Meanwhile Samsung exhibited a prototype OLED display (pictured) using the technology as far back as 2016.
Transparent TVs can actually be made with both OLED and LCD technology, but the former is said to be far superior. That's because transparency with LCD require an extremely bright room or some kind of backlighting source in order to be able to work in the dark. OLED transparency meanwhile, is achievable regardless of the amount of light available.
The question remains who would actually want a transparent TV? For most consumers it wouldn't really serve much purpose, other than to act as an extremely pricey conversation starter. However, the technology could have some practical applications such as in advertising, where it could be used in public transport or shop windows, for example.
In any case, Samsung is keeping its cards close to its chest, so we'll probably have to wait until the next CES show in January 2019 at the earliest for any more news.

Source: Trademarkia via FlatpanelsHD.com