Samsung Display to make important MicroLED components that could lower costs
By Mike Wheatley
- 20 July 2021
Samsung Electronics will likely slap a megabucks price tag on its latest MicroLED display, the 2021 version of The Wall that was announced this week, but developments elsewhere suggest that cheaper, consumer versions could be on its roadmap.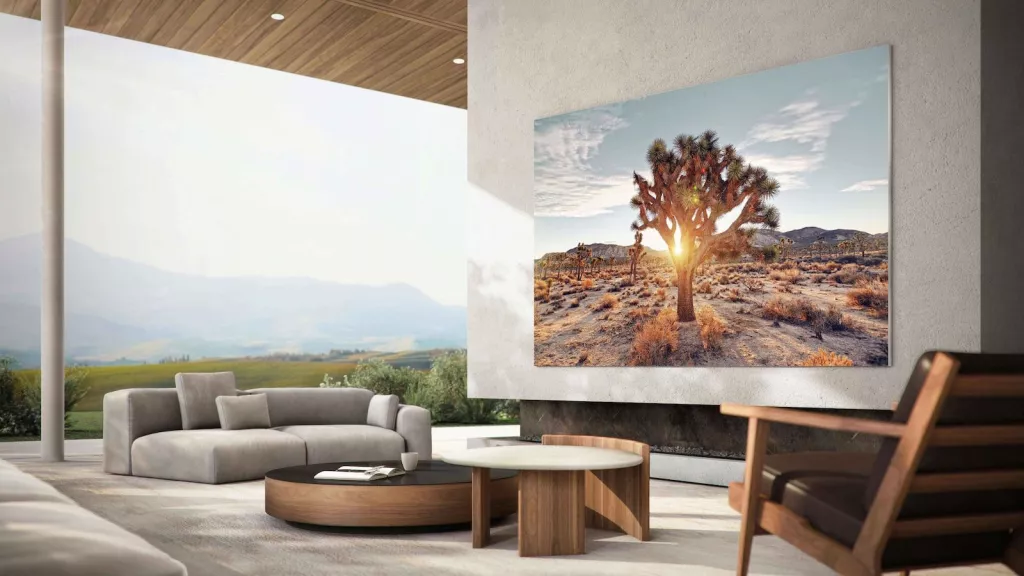 The latest news concerns Samsung Display, which actually makes the displays for its sibling Samsung Visual Display Business. A report this week in South Korean tech news site The Elec says Samsung Display has been approached by its parent firm to consider making a key component in MicroLED called "thin-film transistors" that could potentially reduce the cost of manufacturing the displays.
That's according to anonymous sources of course, who told The Elec that Samsung Display has now created a team to look into the project.
MicroLED is a very big deal as it promises to be superior to anything seen in people's living rooms so far. MicroLED is a self-emissive technology is said to take all the best bits of OLED but without its shortcomings. The self-emissive properties mean that each pixel can switch itself off, just like OLED, to be completely black, while those next to it can display incredibly vibrant colours to create stunning contrast that simply isn't possible on a regular LCD TV, for example.
MicroLED pixels are actually brighter than their OLED equivalents though, so it means the TVs should be able to deliver more spectacular contrast and better pictures overall. Samsung said its MICRO LED TVs have a peak brightness of 2,000 nits, which is around double that of OLED. In addition, MicroLED pixels are said to be inorganic, which means they won't degrade over time and suffer from issues such as image retention.
This week it was revealed Samsung Electronics has requested that Samsung Display devote resources to the design and manufacture of low-temperature polycrystalline TFTs for its MicroLED displays.
The TFTs act as switches that turn the individual MicroLED pixels on and off. It's a newer technology that replaces the printed circuit boards on its existing MicroLED TVs that exceed 100-inches in size.
What Samsung wants to do is use the LTPS TFTs in its smaller MicroLED panels. The smaller displays use even smaller LEDs that are packed tighter together than compared to the larger models. By using LTPS TFTs, Samsung will be able to build a "micro circuit design" that's better able to control the smaller LEDs, The Elec reported. Apparently, this is very difficult to do using conventional PCBs.
The Elec said Samsung display intends to produce the LTPS TFTs at its A1 line in Cheonan, South Korea.
Samsung Display has reportedly agreed to manufacture them as part of a deal that will see Samsung Electronics purchase and sell Quantum Dot-OLED TVs in return. QD-OLED is a new display that merges the quantum dots used in Samsung's QLED TVs with OLED. The technology is believed to be a kind of stop-gap improvement on QLED and OLED while Samsung works to make MicroLED more affordable.
Initially, it was believed that Samsung Electronics wasn't too keen on making any QD-OLED TVs under its own brand, and so Samsung Display had sought to sell them to other TV manufacturers such as Sony and Panasonic. However, The Elec states that Samsung Display hadn't yet secured enough customers in order to secure a return on its investment in QD-OLED. As a result, it couldn't afford to decline Samsung Electronics' offer to buy them in return for manufacturing the LTPS TFT components. It seems likely then that Samsung Electronics' first QD-OLED TVs could go on sale by next year.
As part of the deal, Samsung Display further agreed to keep manufacturing liquid crystal displays until next year, despite having initially planned to shutter LCD production in 2020.
Samsung Electronics has been working hard to lower the production costs of MicroLED in order to make the TVs affordable for consumers. In February it was reported to be working on implementing RGB (red, green and blue) one-chip transfer technology. The technique involves squeezing the R, G and B LEDs onto a single chip, as opposed to separate chips, therefore increasing the size of each chip. That would make it easier to transfer them to printed circuit boards, minimising production defects and improving yields. That would result in lower costs that can then be passed onto buyers.
For now though Samsung's MicroLED TVs remain prohibitively expensive. This year's 110-inch Samsung MicroLED TV, its first consumer model, went on sale in the U.S. for $156,000 (around £114,000) in April. As such, analysts say they expect the company to ship just 400 to 500 units worldwide this year, which would be less than 0.001% of the 49.27 million TVs it sold last year.