Google with Chromecast TV adds the Apple TV app
By Mike Wheatley
- 22 February 2021
The Apple TV app is now available on Google's latest Chromecast with Google TV device. The update means that Apple users will be able to access exclusive content from the Apple TV+ streaming service, as well as Apple's entire library of pay-as-you-go films and TV shows, available through the iTunes store.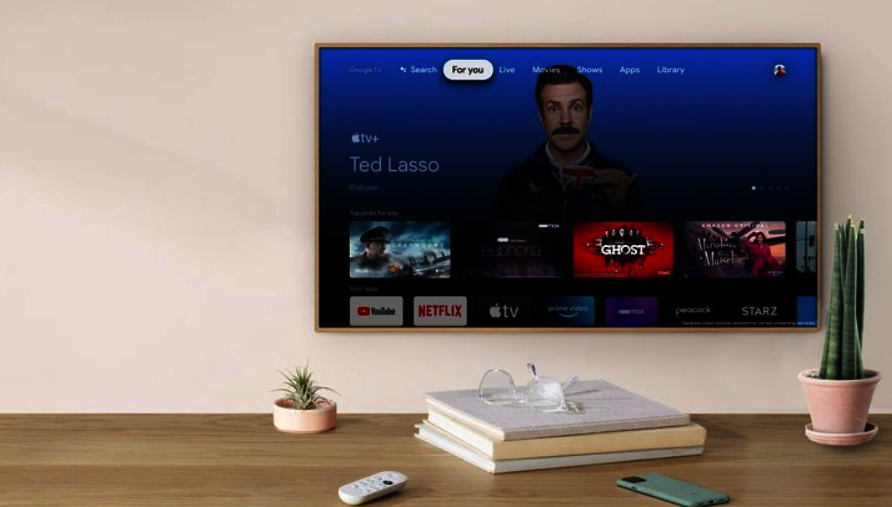 Apple's catalogue of movies and TV shows available for rent or purchase is probably the biggest deal here, as it's one of the most comprehensive such libraries available, especially when it comes to content that supports HDR, Dolby Vision and Dolby Atmos. What's more, all of those features will be supported when accessing Apple TV through the Chromecast with Google TV device.
The Apple TV+ offering is less exciting, because although it does offer some decent exclusive content, there isn't that much of it at present. But for those who are into series like Ted Lasso and For All Mankind, it may well be worthwhile.
One useful feature is that users will be able to purchase Apple's content directly through their Chromecast device. That makes the offering superior to the Apple TV app on the Amazon Fire TV device, where purchases must be made using a computer or smartphone first of all.
WhatHiFi said that Apple and Google still need to iron out a few problems with the app. For example, the Apple TV content isn't appearing in the Chromecast's personal recommendations list, and neither is it accessible through the universal search feature, so users are forced to search through the app directly. However, this functionality will likely start working soon, as FlatPanelsHD claims it is already available in the U.S.
Google said in a blog post that it's planning to make the Apple TV app available on other devices such as Android TVs and Google TVs, but it hasn't said when that might happen.
That the app is being made available on Chromecast with Google TV first suggests that the new device has become Google's testing ground, as it were, for most new TV-related features and functionality. The device was notably the first TV platform to sport the new Google TV interface, which is essentially an Android TV skin. Google has since promised to bring Google TV to other devices, and both Sony and TCL have said they will launch Google TVs later this year, but for now the Chromecast device remains the only platform that has it.
The addition of Apple TV follows an update earlier this month that enabled better 4K support for both TVs and AV receivers, in addition to improvements for Dolby Atmos and Dolby Digital Plus passthrough content.
Chromecast with Google TV already provides access to a strong supporting cast of content services, including Netflix, Amazon Prime Video and Disney+.