New "Chromecast with Google TV" dongle leaked on Reddit
By Mike Wheatley
- 28 September 2020
Google's upcoming Chromecast TV dongle will run the latest Android 10 TV platform, support 4K HDR and come with a redesigned user interface, according to a poster on Reddit who somehow obtained an early release of the device.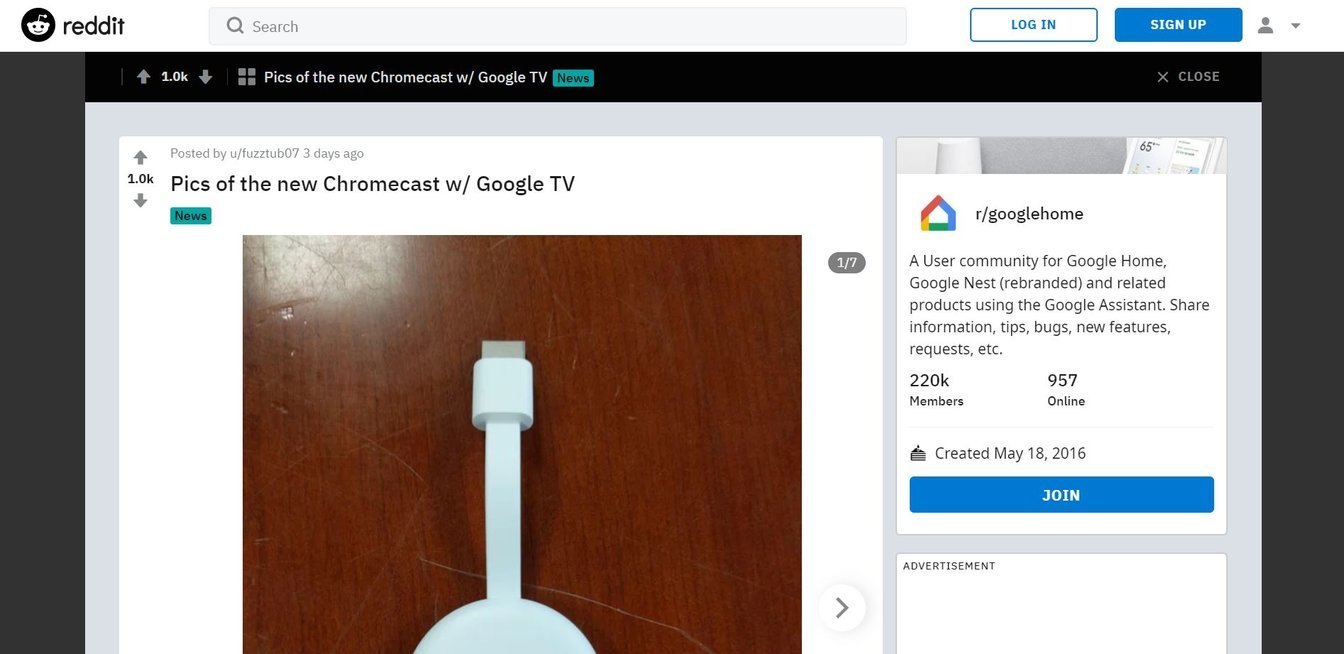 In a series of threads on Reddit, a user going by the name u/fuzztub07 showed off both the design of the new dongle and its interface, as well as a range of specs, and it's fair to say that it looks like a pretty decent package overall.
The "Chromecast with Google TV" dongle was first leaked in June, and it has apparently gone on sale early at Walmart's online store in the U.S., priced at just $50. That's cool, as a straight currency conversion prices it at just £39, which makes it far cheaper than the device it's meant to replace, the Chromecast Ultra that costs around £70 in most stores.
Also interesting is that the new dongle runs the "Google TV" platform. Google TV was actually the name of Google's first ever television platform that it co-developed with Intel, Sony, and Logitech. It was launched back in October 2010 with official devices made by Sony and Logitech. The platform integrated the Android operating system with the Google Chrome web browser to create an interactive television overlay on top of existing online video sites, but it's fair to say that it was a flop, as it was discontinued in 2014, the same year that Android TV was released.
The new name suggests that Android TV might be getting rebranded as Google TV, or else it could mean that it's being branched off of the main Android TV platform as something unique for Google devices. If it's the former, then we can expect a major user interface redesign in the not so distant future for lots of Sony, Philips, TCL and Nvidia Android TVs.
u/fuzztub07 said Google TV provides a full user interface that's unlike any previous Chromecast dongle. It provides access to apps such as Netflix, Disney+ and HBO Max, and tons of apps games from the Google Play TV store. However, the device itself only comes with 4.4GB of storage, so external storage will be a key requirement for some users. Sadly for gamers, it seems the Google Stadia video game streaming service is not compatible with the dongle at present, though support could well be added at a later date.
There's also a small remote control with directional pads and dedicated Netflix and YouTube buttons.
Google is expected to announce the device officials on September 30.