TCL debuts advanced OD Zero Mini-LED and 8K TVs at CES 2021
By Mike Wheatley
- 12 January 2021
TCL has taken to the online stage at the Consumer Electronics Show to announce its new 2021 TV range, with the headline being its new OD Zero-branded Mini-LED TVs. It also announced new 6-series 8K Roku TVs and three 85-inch XL Collection LCD TVs.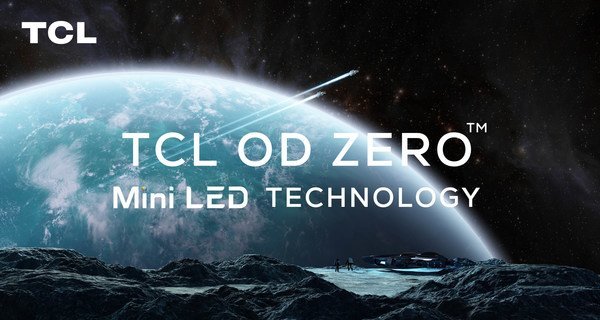 Without a doubt the highlight is TCL's Mini-LED TVs. Mini-LED is an area that TCL has led for some time, launching its first TVs with the technology that provides superior local dimming in 2019. It improved on this with the launch of its Vidrian Mini-LED 8-series TVs in 2020, and now it has just announced its third-generation Mini-LED TVs with featuring its OD Zero technology.
In a statement, TCL said OD-Zero combines its advanced Mini-LED backlight technology with its expertise in display engineering to deliver an "ultra-slim display with tens of thousands of mini-LEDs" that offers "thousands of Contrast Control Zones". The end result, according to TCL, is "striking brightness, precision contrast and smooth uniformity".
TCL said the "Zero" in the OD-Zero branding represents "the measurement of distance between TCL's Mini-LED backlight layer and the LCD display layer". In other words, it has been reduced to literally no distance at all, helping it to create an "ultra-thin, high-performance panel".
The OD-Zero approach differs from last year's Vidrian technology. With OD-Zero, the miniLED backlight and LCD panel are separated, whereas with Vidrian the Mini-LEDs were mounted directly onto the glass panel. TCL said the new approach enables it to create thinner TVs with more local dimming zones, higher peak brightness and better reliability.
TCL's 6-series Roku TVs, which in 2020 were fitted with the Vidrian Mini-LED tech, will be available in 8K resolution this year (pictured below). However it's not clear if these models will also be OD-Zero, or if that technology is reserved for its higher-end 8-series TVs only.
As for the TCL XL Collection, this will include a standard 85-inch 4-series 4K LCD TV with the Roku operating system, an 85-inch 7-series 4K Roku TV, and a higher-end 85-inch 8K LCD model that sports Mini-LEDs as well as the Roku platform. TCL didn't say so, but the latter model could well be its new 8-series TV.
The XL Collection is said to be TCL's first lineup of 85-inch displays. The company added that the 7-series and 8K models will also come with gaming features such as Variable Refresh Rate and 120Hz input, though 4K throughput at 120fps has not been confirmed. The TV will also support Dolby Vision HDR and Dolby Atmos audio formats.
In other news, TCL has promised to roll out the Google TV platform on some of its TVs in 2021, starting in the U.S. and coming to Europe and other parts of the world later in the year. Google TV is essentially a revamped Android TV interface that surfaces more content from supported apps to the homescreen. It also provides personalised recommendations to uses and is compatible with Google's voice controls.
TCL hasn't yet said which specific models will be getting the Google TV platform. However it said they will include some of its "Mini-LED, 8K and QLED" models, which means Google TV will be available on some of its most premium offerings this year. Previously, only TCL's lower end TVs have supported the Android TV platform.