TCL wants to launch its first QD-OLED TV next year
By Mike Wheatley
- 15 September 2020
TCL wants to establish itself as an early front runner in QD-OLED TVs and could unveil its first television based on the new display technology at IFA 2021.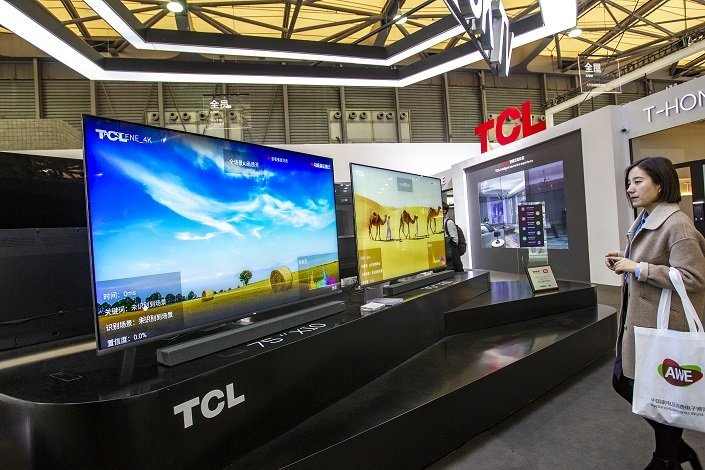 In an interview with Display Daily last week, TCL's European Product Development Director Marek Maciejewski said that prototype QD-OLED TV panels were "available now" and that the company "might show a quantum-dot OLED TV made with inkjet printing at IFA 2021."
QD-OLED is a new display technology that has the potential to surpass both QLED and OLED TVs in terms of picture quality, as it merges the brightness of the former with the deep blacks of the latter.
Samsung Display is one company that's known to be developing QD-OLED panels, and in its case it's using blue OLEDs as the main backlight source, with red and green quantum dots printed over the top of this layer, to generate additional colours. Analysts say the method will deliver advantages over LG's traditional OLED panels, which use white OLEDs as a light source, including more saturated colours, deeper blacks and higher contrast.
TCL is said to be working with Japan OLED, or JOLED, on its QD-OLED panels, however. JOLED is a joint venture between Japan Display, Sony and Panasonic. TCL and JOLED are said to be working on a different process that uses a blue OLED emitter coupled with red and green Quantum Dot emitters. The three materials would be combined and manufactured using the InkJet printing process, which has significant cost and efficiency benefits over the more traditional deposition and evaporation-based manufacturing model used by LG Display.
Maciejewski told Display Daily that JOLED would be "one of TCL's panel suppliers", but that suggests that the company could rely on other suppliers too, raising the prospect of it working with Samsung Display as well. That makes sense as TCL already sources its regular QLED panels from Samsung for its high-end LCD TVs.
Adding fuel to the fire, a report last month said Samsung Display could be ready to begin mass producing QD-OLED panels as early as the third quarter of next year, which more or less fits with TCL's timeline. It's believed that Samsung Display has already sounded out Sony and Panasonic as possible buyers of its QD-OLED panels, but no mention was made of TCL. As partners in JOLED, Sony and Panasonic will most likely have access to the QD-OLED technology it's developing with TCL, as well.
TCL's interest in QD-OLED is encouraging because the company is known for trying to "democratise" television by making advanced display technologies affordable to the average guy on the street, as it has done with its new Mini LED TVs launched this year. It may be that Samsung Electronics, Sony and Panasonic also plan to reveal their first QD-OLED TVs next year, but anything those brands come up with is likely to be a lot more expensive than TCL's offering.
Also in the interview, Maciejewski revealed to Display Daily that a new display panel technology called Dual Layer LCDs, which has been touted as improving image quality in LCD TVs, is likely off the table, at least in the European market. He said that TCL had discussed the technology internally before concluding the power consumption is too high for the European market.