Samsung's The Frame TV gets bezel design platform
By Mike Wheatley
- 23 September 2021
Fans of Samsung Electronics' iconic Lifestyle TV, "The Frame", have the opportunity to take their love of stylish technology and interior design to the extreme. The Korean firm has just launched a new portal where it's selling a selection of bezels in different styles and colours, so Frame owners will be able match it seamlessly with the look and feel of their home.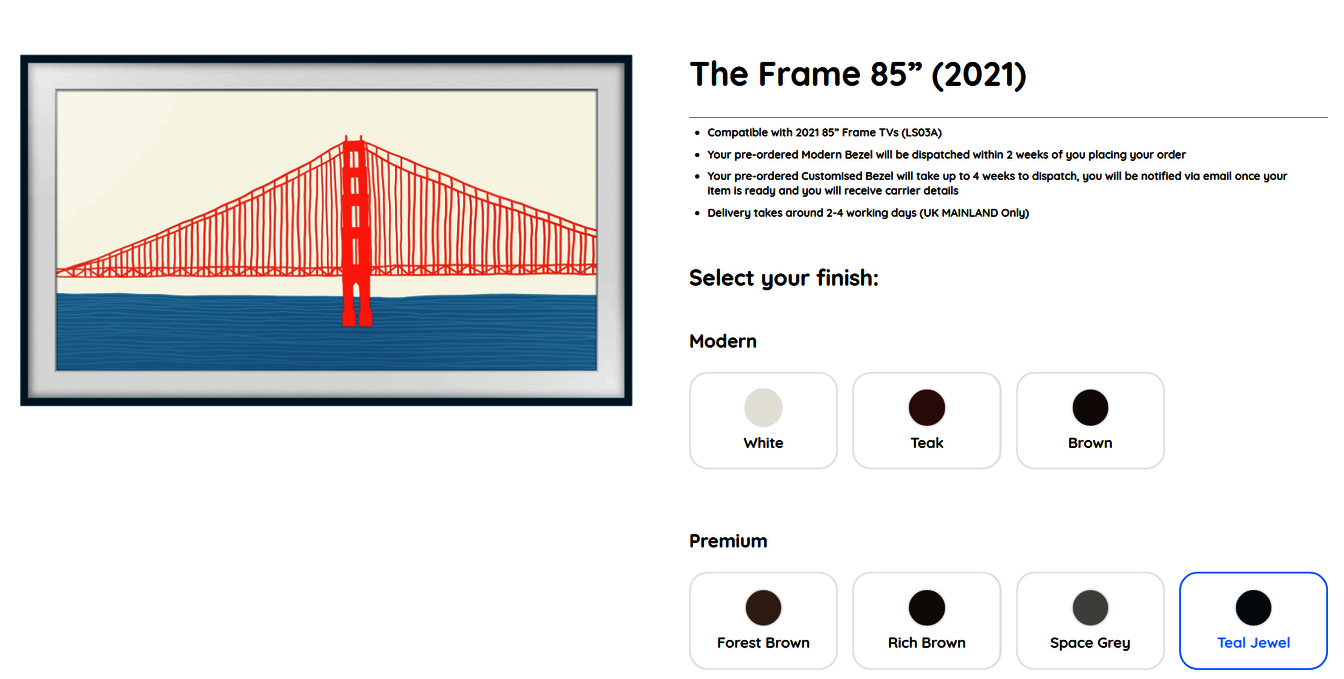 The new portal sits at theframebezel.com, and gives U.K. customers the option of choosing a brand new bezel to go with the slimmer-than-ever 2021 edition of the Frame TV.
Samsung said it's possible to pre-order your choice of bezel from today, with an initial choice of ten different colours: Vision Blue, Italian Vine, Sahara Sand, Cirque Gold, Ruby Red, Space Grey, Forest Brown, Rich Brown, Teal Jewel and Wishful Pink.
Not only that, but there's a variety of styles to select from too, with modern, bevelled and customised frames all available, providing multiple ways for connoisseurs to match their beloved digital display with their living room interior. The company has promised to launch additional colours later in the year, so if you can't find what you're looking for now, don't lose hope.
"The platform, which is launching in collaboration with Frame Your TV, offers design connoisseurs the opportunity to seamlessly blend technology and interior style to new levels," Samsung said. "With this year's Frame design slimmer than ever, and Samsung now offering bezel customisation through the platform, The Frame TV is capable of perfectly satisfying a range of styles, tastes and living spaces."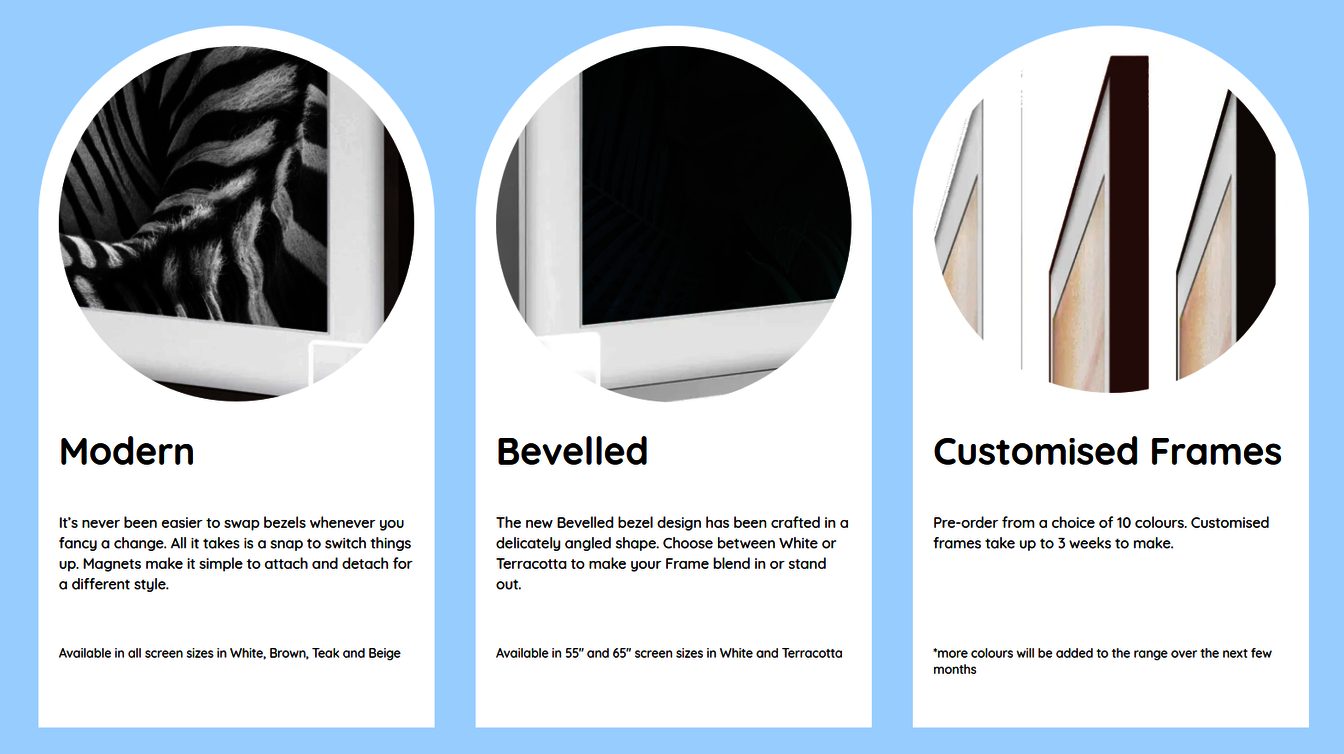 Customers won't have to make do with just one bezel either. They clip on the TV using magnets, which means they're not only sturdy but easy to replace, so it's quite possible that perfectionists may want to buy multiple bezels and have a different colour for each day of the week.
The Frame is in many ways one of Samsung's most stylish TVs. Although it doesn't provide the same picture quality as it's more capable Neo QLED Mini-LED TVs, it's not really designed to compete in that way. Rather, it's meant to be hung on the wall as a kind of centrepiece for extremely well kept living rooms, doubling as a picture frame. When not watching movies, the TV can display images from a selection of thousands of different pieces of art, anything from Leonardo da Vinci's Mona Lisa masterpiece, to renditions of the iconic Xbox game Halo.
What's really cool about the Frame though is its technology. As soon as someone enters the room, its built-in motion sensor detects their presence and automatically switches the TV on to display the pre-selected work of art. When they leave the room, it will shortly afterwards switch itself back into standby mode so there's no energy wasted. The Frame also features an ambient light sensor, so it can adjust and ensue the brightness contrast and colour tones are clearly visible.
Samsung said users can go ahead and order their new bezels now, with prices starting from £129. The frames are available for all screen sizes, including the new 85-inch edition.