Samsung and LG Display still can't agree on OLED TV display panel price
By Mike Wheatley
- 4 January 2022
Negotiations between Samsung Electronics and LG Display over the former's purchase of OLED TV panels have hit a snag, with the parties reportedly failing to agree on a price per unit.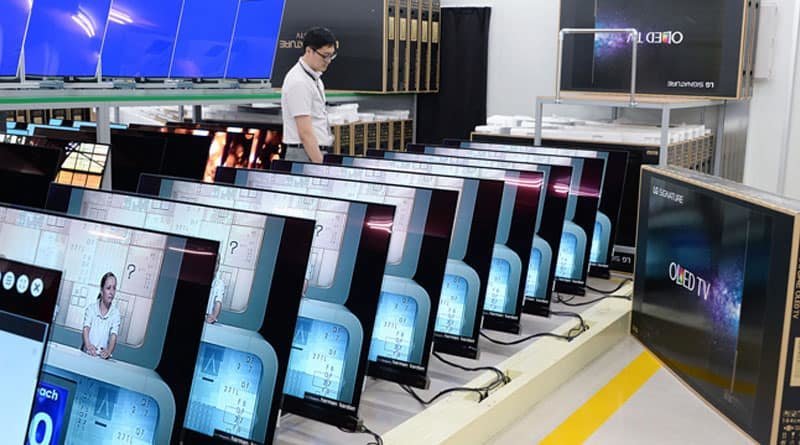 Samsung had been expected to announce new OLED televisions during the Consumer Electronics Show but ultimately failed to do so because negotiations dragged on for too long. The Elec reports the two parties still haven't reached an agreement, even though LG Display had offered to sell its panels at a lower price than what its affiliate LG Electronics pays. Samsung is apparently holding out for additional price cuts.
LG Display is reportedly offering to sell 65-inch OLED panels at the "mid-$600s", The Elec reported, which is 10% cheaper than the $750 paid by LG Electronics. However, Samsung is said to be insisting on a price of between "late-$500 and early-$600".
The Elec explains that if Samsung can buy the OLED panels at the price it's requesting, it would be able to reduce the sales price of its 65-inch OLED TVs by around $450. That's necessary, the report adds, because Samsung intends to position its OLED TVs below its new Neo QLED models - which are QLED TVs with Mini-LED backlights - that have just been launched at CES. So its OLED models must be cheaper than the Neo QLED models, yet also still be profitable, hence the need for a lower panel price.
In order to do this, Samsung says it wants to procure entry-level OLED panels from LG Display. That's different from a customer such as Sony, which usually only buys LG Display's most premium OLED panels and sells them as its premium products.
Samsung wants to buy two million OLED panels, and believes it can use this buying power to persuade LG Display to cut its prices, explaining its decision to continue holding out.
For LG Display, Samsung is an enticing customer despite the rivalry between it and LG Electronics, as it's the world's biggest seller of TVs. While LG Display's OLED sales have accelerated throughout the pandemic, the business has not yet become profitable. Having Samsung as a customer could finally tip the scales and help it achieve a profit.
Another benefit for LG Display is that if Samsung becomes a customer, it could well accelerate the market shift from LCD display technology to OLED.