LG Sources "Confirm" Plans to Start Selling "Rollable" OLED TVs in 2019
By Mike Wheatley
- 18 December 2018
LG is reportedly planning to unveil what would be the world's first consumer-grade "rollable" OLED TV at the International Consumer Electronics Show in Las Vegas next month.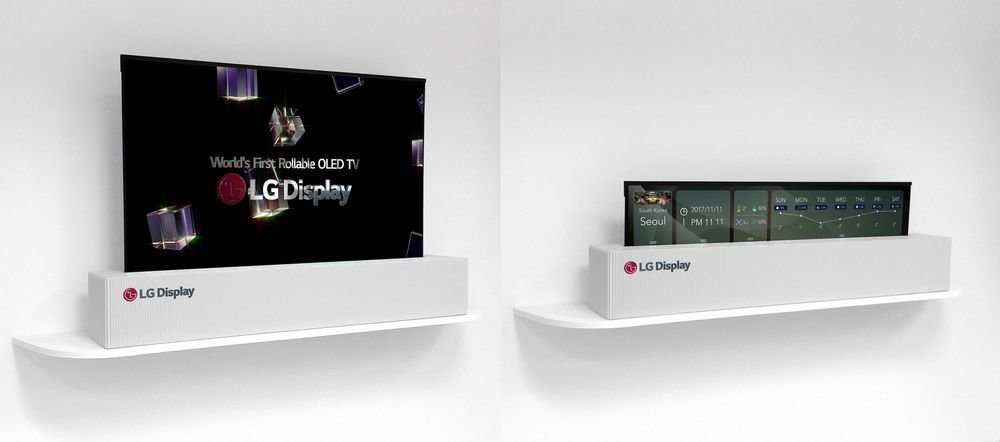 While we've already seen LG show off a prototype of its rollable display at last year's CES show, the company has to date remained tight lipped on any possible release date. However, anonymous sources from the company have reportedly told Bloomberg that it is finally ready to bring its rollable TVs to market in 2019. If true, that would confirm an earlier report from Engadget last month that said CES would mark the new technology's entry into the consumer market.
HDTVTest was lucky enough to see a private demonstration of LG's rollable TV during last year's CES, and was quick to give the technology the thumbs up. The TV, which sports a 65-inch OLED display, is able to roll up and then retract just like a mechanised projector screen, with the operations being controlled via remote. The prototype also featured three aspect ratios – including a 16:9 full screen; a 2.35.1 cinemascope, and also a shorter infobar used to display media such as a sound equalizer or various applications including weather apps.
LG is said to be counting on the rollable OLED TV to help revive its flagging consumer electronics business, which has been impacted by "price declines and stiffening Chinese competition", Bloomberg said. LG is also trying to boost the performance and image quality of its 2019 OLED TVs with a new "Alpha 9" (a9 Gen 2) microchip that features more advanced noise reduction capabilities.
LG is by far and away the leader in the OLED TV market, but its market dominance needs to be put into perspective. OLED TVs are still a relatively nascent technology and will make up just 1.1 percent of overall TV sales this year, Bloomberg said, citing data from Statista. Older LCD TVs still account for 98 percent of the market, though OLED TV is slowly growing its share, with shipments expected to grow by 70 percent to 4 million units in 2019.
Experts say the growth of OLED TVs is inevitable as the technology is steadily maturing and becoming much cheaper. Manufacturers such as LG have made good progress in finding ways to boost production yields and build such displays more cheaply.
In addition, LG's rivals seem to be getting closer to perfecting their own OLED manufacturing processes. JOLED, a joint venture co-owned by Japan Display, Panasonic and Sony, recently showed off a bunch of OLED displays that were built using an Inkjet printing process, with a view to hitting the market in the next couple of years.
Samsung is also said to be making progress on a Quantum Dot OLED TV, though it still has many obstacles to overcome.