LG Display's OLED Evo panel goes on display at SID 2021
By Mike Wheatley
- 17 May 2021
Never one to miss a chance to showcase its latest OLED TV technologies, LG Display said that it is unveiling a number of "differentiated OLED products" this week at the 2021 Society for Information Display exhibition, which takes place virtually from May 17 to May 21.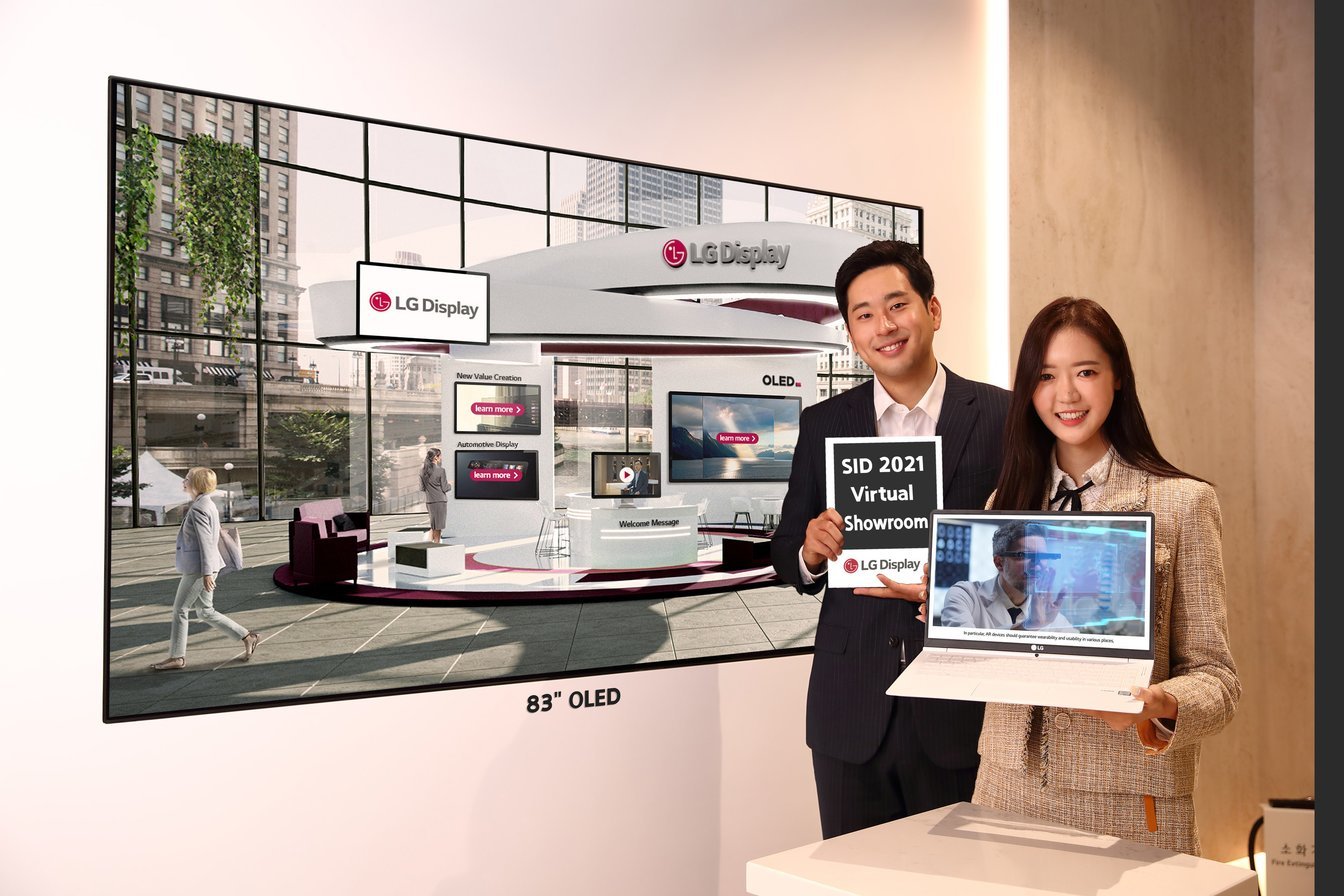 SID Display Week, as the event is known, is annual symposium and tradeshow that focuses on state of the art display technologies. It claims to be the world's largest display conference of its kind, and serves as a stage for leading display manufacturers to showcase their latest products, new research and prototypes.
LG Display is hosting a virtual display room that's themed "Lead New Opportunity with OLED Technology" and split into three separate zones. One zone is dedicated entirely to OLED displays, while the others are centred on "New Value Creation" and "Automotive Display".
For those in the market to buy a TV this year, it's the OLED zone that will likely be the most tantalising, and LG Display said its new 83-inch OLED Evo panel, which is said to be 20% brighter than its existing OLED displays, will take pride of place there.
"The gigantic panel improves its brightness and maximises the expression of colour and contrast to product more vivid, more natural picture quality," the company claims. And it's a claim that has been verified by HDTVTest reviewer Vincent Teoh, who notes in his review of 2021 LG Electronics G1 OLED EVO TV that it is indeed noticeably brighter than the previous year's LG GX model that it replaces.
Moving on to the New Value Creation zone, and this is where we'll see yet more innovative display prototypes from the company that has already bought us rollable and transparent OLED screens. LG Display likes to point out of course that these kinds of products can only be made with OLED display tech thanks to its organic structure that means there's no need for a rigid backlight. At this year's SID it will display yet more bendable, rollable and transparent OLED displays, as well as a 48-inch Cinematic Sound OLED panels that vibrate to produce audio directly from the display, immersing viewers in both pictures and sound. There's also going to be an entirely new concept called OLED on Silicon that has been developed for augmented reality applications. LG Display hasn't revealed much, except to say that the prototype OLEDoS microdisplays are made by applying OLED onto silicon wafers that are used to make computer chips, and that they can achieve "ultra-high resolution and brightness" despite their incredibly light weight.
"The '0.42-inch OLEDoS for AR' boasts the highest resolution and brightness among all existing AR displays to provide the optimal display for a growing number of AR devices," the company insisted.
Last but not least is the Automotive display zone, and here you'll get to see lots of vehicle display concepts based on the company's P-OLED technology. Highlights include a 12.8 inch rollable automotive OLED display, as well as another "ultra-large" OLED screen that's made up of four panels formed in a T-shape.
"This pioneering 4-in-1 display represents the most advanced automotive display technology by maximizing the advantages of P-OLED to achieve unmatched image quality and innovative design," the company enthused.
It remains to be seen if any of the new OLED displays showcased at OLED will actually become viable products, but the company has seen quite a few of its wilder concepts come to fruition in recent years. The most notable one, of course, was its 65-inch rollable OLED display that is the basis of its new Signature OLED R TV that last week won SID's "Display of the Year" award and finally went on sale in the U.K. earlier this year.