SID's "Display of the Year" title goes to LG's rollable OLED TV
By Mike Wheatley
- 13 May 2021
LG Display's unique 65-inch rollable OLED TV, which finally went on sale in the U.K. this year, more than two years after the concept was first unveiled, has landed the Society for Information Display's 2021 Display of the Year award.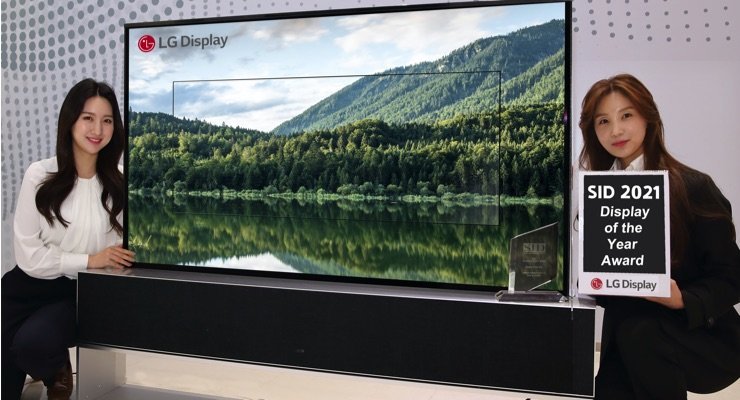 The announcement was made ahead of the 2021 SID Display Week, an annual symposium and tradeshow that focuses on state of the art display technologies that kicks off later this month.
LG Display said its rollable OLED TV won the award in recognition of its cutting-edge form factor that has "not only shifted the paradigm on displays", but also demonstrates the "infinite possibilities of OLED technology" in general and its potential applications in dozens of industries, including possible uses in automobiles and aircraft that are impossible for regular LCD displays.
The company said its rollable OLED display is only possible due to the self-emitting nature of OLED technology, which means it does not require a separate backlight. OLED can be used to make ultra-thin glass displays that can be rolled up and down countless times without any degradation or breaking, the company said. At the same time, OLED is renowned for its extremely accurate picture quality with stunning colours and unmatched black levels.
One of the key advantages of LG's rollable OLED TV is that it is free of space constraints, so homeowners do not need to worry about accommodating a large screen hanging on the wall or sitting in the centre of their living room when designing their home, the company said. By rolling up into its base unit when not in use, the rollable OLED TV blends into its surroundings effortlessly, LG said, without obscuring valuable room space or windows in the home.
"LG Display is fully committed to its invaluable research and development that brings life to the most innovative and differentiated OLED technologies on the market, creating value and expanding the sector so that the endless benefits of self-emitting displays can finally be made mainstream and experienced by all," said Soo-young Yoon, CTO of LG Display.
LG announced in April that it has started taking orders from U.K. customers for its 65-inch Signature OLED R TV, as it's known officially, more than two years on from the screen's debut at the 2019 Consumer Electronics Show. Buyers be warned though, it is an absolute luxury item with a price tag of £99,999. For that, you'll be able to choose from four different colours of woolen speaker cover and also have your name or a message engraved on the brushed aluminium base that doubles as a Dolby Atmos soundbar.
The LG Signature OLED R offers three distinct modes, including the Full View mode for regular viewing, a Line View where only the top part of the screen is visible, allowing for graphics, photos and news apps to be displayed, and Zero View, when the screen is totally retracted into its base. Even then, you'll still be able to enjoy its sound system if you want.
For all of its aesthetic beauty though, the Signature OLED R isn't the most advanced OLED TV that LG offers. For one thing, the TV lacks any HDMI 2.1 ports which means it doesn't support gaming features such as 120fps at 60GHz or Variable Refresh Rates. And it uses an older OLED panel, rather than the new OLED Evo panel found on LG's 2021 TVs that can achieve higher brightness levels.
LG Display has a long history of success at the SID awards, having won last year's Display of the Year title for its 65-inch Wallpaper OLED TV, and Display Application of the Year titles in 2017 and 2018 for its Crystal Sound OLED TVs.