LG's rollable Signature OLED R is now on sale in the UK
By Mike Wheatley
- 1 April 2021
LG Electronics has announced that it's now taking global pre-orders for its luxurious rollable OLED TV, the Signature OLED R.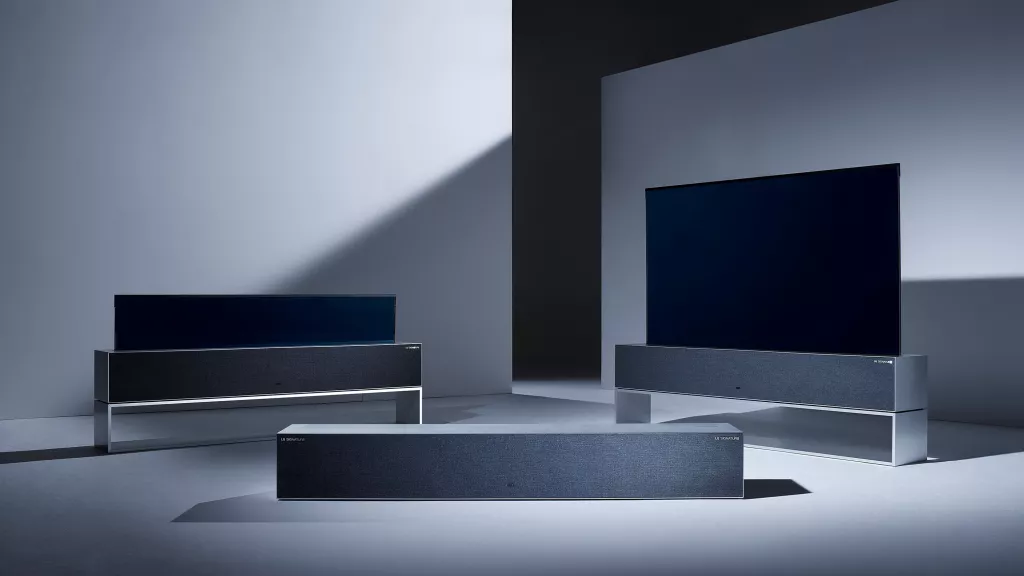 The company first showed off its incredible looking rollable OLED TV at the Consumer Electronics Show in 2019, saying at the time that the luxury model would provide a premium viewing experience without taking up a huge chunk of living room space when not in use.
Living room space is probably not really going to be an issue for anyone who does buy the LG Signature OLED R though. That's because it commands an incredible £99,999 price tag. If you can afford to pay that, you probably have a fair-sized mansion to accommodate it in.
Curiously, the £99,999 price tag represents a 30% markup on the price that the LG Signature OLED R is selling for in South Korea. There, you can get your hands on one for a cut price 100,000,000 won, which converts to around £66,000. So if you're prepared to head off to South Korea, quarantine for a few weeks before you dash to the shops, and can find a way to squeeze it into your suitcase, you'll be able to save a pretty penny.
Those who aren't put off by the steep price tag will be able to choose from four different colours for the wool speaker cover. And they can also have their name or a message engraved on the brushed aluminium base that doubles as a Dolby Atmos soundbar. The TV itself has a 65-inch OLED display that's created from a single sheet of glass. It also incorporates a 4.2 channel, 100 watt sound system that uses Kevlar diaphragms behind the Kvadarat speaker covers. Connectivity options include four standard HDMI ports and three USBs, and HDR support covers the Dolby Vision, HDR10 and HLG standards.
The hand-crafted nature of the product and the personalisation means that each LG Signature OLED R TV will be made to order at the company's South Korean factory before being shipped off, so it's unlikely you'll get a chance to play with a display model at your local Curry's outlet.
Keen observers will note that the lack of HDMI 2.1 ports means the Signature OLED R doesn't support new gaming features such as 120fps at 60GHz or Variable Refresh Rates. Moreover, the display itself is an older panel rather than the newer, brighter OLED Evo panel that's found on LG's premium 2021 OLED models.
Still, the TV's ability to roll its OLED screen into and out of its base unit is the main attraction. There are three distinct modes, including the Full View mode for regular viewing, a Line View where only the top part of the screen is visible, allowing for graphics, photos and news apps to be displayed, and Zero View, when the screen is totally retracted into its base. Even then, you'll still be able to enjoy its sound system if you want.
Buyers will at least be reassured that the Signature OLED R TV is unlikely to harm their eyes after an extended viewing session. In a separate announcement today, LG revealed that its OLED TVs have become the first in the world to be certified as "glare free" by the global certification company UL.
UL tests consumer products using the Unified Glare Rating standard that designates the level of reflective glare. Its tests found that LG's OLED TVs emit no glare at all, and that has meant they can all carry the firm's "Discomfort Glare Free" certification. LG's OLED TVs last year were awarded a "Low Blue Light Display" Verified Mark by UL, and before that, in 2019, they achieved an "Eye Comfort Display" certification from another international testing firm, TÜV Rheinland.
LG said it is taking pre-orders on its official website now, but it remains to be seen how popular the Signature OLED R will actually be. For all of the glamour and glitz the TV provides, a report that surfaced earlier this month in South Korea said that the company had only managed to sell 10 units so far.