8K TV Panel Shipments to Top 300K in 2019
By Mike Wheatley
- 25 December 2018
Predictions that 2019 could be the year that 8K TVs finally make their mark have been given further credence with reports that LCD panel makers are looking to step up production of related panels in order to meet growing demand.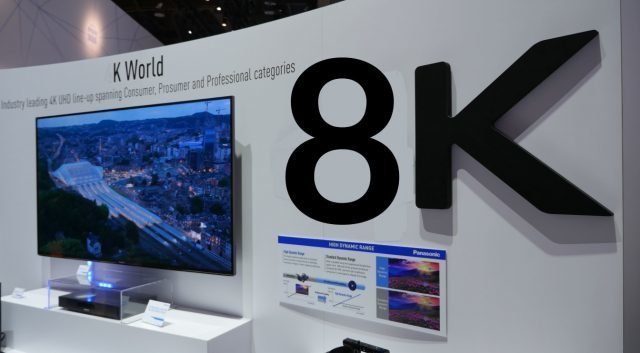 The forecast, which comes from the Chinese analyst firm Sigmaintell Consulting and was first reported by Digitimes, estimates global shipments of 8K LCD panels to top 300,000 units in 2019, which is around 0.1 percent of the industry total. While that might not seem like a lot, it's still a big jump from the reported 18,000 8K TVs that were sold throughout the entirety of this year, according to IHS Markit data.
The report isn't that far off of earlier forecasts from IHS Markit and a second firm, Strategy Analytics, which both said they expect 8K TV shipments to exceed 400,000 units in 2019.
Interest in 8K TVs is slowly gaining steam despite the almost non-existent sales of such TVs to date. For example, the Japanese broadcaster NHK recently launched the world's first 8K satellite TV channel with 12 hours of content per day.
The vast majority of 8K panels shipped in 2019 will be above 65-inches in size, Sigmaintell Consulting said. The analyst firm has based its prediction on the production roadmaps of several notable LCD panel manufacturers, including AU Optronics, BOE Technology, China Star Optoelectronics Technology, Innolux, LG Display, Samsung Display and Sharp, all of which plan to focus on larger 8K panels.
Sigmaintell Consulting said that Innolux and Samsung are expected to concentrate on 82-inch 8K panels, while Sharp will churn out 70 to 80-inch panels. BOE, CEC, and LG are said to be even more ambitious, and could even launch 98-inch 8K panels next year.
And despite reports elsewhere that LG's rivals are trying to step up their efforts in the production of OLED TV panels, Sigmaintell Consulting said the Korean firm is likely to remain the world's sole significant supplier of the technology in 2019. It forecasts LG's OLED TV panel shipments to hit 3.7 million units.
LG is also set to begin production on a new line of 88-inch 8K OLED TV panels in 2019, the analyst firm said.