4K TV Adoption Grows, But 8K Still Has A Way To Go
By Mike Wheatley
- 10 December 2018
Interest in Ultra HD TVs is growing at such a rapid pace that the number of people who own one will increase by 50 percent at the end of 2018, compared to the year before.
If that happens, some 222 million homes worldwide will own a UHD TV by the end of the year, Strategy Analytics said in a report.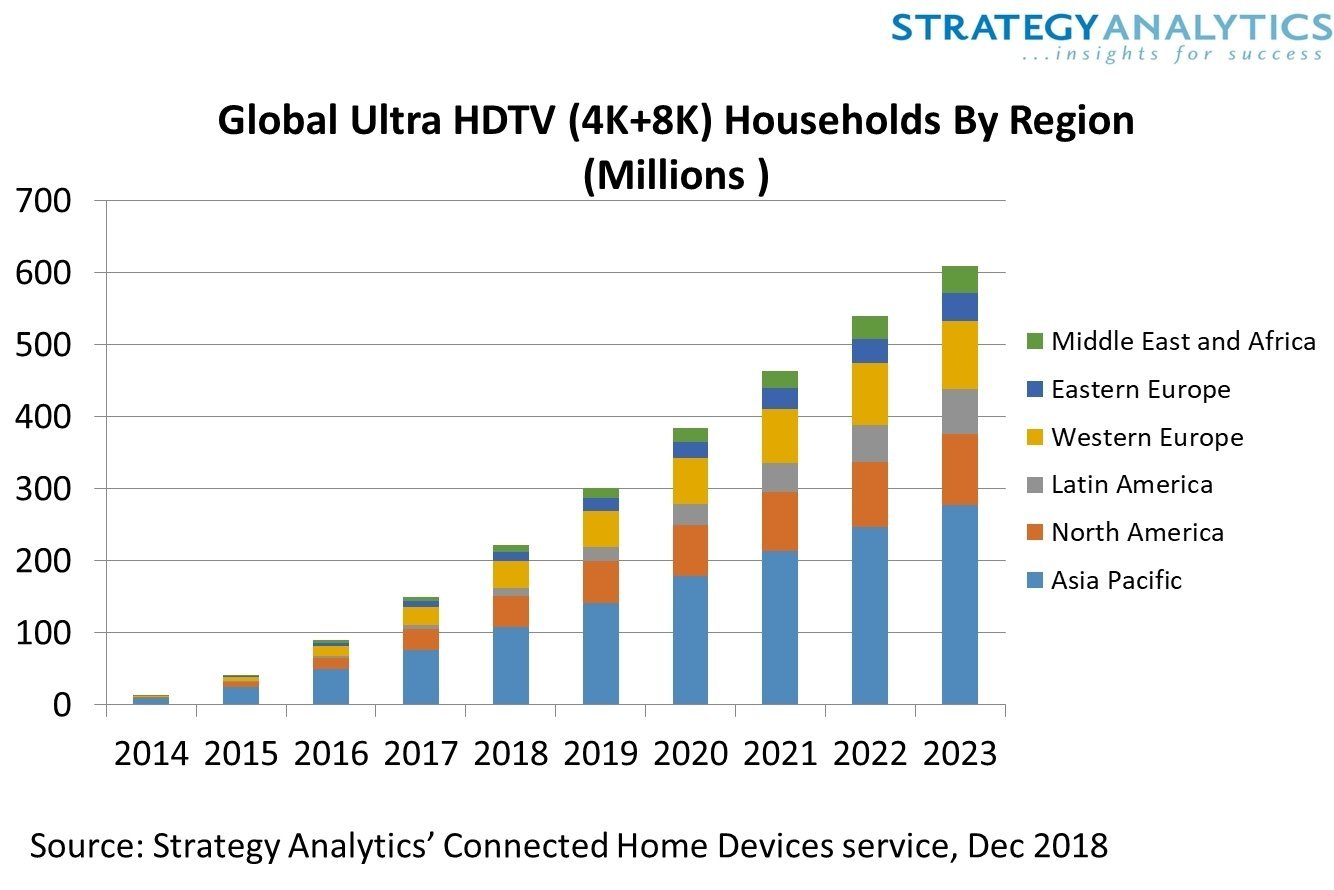 Adoption is set to continue growing beyond this year, the research firm added. It expects that more than 600 million homes will own an Ultra HD TV by 2023, with the vast majority being 4K models.
Strategy Analytics defines Ultra HD TVs as those with either a 4K or an 8K display. The latter offers four times the resolution of 4K sets, but it is in many respects still a bleeding edge technology, with only a few manufacturer currently selling such displays.
As such, Strategy Analytics says just 3 percent of UHD TVs sold this year will be "8K ready", though it expects sales to pick up pace in the new year. By the end of 2019, it says 8K TV sales will surpass 400,000 units, growing to 11 million units in 2023, when they will represent 6 percent of the total UHD TV market.
Strategy Analytic's numbers seem to tally with recent research from IHS Markit, which said it expects 430,000 8K TVs to ship in 2019.
One of the reasons that 8K adoption is so slow is there is virtually nothing by way of native content to watch on them, though the launch of the world's first 8K satellite TV service by Japan's national broadcaster NHK earlier this month is a step in the right direction.
Still, it'll be several years before 8K content becomes the norm, and for that reason the vast majority of people who own such a TV set will have to make do with upscaled 4K images, Strategy Analytics said.
"Owners of 8K TVs will primarily be watching 4K and HD content, while the TV's image processors will do a good job of scaling most content to give impressive images," Strategy Analytics director David Watkins said in a statement. "Amidst the excitement surrounding 8K TVs, it is important to remember that image resolution, whether native or otherwise, is only one element in perceived video quality, and TV vendors and content players alike should not lose focus on other important drivers of consumer satisfaction, such as high dynamic range and high frame rates."
In the meantime 4K TVs are expected to sell like hot cakes over the next five years, Strategy Analytics predicted. The Asia Pacific region is currently the largest in terms of sales, with shipments expected to reach 46 million units by the end of the year. Still, North America will have a higher penetration rate in the years to come, with 71 percent of homes expected to own a 4K UHD TV by the end of 2023.
"The success of Ultra HDTV has been driven by technology adoption rather than content and services," David Mercer, principal analyst and author of the 4K and 8K Ultra HDTV Global Market Forecast report, said in a statement. "4K video and TV services are now becoming more widely available, meeting the expectations of 4K Ultra HDTV owners for the best quality TV experience."