TCL Shoves Samsung Aside to Become #1 TV Seller in North America
By Mike Wheatley
- 4 June 2019
TCL has been hard at it trying to grow its presence outside of China, and those efforts seem to have paid off as the brand is now believed to be top dog in North America in terms of units sold, ISH Markit reported.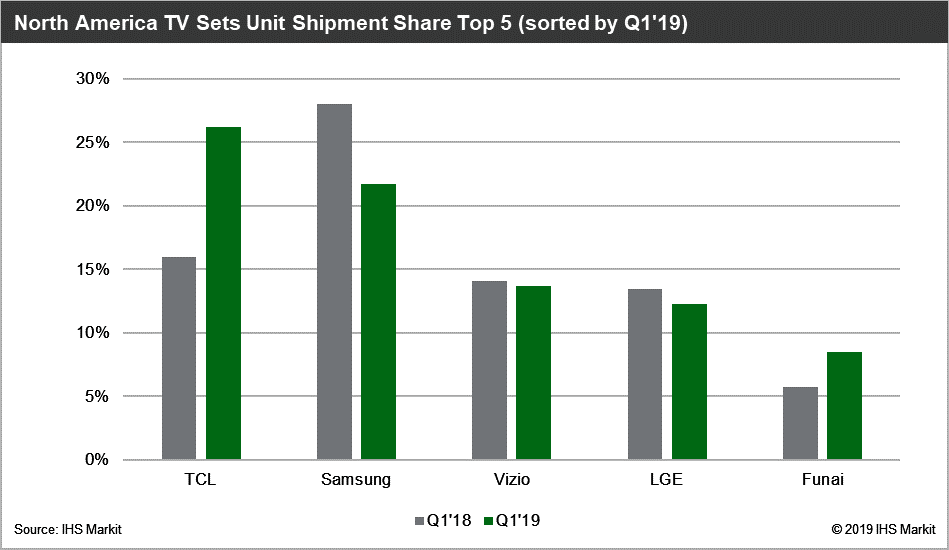 TCL topped the North American market for the first time in Q1 thanks to unit shipment growth of 112% in the last year, IHS Markit's latest TV Sets Intelligence Service report revealed. The brand accounted for 26.2% of all TVs sold in the region on the first quarter, up 16% from one year ago. Samsung, the previous leader, saw its market share erode to just 21.8%, down from 28% a year ago. Vizio ranks third with a 13.7% market share in North America.
TCL's success in North America isn't such a surprise considering the great strides the company has made as it bids to become an established brand outside of its home nation. The company is mainly focused on selling lower-cost TV sets, and this strategy has worked so well that it's even threatening to surpass LG, the world's second biggest TV maker, in overall global shipments, according to data published last week by WitsView, another industry analyst firm.
But low-end TVs aren't the only focus for TCL, which is also at the forefront of the development of new display technologies that promise to deliver images on the same level as, or even better than, LG's OLED and Samsung's QLED displays.
At the Consumer Electronics Show in Las Vegas last January for example, TCL showed off an eye-popping 75-inch, 8K resolution Quantum Dot MiniLED TV that it claims can deliver higher peak brightness and better colour accuracy than the latter technologies. In addition, TCL is also said to be working on a hybrid Quantum Dot OLED display that, if successful, might possibly deliver a death blow to traditional OLED and QLED.
Samsung does at least maintain a commanding lead in North America in terms of revenue, thanks to the higher prices of its premium TV sets. The Korean company took home 36.9% of all North American TV revenues in the first quarter, more than double what second-placed LG, and third-placed TCL earned in the same period.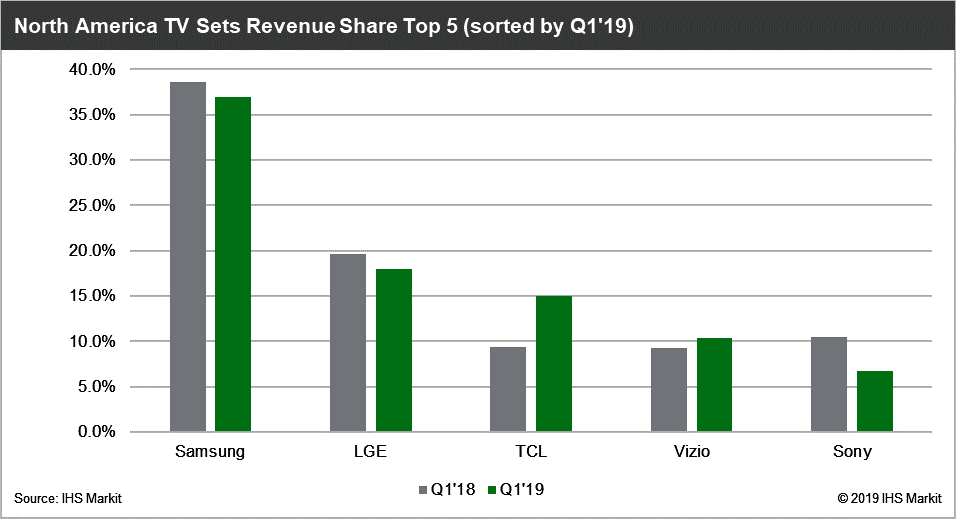 Overall the last quarter was a big success for all concerned, with North American TV sales rising almost 30% year-on-year to a record-breaking 9.3 million units.
IHS Markit's research executive director Paul Gagnon said TV brands had managed to put concerns over the China-US trade war to one side in the quarter, increasing shipments to protect themselves against any possible disruption to their supply chains. However, he warned that TV makers could still suffer from the fall out, if China and the US are unable to resolve their differences.
"As uncertainty mounts around a possible tariff-driven rise in costs, these brands have been bolstering shipments to protect against any potential disruption," Gagnon said. "Given that margins for TVs are relatively low compared to other consumer-electronics categories, any tariff increase would have a major impact on sales."
Overall, worldwide TV shipments bounced back in the first quarter from a 1.6% decline in Q4 2018, recording growth of 2.1%. IHS Markit said the strong shipment growth in North America was the main factor behind this, helping to offset declines in China and Latin America.
The Chinese market remains an important one though, especially for Xiaomi, which is the leading brand in that country. It's led the Chinese market for four straight quarters now, and currently accounts for 19% of all shipments in that country.
Perhaps it's only a matter of time until Xiaomi, like TCL, looks to expand beyond its domestic borders and pose a further threat to the dominance of Samsung and LG.