Sony's Massive 98-inch 8K ZG9 TV Priced at £85K in the UK
By Mike Wheatley
- 21 May 2019
Sony's first-ever 8K televisions are available to pre-order in the UK now, ahead of a June launch date, but you might be better off trying to steal one than actually paying for it given their eye-popping price tags.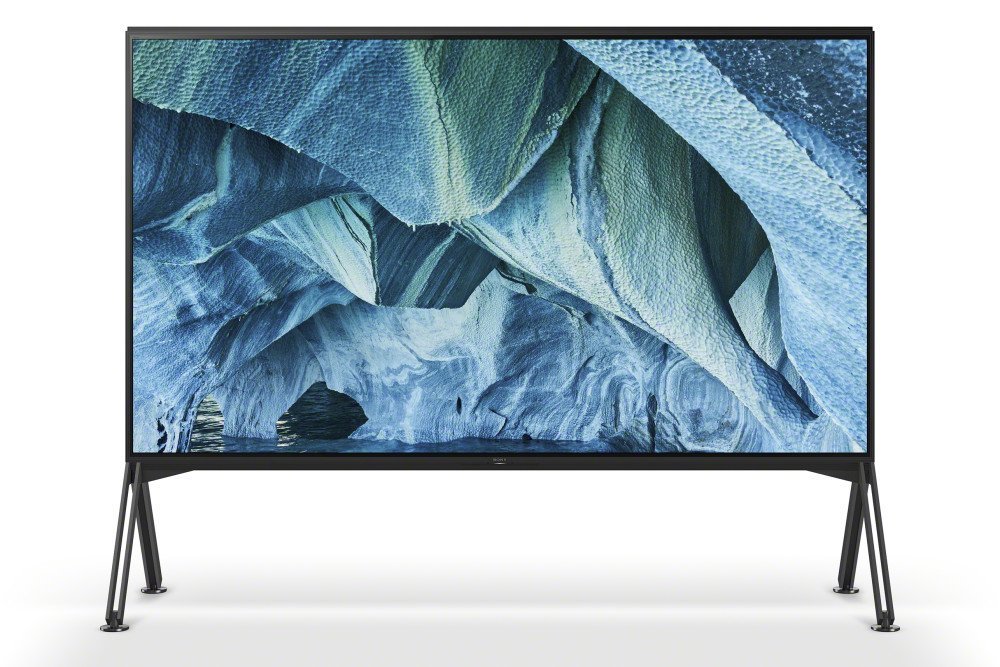 You'll also need to make sure there's ample space in your living room, because Sony's 8K TVs are absolutely massive, with just 85-inch and 98-inch options available at launch.
The limited choice of screen sizes would seem to emphasise the popular mantra that "bigger is better", and indeed, the Sony Master Series ZG9 8K HDR Full Array LED televisions are about as premium a product as you can get, delivering 16-times the resolution of a standard Full HD set. But premium products also demand premium price tags in addition to premium features, and in that regard especially, Sony hasn't let us down.
Readers will be delighted to learn that the larger of the two sets will set them back a 'mere' £84,999 for the privilege of actually taking it home. And if you think that's a crazy expensive price tag, well... It is. In fact, it's almost three-times the average UK national income of £29,588 a year.
More insultingly perhaps, it's also significantly more than you'd pay for exactly the same model in the U.S., where it costs 'just' $70,000, which works out at around £53,800 in English money.
The inflated price tag compared to the U.S. alone might be enough to justify going out and stealing one, but for those who'd prefer to keep their criminal records' clean, there's always the smaller 85-inch option, priced at £13,999. That's not exactly cheap either, mind you, but going with the smaller version would at least leave you enough spare change to buy something a little less showy, such as a shiny new Audi RS5 or something similar.
But joking aside, are Sony's new 8K TVs actually worth the enormous price tag?
Well, what you will get is one of the best TVs in the world. It isn't an OLED display mind you, but it does feature one of the most advanced LCD panels ever seen. And of course there's the 8K resolution, which helps to ensure super sharp images as it contains four-times as many pixels as any 4K television.
Whether or not 8K resolution is actually necessary is another question. Granted, it looks great, but so does 4K. The problem is that the human eye can't really tell the difference between the two, because the pixel density is so small that it loses its impact once you go beyond 4K.
There's also a distinct lack of any 8K material to watch on the TVs, at least for now. Apart from a few samples on YouTube and other sites, the only source of regular, native 8K content is Japan's broadcaster NHK, but in order to access that, you'll first need to make sure you live in Japan.
Still, if you do decide 8K is what you want, you'll be safe in the knowledge that you're future-proofing your living room for the next decade at least, as it will probably take at least 10 years until 8K goes mainstream.
In the meantime, Sony does offer something called 8K X-Reality Pro technology, which is an upscaling engine that converts older content to something close to 8K resolution. The upscaled content certainly looks crisp and clean, and the TVs are also full HDR-enabled, ensuring really bright and punchy colours.
The ZG9 TVs also come with a Backlight Master Drive feature that makes the pixels work independently of one another to dim or brighten the screen when necessary, delivering extremely deep blacks that are almost, but not quite, OLED-quality.
Other features include full spec HDMI 2.1 inputs. This should ensure the TVs are compatible with higher frame rates and resolutions, such as 4K at 120 frames per second, or 8K at 60 fps. The TVs also support variable refresh rate and enhanced audio return channel (eARC), which improves audio quality.
Powering the TVs is the Android operating system, which means all the latest streaming services such as Netflix are instantly available, so you can crack on with watching your favourite shows almost as soon as you open the box.