Samsung's QD-OLED TV scoops CES Award, proving it's real
By Mike Wheatley
- 4 January 2022
While Samsung Electronics has not yet officially announced its QD-OLED TVs, they are definitely on the way, as it has been revealed that a 65-inch Samsung QD-OLED model has already won a 2022 CES Innovation Award and been noted as "the next frontier in home entertainment".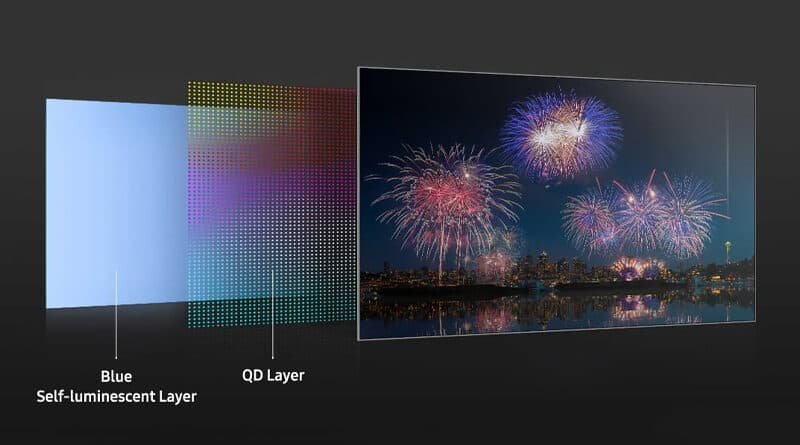 Samsung has already unveiled a batch of new Neo QLED TVs at CES, but it surprised many by failing to mention anything about QD-OLED. Korean media reported that it changed its plans at the eleventh hour.
However, CNET's report that Samsung's QD-OLED has picked up a CES Innovation Award means there's no longer any doubt that they are real, and coming soon.
"Samsung's 65" QD-Display TV is the world's first true RGB self-emitting Quantum Dot OLED display - revolutionizing TV by combining the contrast levels of RGB OLED with the color and brightness of quantum dots for ultimate visuals," the announcement reads. "The QD-Display TV combines a groundbreaking new QD-OLED display with Samsung's gorgeous Infinity One Design and immersive Object Tracking Sound technology."
What it means is that Samsung should almost certainly launch its QD-OLED TVs at some stage this year, bringing real competition to the OLED TV segment. Thus far, LG Display has had a monopoly on the OLED market with its White OLED panels.
Samsung Display has been developing QD-OLED for the last couple of years, announcing its intent to take on LG Display with a massive $11 billion investment in a new factory in South Korea in late 2019. Since then, rumours have suggested the first QD-OLED TVs could arrive in 2022, and it looks like that will definitely happen.
QD-OLED combined organic light-emitting diodes with quantum dots, using blue OLEDs to create light, while the quantum dots convert that into reds and greens as required. That's different from LG's WOLED, which creates white light and uses filters to add the colours.
Samsung Display says its approach leads to more realistic colours, better viewing angles and superior brightness, while retaining the perfect black levels OLED is known for.
The CES award announcement also made mention of an Infinity One Design, which means a very minimal bezel, and the Object Tracking Sound technology that's featured in this year's Neo QLED models. Other features include the 2022 Neo QLED processor, four HDMI 2.1 ports and 144Hz panel refresh rate. Initially, it's expected Samsung Display will focus on 55-inch and 65-inch panels only.
There has been a lot of speculation that Samsung may not be the first company to launch a QD-OLED TV. Sony has been repeatedly mentioned as a possible buyer of the technology and some reports have even suggested it might launch its QD-OLED models before Samsung does. Today's report however, appears to make that less likely.
For now though Samsung is playing its cards closely to its chest. When asked to comment, a spokesperson for Samsung told CNET that the company will have more to share about its 2022 TV lineup in the next several weeks.