Samsung partners with Kate Watson-Smyth on bezel-inspired interior design
By Mike Wheatley
- 24 November 2021
Samsung Electronics is partnering with interior design expert Kate Watson-Smyth on the launch of a staggering 40 new bezel colours for its iconic lifestyle TV The Frame.
The new bezels are available to buy through theframebezel.com, a new online store launched by Samsung earlier this year.
Samsung's The Frame is one of the company's most stylish TVs. Although it doesn't provide the same picture quality as it's more capable Neo QLED Mini-LED TVs, it's not really designed to compete in that way. Rather, it's meant to be hung on the wall as a kind of centrepiece for extremely well kept living rooms, doubling as a picture frame. When not watching movies, the TV can display images from a selection of thousands of different pieces of art, anything from Leonardo da Vinci's Mona Lisa masterpiece, to renditions of the iconic Xbox game Halo.
With an expanded choice of magnetic bezels that can easily be switched around, The Frame owners have the chance to combine their love of stylish technology and interior design and ensure their display's fit seamlessly with the look and feel of their living rooms.
For those in need of some interior design tips, Watson-Smyth has a ton of ideas up her sleeve. Owner of the award-winning Mad About The House blog, she has curated a set of interior design pairings for each of the 40 new bezels available in Samsung's collection to provide customers with the inspiration to create a personalised style for their homes.
The idea is that interior aficionados will be able to integrate statement colourways into their home such as Monaco Blue and Ruby Red with more subtle shades such as Pale Sage and Afternoon Tea, with ease, and it's all thanks to The Frame.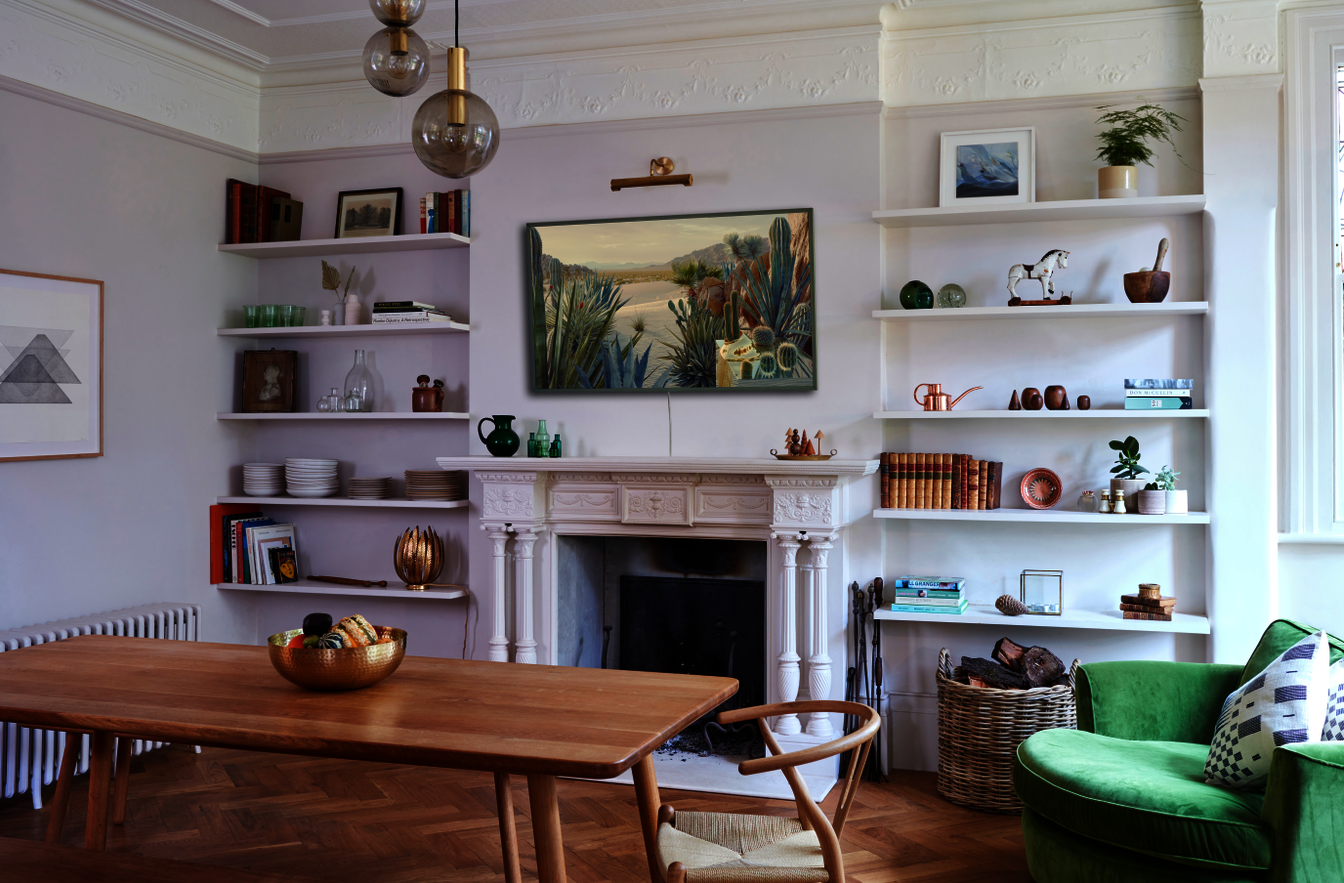 "Whether budding designers want to complement colour palettes, emphasise certain accents, or hint at quieter tones, The Frame's portfolio of bezel colourways means a completely bespoke and customised style aesthetic can be created, tailored around personal design desires," Samsung promised.
Watson-Smyth has also provided five styling tips for homeowners to successfully play around with colours in their homes while avoiding common pitfalls.
Watson-Smyth's top tips include:
1. If you feel your room needs a statement colour but you're not sure where to start, then take inspiration from your wardrobe. If you like a shade enough to wear it then you will be happy to live in it too. Use the other things you wear it with to help you come up with a palette for the whole room.
2. Use your accessories to make a statement. Sometimes it's the details that make the difference. A splash of bold colour in a candle holder or a picture frame can really stand out and bring the whole space together. This can, of course, include picture frames and even your TV frame now there are so many to choose from with Samsung's new Bezel range.
3. It's not enough to pick a statement colour you like; you must also consider how that colour makes you feel. If a strong emerald green or bright teal makes you feel energised and buzzing, then it's probably not right for the bedroom. Instead, try to look for a strong colour that makes you feel relaxed. When it comes to picking colours – statement or otherwise – you must match the feeling to the function.
4. One of the most common ways people introduce a statement colour is via a feature wall but this can also lead to one of the most common colour mistakes. Painting a single wall in a strong colour can look a bit random, so think about introducing your chosen shade to the rest of the space. For example, carry on the statement colour on all four skirting boards.
5. Don't forget the fifth wall – aka the ceiling. Painting all four walls in a statement colour can feel overwhelming so consider doing just the ceiling instead. This can draw the eye upwards and make the room feel higher as well as meaning you don't notice it all the time.
Samsung said the full selection of new bezel colours can be ordered online now, with prices starting at £129.