Samsung Announces UK Release Date for its 2019 QLED TVs
By Mike Wheatley
- 14 February 2019
Samsung has just announced a release date for its premium range of 8K QLED Q950R TVs in the UK, saying they'll be hit the stores sometime in March.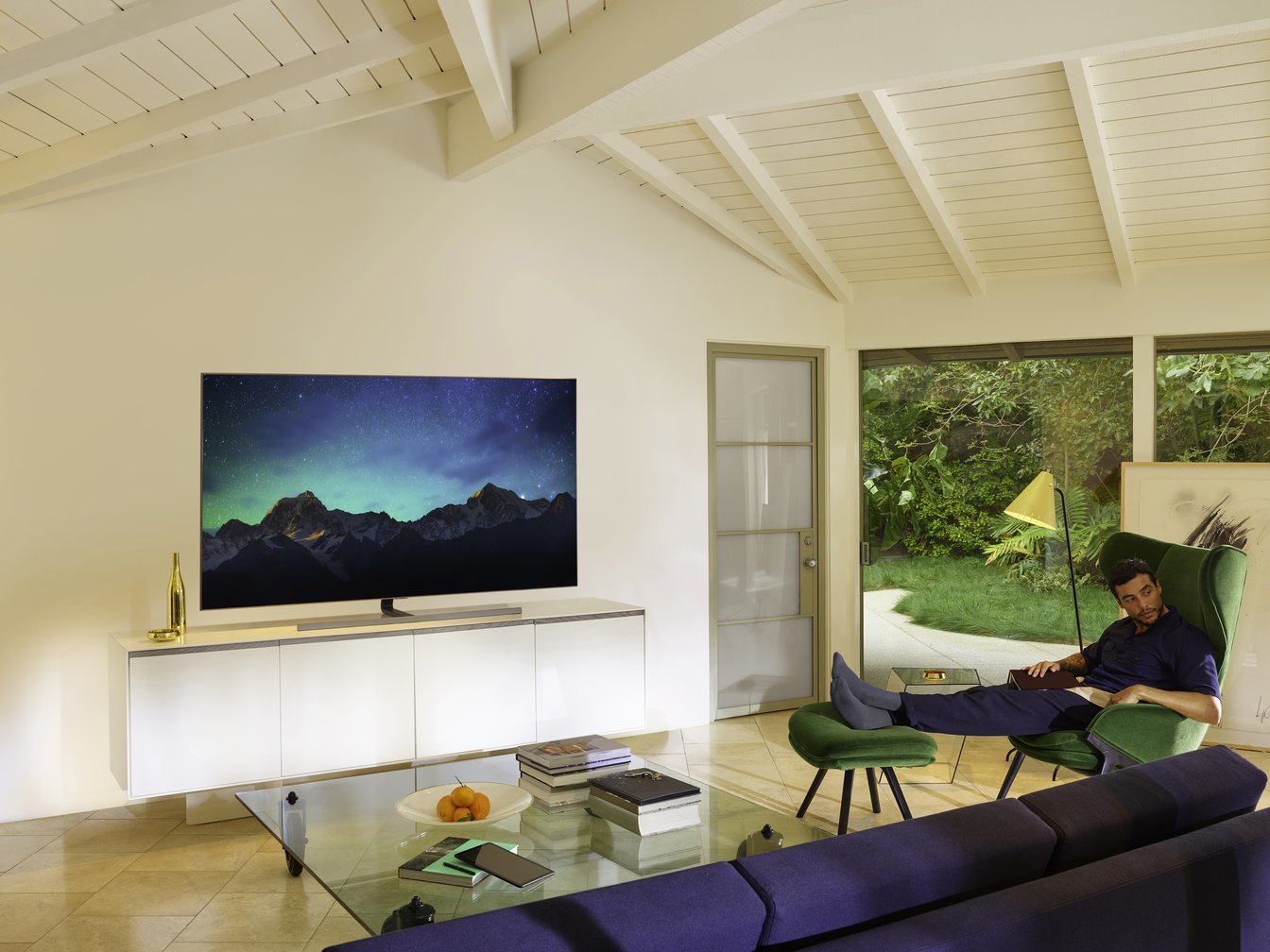 The Q950R range will be available in several sizes, with the smallest model starting at 55-inches, and the largest being the jaw dropping 98-inch beast that we witnessed at the Consumer Electronics Show in Las Vegas last month.
Pricing details are still not available, but the Q950R TVs are in any case sure to be very expensive. Luckily, for those on a budget, Samsung is also releasing a batch of more affordable TVs, including numerous 4K QLED models in its Q90R, Q85R, Q80R, Q70R and Q60R ranges.
Samsung made the announcement at its Samsung Forum event in Alfandega Porto Congress Centre in Porto, Portugal, this week. There, it also announced new versions of its luxury "The Frame" and "Serif" TVs, which also sport QLED displays and will go on sale in April. Those models are designed to fit in with their environment "seamlessly" due to a special ambient mode that's able to mimic the TVs surroundings when in standby, and will be available in 49-inch and 55-inch sizes.
While The Frame and the Serif are all about style and luxury, the rest of Samsung's TV lineup is focused on being the biggest and best. Indeed, Samsung said earlier this week it's almost certain that buyers this year will favour larger screen sizes due to their falling costs, estimating that sales of TVs of 75-inches and above will grow by 43 percent to 3 million units this year.
As such, the Q90R, Q85R, Q80R, Q70R and Q60R models will be available in various screen sizes, up to 82-inches at the top end.
"We have witnessed our customers' unfaltering confidence and affection towards Samsung QLED TVs within the past year," said Jongsuk Chu, executive vice president of Visual Display Business at Samsung Electronics, in a statement. "This year, our QLED 8K and 4K line-ups are addressing the growing demand in the market for ultra-large TVs and we are proud to be able to deliver our most innovative and immersive line-up to date."
For those unfamiliar with QLED, this is Samsung's most advanced TV display technology, and the company is pushing it as an alternative to LG's OLED screens. QLED TVs are however essentially just LCD displays, but they use Quantum Dots to improve essential aspects of the image quality such as brightness, colour and contrast ratios. QLED has generally been well received. However, most people still consider OLED to be the superior technology, although some critics complain that the screens could be susceptible to "screen burn" issues after several thousand hours of use.
Besides QLED, Samsung's new TVs pack tons of additional features not seen before. For example, its QLED models all come with "Ultra Viewing Angle" technology that reworks the backlighting to ensure better contrast ratios and brightness even at the tightest viewing angles. And all but the entry level models will employ full-array local dimming, which helps to improve LCD image quality by providing more control over contrast levels.
Another new feature is HDR 10+, which is a new high dynamic range format that should ensure brighter whites and darker blacks. The 8K TVs meanwhile get HDMI 2.1, which will be essential if they ever want to watch native 8K resolution content.
Access to the Apple iTunes store will also be available on Samsung's 2019 TVs via a dedicated app, providing more content options. The TVs will also have more voice control capabilities, thanks to an upgraded Bixby AI assistant and support for Amazon Alexa and Google Assistant.