Samsung Unveils Quantum Dot Serif & The Frame TVs for 2019
By Mike Wheatley
- 20 December 2018
Samsung will release quantum dot QLED versions of its high-end "lifestyle" TVs, known as "The Frame" and the "Serif TV", next year.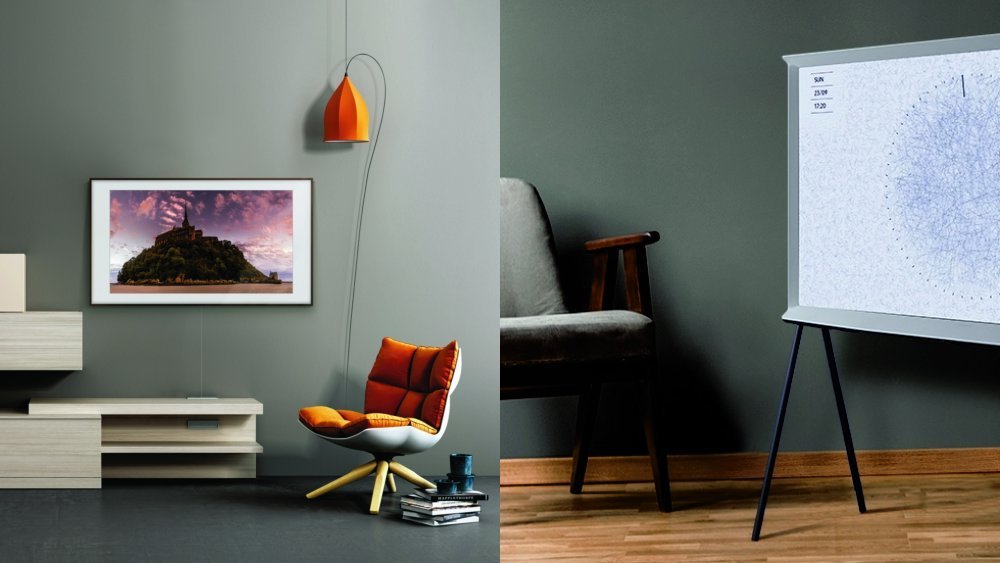 The new models, which will go on display at next month's Consumer Electronics Show in Las Vegas, sport LCD panels integrated with Samsung's quantum dot technology, plus new software features.
The Serif TV was launched back in 2015, designed by brothers Ronan and Erwan Bouroullec. The TV was at the time labeled as one of the most beautiful ever built, but not because of its dazzling picture quality. Rather, the real beauty of the Serif TV lies in its unique design, which attempts to blend in with its surroundings. Instead of the thin bezel that's become a standard feature on most modern TVs, the Serif features a thick plastic frame that draws on inspiration from the typography used in the serif font, specifically the letter "I".
As for The Frame TV, this was designed in collaboration with Yves Behar and made available in 2017. The Frame is designed to be installed on a wall, and displays digital art when it's not being used to watch movies.
Samsung has said before that it's attempting to reimagine how TVs can blend in to modern living spaces with the designs.
"The traditional TV was only focused on technical features, such as picture quality and performance, but now TVs are also a lifestyle platform that blends in consumers' daily life," Jongsuk Choo, executive vice president of Samsung Visual Display, said in a statement. "This year's models of The Frame and Serif TV are enhanced lifestyle TVs that deliver a TV experience like nothing before."
The 2019 versions of Serif and The Frame will come with Samsung's quantum dot technology, which the company refers to as "QLED". QLED displays are Samsung's response to LG's OLED technology, and use semiconductor nanocrystals to produce purer monochromatic red, green, and blue light that delivers more vibrant, natural colours.
The Serif 2019 edition will also feature the new Ambient Mode that Samsung introduced with this year's Q series lineup. Ambient Mode is a beautiful, cutting edge feature that allows TVs to blend into their environment by mimicking the look of the wall behind it or to enhance the environment with additional imagery and information. The feature may not be all that practical, but it does look gorgeous.
As for The Frame 2019 edition, this will also include Samsung's Bixby voice assistant, which is similar to Amazon's Alexa or Google Assistant.
Samsung hasn't said anything about pricing or availability for the new TVs, but it plans to showcase both new models in a "large lifestyle TV exhibition zone" at CES 2019, when we'll hopefully hear more.