LG's rollable OLED TV finally set to go on sale this month
By Mike Wheatley
- 5 October 2020
LG Electronics is finally getting ready to ship its highly anticipated rollable OLED television, almost two years after it was first announced at the Consumer Electronics Show in January 2019.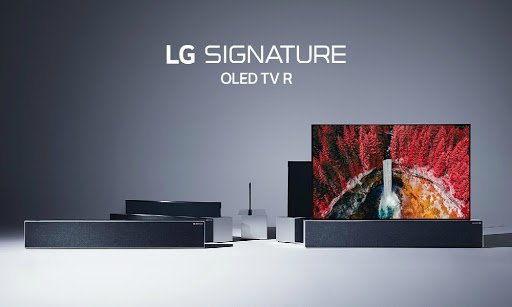 LG's rollable TV dazzled attendees at CES 2019 for its ability to roll up like a projectors, and then retract back into its rectangular base when switched off.
Nikkei Asian Review said the LG Signature OLED R will go on sale in South Korea later this month priced at around $100,000, which is considerably more expensive than the $60,000 price tag that was first mooted. The TV was originally expected to go on sale in early 2020, only for the launch to be postponed for unspecified reasons.
The launch of the TV is an important milestone for LG as it sees the model as a showcase for its technological prowess. It's expected that the TV will be available in a 65-inch size only, the same as the model shown at previous exhibitions.
LG Electronics was able to build its rollable TV thanks to the unique, foldable properties of OLED screens – something that isn't possible with older LCD display panels. The idea is to create new markets with unique TV products that weren't possible to build before.
Of course, demand for the LG Signature OLED R is likely to be low due its high price tag, Nikkei said.
LG Display isn't the only company working on rollable OLED products. Japan's Sharp is also looking at entering the market after showing off a prototype of a 30-inch rollable 4K OLED display at the Inter BEE 2019 show in Makuhari, Japan, last November. Sharp's display is notably based on a different OLED technology, called RGB OLED, which emits red, green and blue light directly. That's different from LG's White OLED (WOLED) technology, where white light is beamed through colour filters, similar to how LCD displays work.
Rollable OLED displays may also have other applications. For example, Samsung Display in 2018 unveiled a prototype of a rollable OLED display for vehicles, while China's BoE previously demoed a 12.3 inch tablet that uses a rollable OLED display.
Still, OLED TVs are still a relative minority in the overall TV market, which continues to be dominated by LCD displays that are getting more and more cheaper thanks to Chinese manufacturers growing their production capacity. Even though LG Display and Samsung Display are both exiting the LCD market, analysts say the technology will remain mainstream for the foreseeable future.
Samsung Display, among others, is venturing into new technologies such as QD-OLED and MicroLED, but it remains to be seen what kind of inroads these will have.