LG's OLED EX technology promises brighter, longer-lasting OLED displays
By Mike Wheatley
- 4 January 2022
LG Display has taken the wraps off its latest OLED display technology, which it says incorporates deuterium compounds and uses personalised algorithms to sharpen image quality while boosting the overall brightness by a hefty 30%.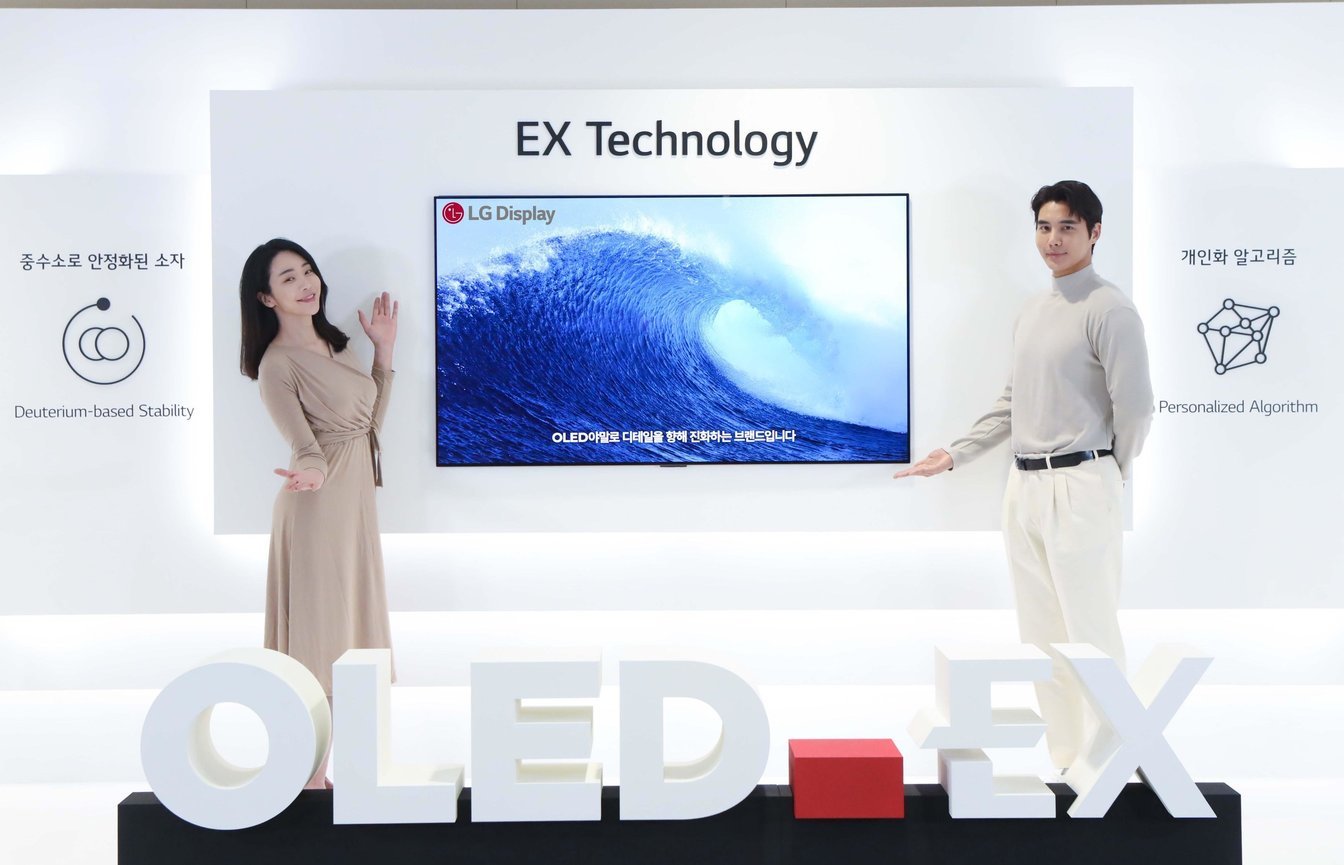 The new tech is called OLED EX, an acronym of "Evolution" and "eXperience".
The South Korean company says it has managed to successfully convert "hydrogen elements" that are present in the organic light emitting diodes that make up its panels into "stable deuterium", which is an isotope of hydrogen.
LG explained that it extracts the deuterium compounds from water. After being stabilized, they enable OLED displays to achieve higher brightness while also boosting their efficiency, meaning they should last even longer.
Meanwhile, personalised algorithms based on machine learning are used to enhance the stability of the deuterium-based OLED panels and exert better control over energy input. The algorithms predict how the 33 million organic light emitting diodes in a display use energy by learning their individual viewing patterns. Through this, OLED EX panels can more accurately express the details and colours of the content being displayed, LG said.
"Thanks to EX Technology, OLED EX displays unlock new levels of picture accuracy and brightness to accurately deliver exquisite, realistic details and colors without any distortion – such as the reflection of sunlight on a river or each individual vein of a tree leaf," the company said in a statement.
Besides being brighter and more accurate, the new technology has enabled LG Display to reduce the size of the display's bezels by 30% compared to its existing OLED panels. It has been able to reduce bezel thickness from 6 mm to just 4 mm on its 65-inch panels for example, helping to create an even more immersive viewing experience, the company promised.
LG Display said it's planning to integrate OLED EX into all new White OLED panels built at its Paju, South Korea and Guangzhou, China fabs. The implication being that all of LG's new 2022 OLED TVs should incorporate the new technology.
Dr. Oh Chang-ho, Executive Vice President & Head of the TV Business Unit at LG Display, said LG Display saw OLED sales grow 70% last year despite the TV market as a whole seeing sales slip by 12%. "With our new OLED EX technology, we aim to provide even more innovative, high-end customer experiences through the evolution of our new OLED technology, algorithms and designs."
We can only hope that the technology will live up to the billing, but in any case 2022 is shaping up to be a big year for OLED TV in general. LG has already shown off a number of exciting OLED display concepts that may hit the market in the near future, and its big rival in the TV market, Samsung Electronics, is also expected to launch its first OLED televisions next year.
At the same time, Samsung Display – the direct rival to LG Display – is ramping up production of a new kind of OLED technology known as "QD-OLED" that also promises to be brighter and with more accurate colours. The first QD-OLED TVs are also expected to launch next year.
One thing LG Display hasn't clarified is what the launch of OLED EX means for the OLED Evo panels that debuted on this year's premium OLED models. OLED Evo added a new layer to the White OLED stack to boost brightness by around 20% on its existing panels. It's not clear if the technology will somehow be combined with OLED EX, or if it will now be discontinued.