LG's First 8K OLED TV Goes on Sale in Korea
By Mike Wheatley
- 3 June 2019
LG says it's finally ready to ship one of the most extravagant and high-spec TVs its ever made. The company's first ever 8K OLED TV, the 88-inch Z9 model, is now available to pre-order in South Korea, ahead of a European release sometime in the third quarter.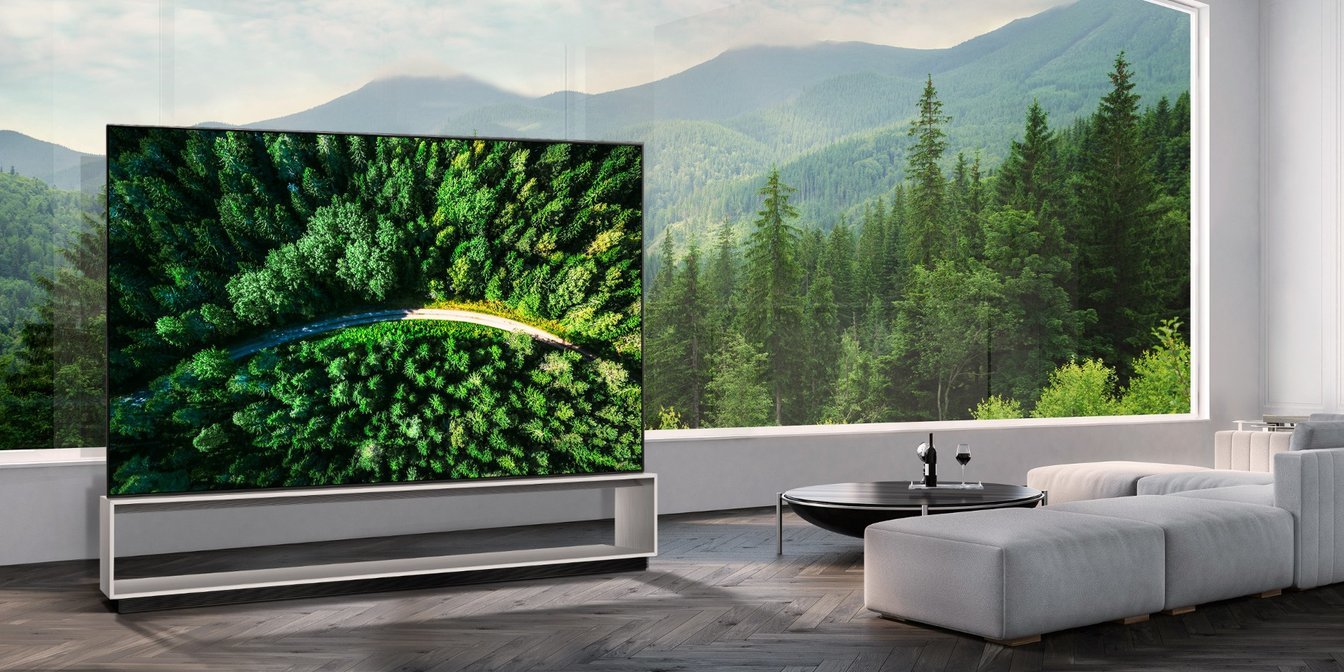 Naturally, LG's pixel-packed Z9 offers some of the best specifications around. The TV is powered by LG's latest Alpha 9 Gen 2 Intelligent Processor, which is found in several of its premium models this year. However, LG says the chip has been tweaked and now employs a 6-step noise reduction process, rather than the 4-step process seen on other models. The Z9 also features a built-in 80 watt speaker system that can upconvert stereo audio to 5.1 surround.
Other features include AI Picture and AI Sound processing; ThinQ AI with Google Assistant and Amazon Alexa; and support for Dolby Vision and Atmos.
LG's Z9 is also the first 8K TV in the world to come with HDMI 2.1 inputs at launch, which means it can support features such as VRR, eARC and ALLM. More important though, HDMI 2.1 is necessary in order to input 8K video at 60 frames per second. Other 8K TVs launched so far this year come without HDMI 2.1 ports.
The aesthetics are pleasing too, with the connections and soundbar all housed inside the TV stand, although it can alternatively be mounted onto a wall.
LG's first 8K OLED TV is a milestone because many experts believe this resolution will eventually become mainstream in the TV industry. 8K offers four times as many pixels as 4K resolution, while OLED provides advantages such as better control over display luminance and higher contrast ratios. As such, LG confidently claims the Z9 will deliver the best picture quality of any consumer TV currently available.
"Being the first to market with the world's first and largest 8K OLED TV shows our commitment to leading the ultra-premium TV segment and delivering the ultimate viewing experience," said Brian Kwon, president of Home Entertainment, LG. "LG was a pioneer in bringing OLED to market and we will continue to introduce state-of-art TV technologies that push the boundaries of what's possible in home entertainment."
LG pointed out that the Z9 is not only its first 8K OLED model, but also its largest OLED display ever built. Previous models were available at a maximum 77-inches.
LG said the Z9 is available to pre-order in South Korea this week, for a discounted price of 40 million won (around £27,000). That might seem pretty expensive but it's by no means the most expensive TV set we've seen so far this year. Sony's new flagship 98-inch 8K ZG9 model for example, will only set you back a cool £84,999. And LG is also throwing in a free air purifier for those who pre-order now.