LG Display Showcases Transparent OLED Displays At Harrods
By Mike Wheatley
- 8 October 2019
LG Display is rekindling its partnership with Harrods department store, showcasing its transparent OLED TV displays in the shop's show windows in Hans Crescent.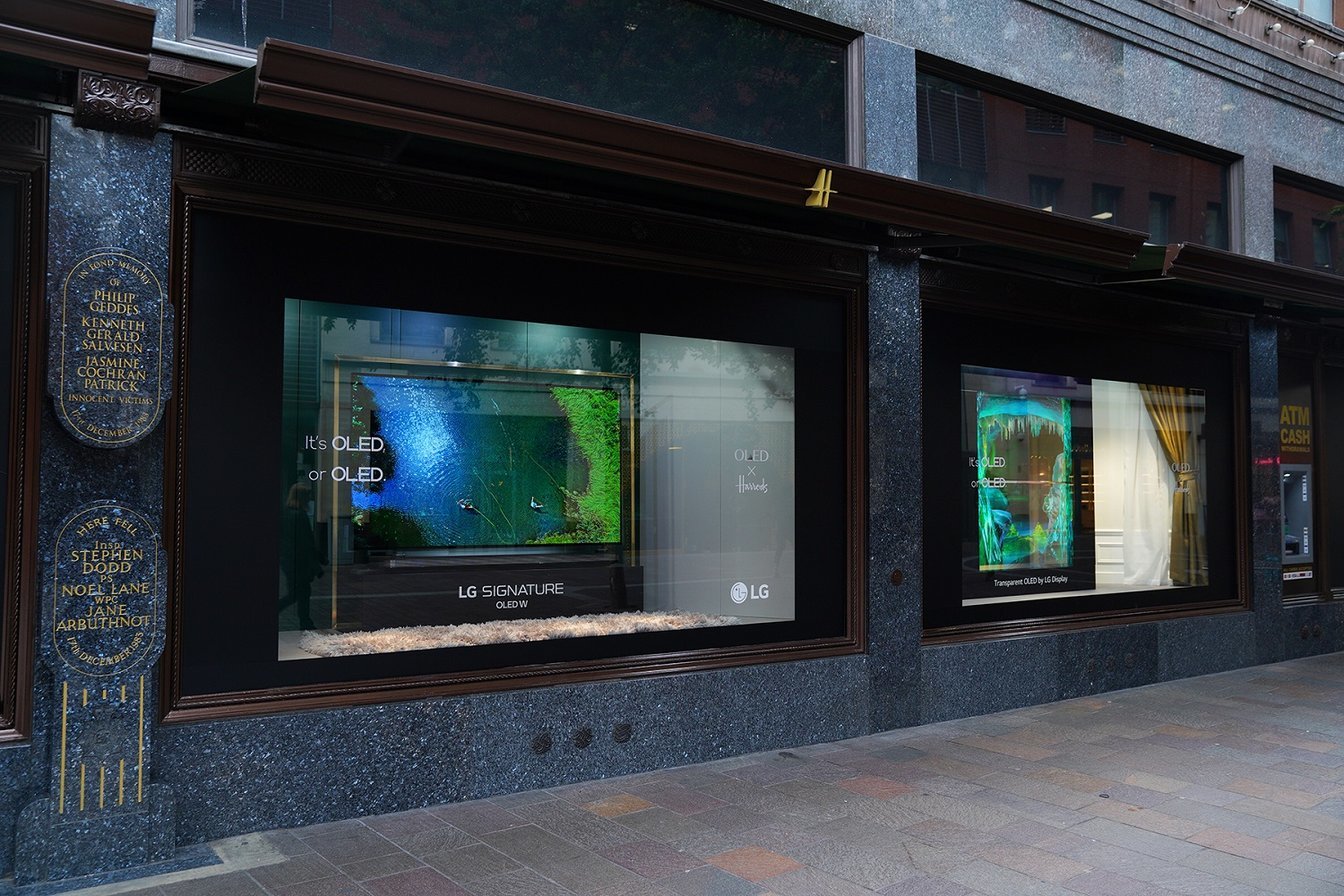 The transparent OLED displays will go on display from October 7th to October 28th, during what is "Harrods' Tech Month".
LG Display previously partnered with Harrods in the summer, setting up a special interactive "OLED zone" on the fifth floor of the department store. The month-long exhibition showcased OLED TVs from a variety of brands in a way that will allowed consumers to "experience the products more vividly", with the aim being to demonstrate OLED's superiority over older LCD display technology.
For the latest initiative there will be two transparent OLEDs on display at Harrods. They include a 55-inch FHD transparent OLED that provides 38% transparency, and a second "show-window" OLED display that's comprised of two 55-inch vertically-oriented transparent OLED displays. Both of the screens will display "exciting and interactive content" that aims to showcase what transparent OLED is all about.
And that of course is indeed what people would like to know. As impressive as the technology looks, we've seen few compelling practical use cases for transparent screens besides being a kind of futuristic commercial advertising display, and even then they tend to be a bit 'gimmicky'. As far as we can see there's no real benefit to having a screen that can be seen through when it's not in use. Unless LG Display can work out a way to fill it with water so we can keep goldfish in there. Maybe.
Still, the lack of any convincing use case hasn't stopped people from pursuing the whole transparency thing for several years now. Most recently, Japanese brand Panasonic showed off an alternative, some might say luxury, transparent OLED display intended for the home. The stylish display, which was on show at IFA 2019 in Berlin, looked more like a luxury glass cabinet than a TV, with the what appears to be a simple, transparent sheet of glass at the front. Of course, when it's switched on it immediately transforms into a vivid and colourful OLED display. Panasonic clearly thinks transparent OLED has the potential to be a kind of premium consumer product – and if that's the case, its prototype model would probably be more appealing to the average shopper at Harrods than the commercial displays being showcased by LG.
In any case, LG Display's partnership with Harrods is just one part of an ongoing push to market the merits of OLED TVs. In addition, the company is also collaborating with five major electronics distributors, including Media Markt and Saturn. The idea is to create additional OLED zones in their respective stores to show off the advantages of OLED to even more potential buyers.
LG Display could certainly do with a boost in OLED sales as it has struggled to turn a profit in recent months due to falling sales in the older LCD display market. The company has responded by shutting down most of its LCD production lines in order to boost its OLED capacity. But it will still need to find more people to actually go out and buy them.