China's BOE expected to launch an array of OLED TV panels later this year
By Mike Wheatley
- 15 June 2022
LG Display could have a major fight on its hands in the OLED TV business, with reports suggesting that China's BOE is preparing to commercialize a range of OLED TV panels later in the year.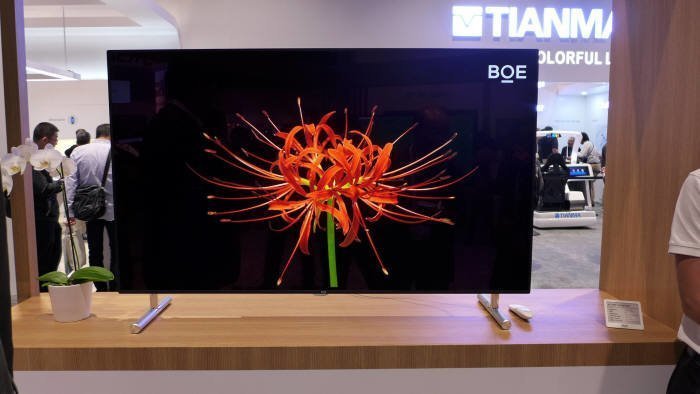 A report in Biz Chosun, a Korean language publication, said BOE could begin mass production of its OLED panels later this year.
Last month, it was reported that BOE was planning the commercial launch of a 95-inch 8K OLED TV panel that was on display at Display Week 2022. Now, it has been revealed that the display maker is actually planning to launch five different OLED TV panels.
The report states that the news comes from the research firm Display Supply Chain Consultants, which was also the first to reveal BOE's plans for the 95-inch panel. DSCC has now stated that BOE will launch five different OLED panels later this year, running from 55-inches to 95-inches, and has plans to make OLED panels for "all sizes sold for TVs", Biz Chosun said. That last tidbit suggests that BOE could even be thinking about producing smaller OLED panels, such as the 48-inch size displays that have proven to be especially popular with video gamers.
BOE has yet to confirm if the reports are true, but if it happens it would mean that the Chinese display maker will rival LG Display and Samsung Display in the OLED TV market. At present, the Korean firms are the world's only two producers of large-sized OLED panels for TVs. Samsung Display entered the market earlier this year with its new QD-OLED displays, but LG Display dominates the segment with its White OLED TV panels that were, for years, the only kind of OLED display available.
LG Display currently supplies WOLED panels to more than 20 TV brands, whereas Samsung Display's QD-OLED panels are currently only available on two TV models, from Samsung Electronics and Sony.
BOE could provide a much sterner challenge to LG Display in the OLED market as its panels are also based on WOLED technology, and will likely be of comparable quality and cost. In contrast, many believe Samsung Display's QD-OLED tech is superior, but it also costs more and is less widely available as the company's production capacity is currently limited. Added to that, QD-OLED is only available in 55-inch and 65-inch sizes at present, though that may change.
BOE has successfully commercialized smaller and medium-sized OLED panels so it certainly has the expertise required. Reportedly, the company has been test-producing larger OLED panels for TVs at its 8Gen B5 R&D production line in Hefei, China. DSCC said it will likely put the panels into mass production later this year, though it's only expected to ship around 300,000 units. That would represent 5% of the 6.52 million OLED TV panels shipped in 2021.
The panel shown off at Display Week 2022 was said to be capable of 800 nits peak brightness, 150 nits fullscreen brightness, had a 120Hz refresh rate and 99% coverage of the DCI-P3 colour gamut, similar to LG's WOLED displays.