TCL announces new Mini-LED, QLED and 4K TVs
By Mike Wheatley
- 13 January 2021
TCL announced at the 2021 Consumer Electronics Show several new 4K LCD TVs that will be launched later this year, including a couple of new Mini-LED and QLED models that might end up going on sale in the U.K.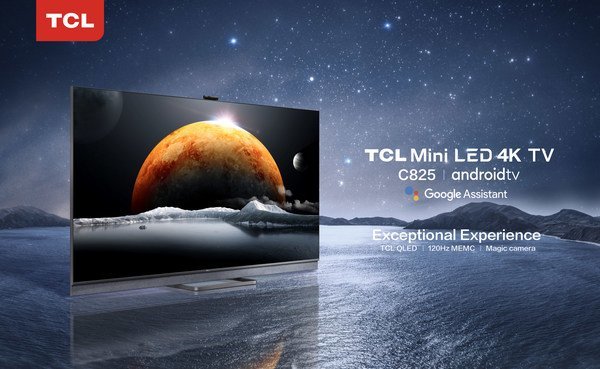 The company unveiled its premium OD Zero Mini-LED and 8K TVs at CES earlier this week, but those models are likely to be aimed at the larger U.S. market than Europe. However, the new TCL C285 Mini LED TV (pictured) looks to be an upgrade on the C815 QLED TV that hit U.K. stores last year, which could mean it will be the first Mini-LED from the company to arrive here.
From the specs provided it looks to be a pretty neat upgrade on last year's model. The most obvious improvement is the Mini-LED backlight technology, with LED sizes of between 100 and 200 μm. The LEDs will be paired with quantum dots that provide colour, enabling the TV to cover a higher colour gamut and deliver much more brightness.
TCL said the C285 will support Dolby Vision HDR and Dolby Vision IQ, which works by automatically adjusting the picture settings according to the ambient light in the room and the type of content, to deliver the best picture. Another nice feature is IMAX Enhanced mode, which takes advantage of content remastered in that format. The TV also boasts a 120Hz display that uses 120Hz MEMC to ensure smoother rendering of fast-paced action scenes and video games. Gamers will also be delighted to know it supports Variable Refresh Rate and Auto Low Latency Mode.
TCL also talked about its upcoming C725 Quantum Dot QLED TV that's able to render almost 100% of the DCI-P3 colour gamut on screen. This, combined with its AiPQ Engine that optimizes content for different genres in real-time, and Dolby Vision HDR, should help the TV to deliver very high quality images on screen.
The C725 will also support Dolby Atmos for surround sound, and comes equipped with Onkyo speakers built-in. It also comes with the Netflix, Amazon Prime Video and Disney+ apps pre-installed, and supports voice controls and gaming features through 120Hz MEMC and its HDMI 2.1 ports, TCL said.
Last but not least, TCL released some details of its upcoming P725 4K HDR TV, which doesn't have quantum dots but keeps most of the features listed above, such as MEMC, voice control, Dolby Vision and Dolby Atmos. It will also offer the "latest Android TV experience", which could well mean the new Google TV interface that TCL has promised to introduce on some of its TVs later this year.