Samsung orders components for smaller MicroLED TVs that may launch in 2022
By Mike Wheatley
- 30 November 2021
Samsung Electronics is making progress on its smaller MicroLED TVs and we could see an 89-inch model debut as early as next year. Unfortunately though, the smaller size is unlikely to make MicroLED any more affordable, as the technology Samsung is employing to create those smaller displays is likely to be extremely costly.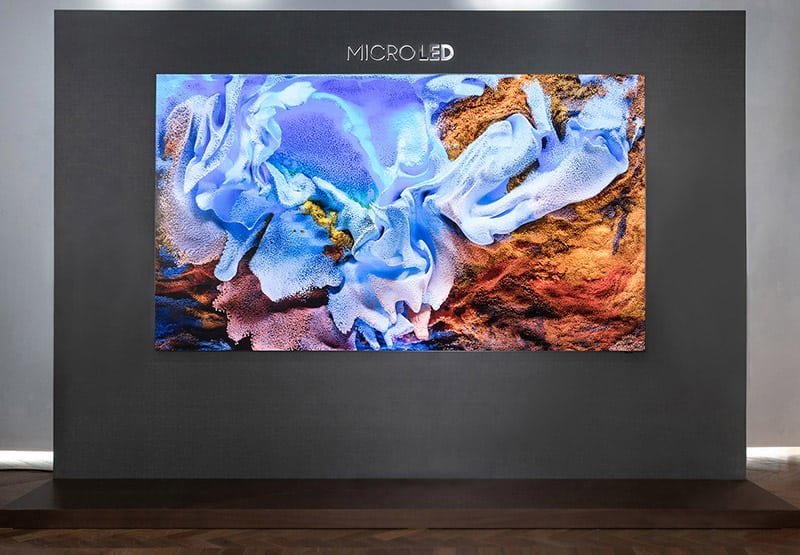 Samsung launched its first consumer-focused, 110-inch MicroLED TV in South Korea earlier this year, with an eye-watering price tag of over £100,000. It was hoped that as the company rolled out smaller versions the price might come down, but the latest reports from Korean media suggest that's unlikely to happen.
A report in The Elec explains Samsung needs to employ a newer technology in order to build smaller MicroLED TVs at 4K resolution. Whereas its existing models use printed circuit boards, newer models slated for a 2022 release will instead use low-temperature polycrystalline silicon thin-film transistors (LTPS TFTs) that act as switches to turn the individual pixels on and off.
The Elec says Samsung Electronics has requested Samsung Display and AU Optronics develop a 12.7-inch TFT to apply to its MicroLED TVs. Samsung needs the smaller TFTs to build its sub-100 inch MicroLED displays at 4K, as it has proven impossible to do so using PCBs. That's why Samsung was forced to delay the launch of its 99-inch MicroLED, originally slated for this year, to 2022.
The company will use the new 12.7-inch TFTs on its 89-, 99-, 101- and 114-inch MicroLED TVs, which are all scheduled to be released sometime in the new year.
The biggest issue for Samsung now is the cost of applying the TFTs to its MicroLED TVs. According to The Elec, a single 12.-7 inch TFT will cost a minimum of $70 and $80, though it could cost even more than that if production yields are lower than expected.
Given that a single MicroLED TV will require dozens of TFTs, it will only inflate the already very steep cost of the products. An 89-inch MicroLED TV for example, would require 49 TFTs, while a 101-inch display would need 64 units, and a 114-inch version would necessitate 81 TFTs.
The Elec's report also says Samsung has permanently scrapped its plans to launch 76-inch and 80-inch MicroLED TVs after deciding it is impossible to achieve 4K resolution even when applying TFTs. While it could theoretically still build Full HD resolution MicroLED TVs, Samsung believes such models would be unpopular with consumers.