Samsung announces UK pricing and cashback offer for 2021 Neo QLED TVs
By Mike Wheatley
- 11 March 2021
Samsung Electronics has announced U.K. pricing and availability for its high-end Neo QLED Mini-LED TVs together with a promotion that offers up to £500 cashback for customers that pre-order one of the models between now and May 4.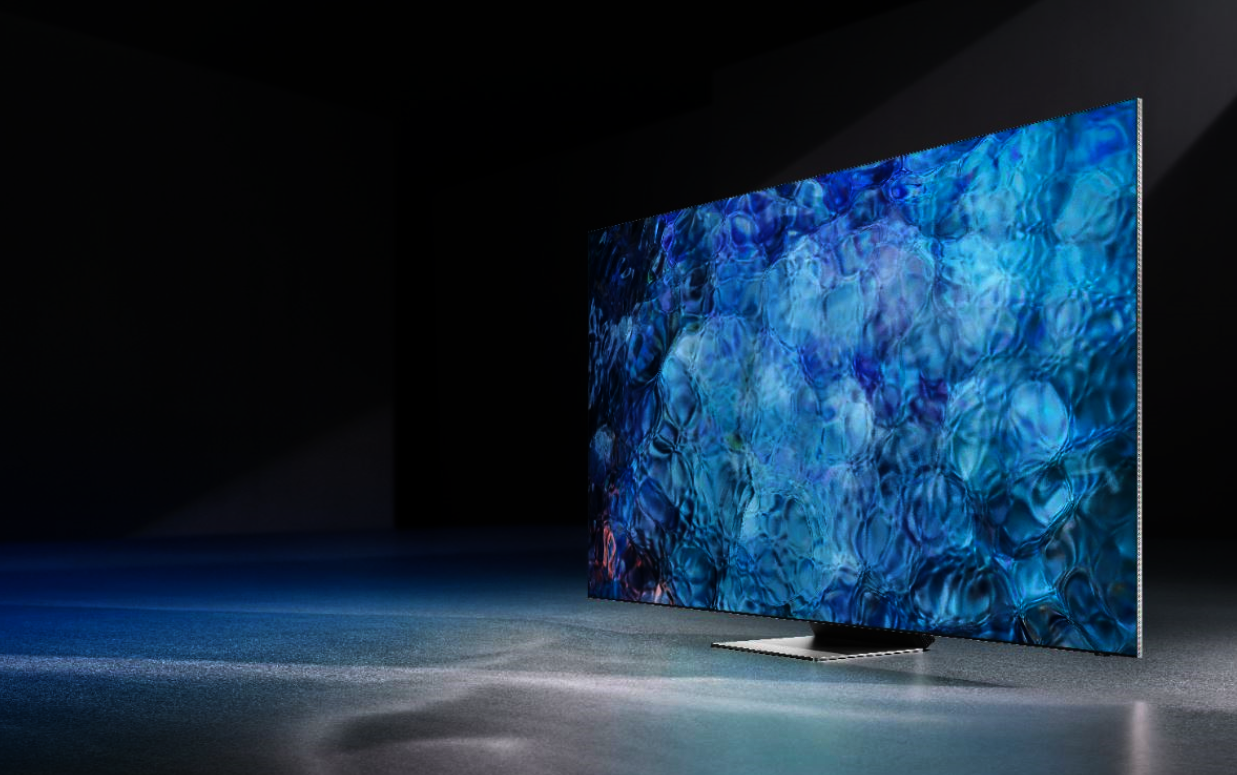 The company debuted its new Neo QLED TVs at the virtual Consumer Electronics Show in January, and it's a pretty exciting lineup that's highly anticipated by all Samsung fans. That's because the Neo QLED TVs promise to deliver the most superior images ever seen on a Samsung TV screen thanks to their new Mini-LED backlight technology.
The Neo QLED panels incorporate thousands of miniaturised LED backlights to create more local dimming zones, and consequently, much better brightness and contrast. The TVs also feature a more advanced "Quantum Processor" with a local power distribution function that sends more power to the brighter parts of the picture and less to the darker parts, plus a sensor that helps to adjust the brightness and contrast according to the ambient lighting conditions in the room. According to Samsung, it all adds up to a far better picture no matter if it's in 4K or 8K resolution.
Samsung's 2021 Neo QLED range includes its new 8K flagship QN900A, which starts at a cool £5,999 for the smallest 65-inch model with £300 cashback if you buy one now. There's also a 75-inch version that will set you back £7,999 and a massive 85-inch version at the higher end, priced at £12,000, for which buyers will receive the maximum £500 cashback if they order it before the promotion ends.
Samsung also has a slightly cheaper 8K model called the QN800A, available in the same choice of screen sizes, priced at £3,999, £5,499 and £6,999 respectively.
For those who don't require 8K resolution, this year's must-have 4K model is the Samsung QN95A, which also, reassuringly, sports the new Mini-LED display technology. The QN95A starts at £2,199 for the 55-inch model, rising to £5,999 for the largest 85-inch version. The 65-inch model will cost £2,999 and the 75-inch variant is priced at £4,499, Samsung said. Those who opt for the largest model will be entitled to the full £500 cashback too. There will be a 50-inch QN95A too later on down the line, but pricing for that model is not yet available.
Besides those, Samsung is also launching a couple of mid-range Neo QLEDs this year, including the QN90A and the QN85A, which lack some of the most advanced features of the above models. The QN90A starts at £1,799 for the smallest 50-inch model, with the biggest 85-inch variant priced at £5,499. Meanwhile the QN85A starts at £1,799 for a 55-inch model, rising to £4,999 for an 85-inch version.
Here's a full breakdown of Samsung's cashback offer:
QN90A, QN94A 50" - £100 cashback.
QN85A, QN90A, QN94A, QN95A, 55"- £200 cashback.
QN85A, QN90A, QN94A, QN95A, QN800A, QN900A, 65" - £300 cashback.
QN85A, QN94A, QN95A, QN800A, QN900A, 75"- £400 cashback.
QN85A, QN94A, QN95A, QN800A, QN900A, 85" - £500 cashback.
One thing all of the above TVs will have is support for HDR10+ Adaptive, which is a new feature that calibrates the picture settings on HDR10+ content in response to the ambient lighting conditions it senses in the room. That should lead to reduced glare and reflections and ensure much more clarity overall.
It's worth pointing out that the Samsung Neo QLED TVs are an ideal choice for gamers too. That's because they provide an input lag of just 9.8 milliseconds, support for 4K at 120Hz, Auto Low Latency Mode and Variable Refresh Rate, making them an excellent choice to pair with the new PlayStation 5 and Xbox Series X consoles. They also have the ability to switch between different aspect ratios such as 21:9 and 32:9, simulating the experience of a true gaming monitor, although you'll have to get used to the black bars at the top and bottom of the screen if you do so.
Samsung said its 2021 Neo QLED TVs are available to pre-order now and will ship either this month or the next.