Samsung Gaming Hub adds Amazon Luna
By Mike Wheatley
- 5 August 2022
Samsung Electronics has revealed that the Amazon Luna video game streaming service is now available through the Samsung Gaming Hub, joining services such as the Xbox TV App, Nvidia GeForce Now and Google Stadia.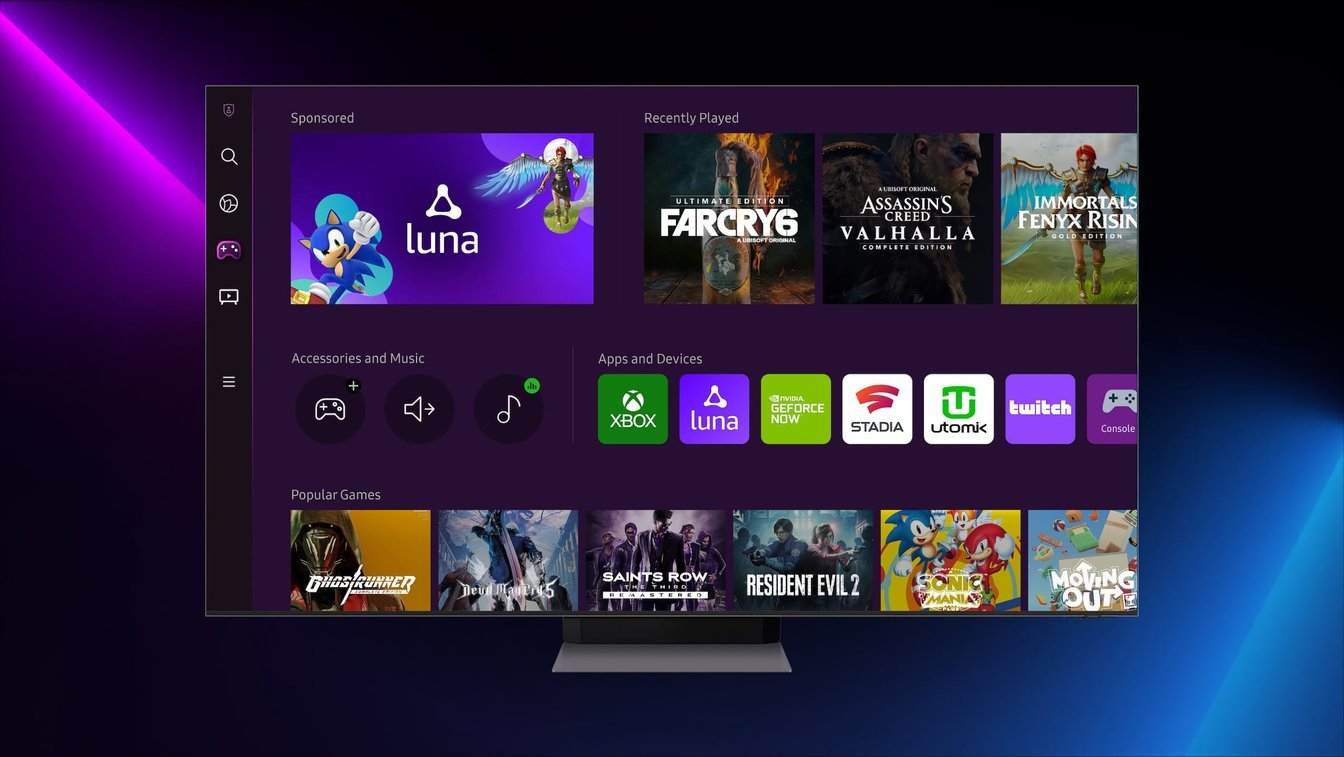 The Samsung Gaming Hub launched in June on Samsung's 2022 TVs only. It's a platform that consolidates all of the major video game streaming services into one app, giving games enthusiasts a way to play hundreds of top games without the need to buy a games console. It scored a major coup when it became the exclusive home of the Xbox TV app, giving Xbox games fans the ability to play their favourite titles without buying a console, though they are required to pay for an Xbox Game Pass Ultimate subscription.
As for Amazon Luna, it is the last of the big video gaming services to hook up with Samsung's Gaming Hub. With the addition, Samsung said its TV owners can now stream more than 1,000 top video games.
Amazon Luna is a new service that only launched this year. It provides users with access to "bundles" of games from a catalogue of more than 250 titles. It also offers a limited selection of free games.
Just as with other video game streaming services, Amazon Luna provides a way to play games without a console. Instead, the games run on external servers, with the content streamed to your TV over the internet, just as how Netflix streams videos to your home. The major difference is there's a bit more two-way action going on, because the service is constantly streaming the input from your games controller back to that server. To play Amazon Luna, all one needs is a compatible Bluetooth controller and a TV.
The major difference between Amazon Luna and the other gaming services mentioned above is its unique pricing structure. Rather than paying to access the complete library, users can mix and match various "channels" of games that suit their gaming preferences. The generic Luna+ option provides a mix of various game genres, or people can go for Family, Retro, Jackbox Games and Ubisoft channels.
In addition, Amazon Prime members are also given access to a limited number of the games. They're able to play a small, rotating pool of games for free. At present, this pool includes four titles - Myst, Control, Garfield Kart and Steel Assault.
Before landing on Samsung's Gaming Hub, the only way to access Amazon Luna on a TV was with a Fire TV device such as the Fire TV Stick or Fire TV Cube. However, Amazon Luna can also be accessed through a PC or Mac computer, Chromebooks, iOS and Android devices.