Samsung Gaming Hub launches on 2022 smart TVs
By Mike Wheatley
- 1 July 2022
Samsung Electronics has started rolling out an update that brings its new Gaming Hub application to its 2022 TV models. Announced at CES 2022, the Gaming Hub is a service that provides access to multiple video game streaming services in a single package, eliminating the need to buy a console to play games.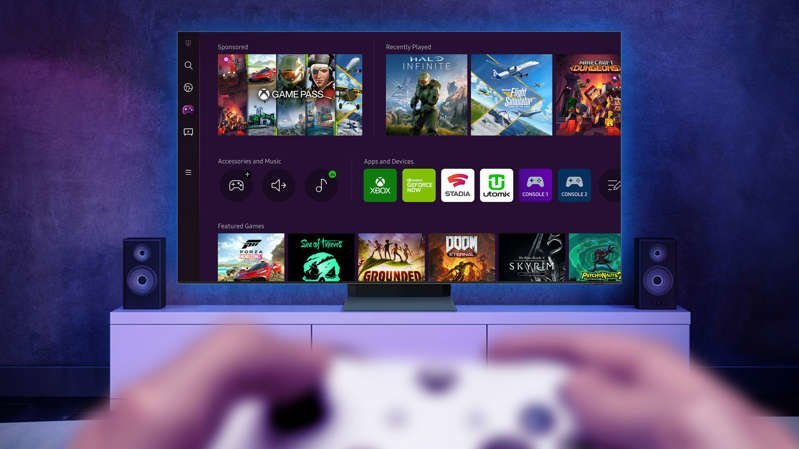 With the debut of Samsung's Gaming Hub, Microsoft's Xbox app will now be available on the company's 2022 TVs. This makes it possible to play some of the biggest Xbox console titles without actually owning an Xbox. To play the games, users will need to purchase a Game Pass Ultimate subscription, then they can login from their Samsung TV and enjoy everything the Xbox app has to offer.
Of course, it's not only Xbox games. The Samsung Gaming Hub also provides access to Nvidia's GeForce Now, Google's Stadia and Utamik, with Amazon's Luna said to be coming at a later date.
None of those services are free though, so the most fanatical gamers could end up with multiple subscriptions on their hands if they want to take full advantage of the Gaming Hub.
In addition to the subscriptions, users will also be required to create a Samsung account and purchase a compatible games controller. The Hub supports both USB and Bluetooth games controllers, Samsung said.
Samsung is launching the Gaming Hub with firmware version 1302.5. The update is being rolled out automatically, but those who own a Samsung TV and don't see the new app can try to update manually by power cycling their television. Note, however, that the Gaming Hub will not be available in the Nordic and some other countries.
"The Gaming Hub is available on 2022 Samsung Smart TVs and 2022 Smart Monitors and requires your TV software to be updated to version 1302.5 or later," Samsung said in a support document.
If you're wondering how a smart TV is able to power the most advanced console games, the answer is that it can't. Rather, the games are streamed to the TV, with all of the processing and rendering performed on cloud-based servers. So the TV only requires minimal processing power itself. That said, the performance is unlikely to match that of a real console, and will likely depend on the strength of the Internet connection.
Samsung said the Gaming Hub also integrates with services such as Twitch and YouTube, allowing players to access gaming content such as guides and tips videos, and livestream their own games, all from one place.
For now the Gaming Hub is only coming to Samsung's 2022 TVs, though the company has hinted that it might roll it out to older TVs at a later date.