Samsung Display making progress on smaller MicroLED TVs
By Mike Wheatley
- 16 October 2021
Samsung Display has reportedly overcome a key issue that has prevented it from manufacturing smaller MicroLED TVs, by successfully reducing the distance between the LED pixels to less than 0.5 millimetres. But it will likely still be some time before we see smaller, more affordable MicroLED TVs go on sale.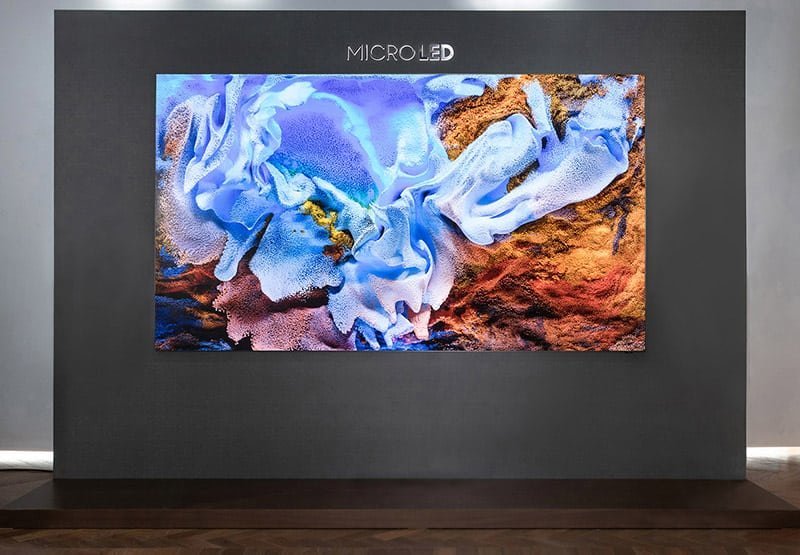 A report in The Elec this week says the reduction in distance between the LEDs is significant, as the space between each pixel on its 110-inch MicroLED TV was 0.63mm - so it has achieved a difference of greater than 10%.
The LED chips, which act as the pixels in MicroLED, have also been miniaturised and measure just 35x60 micrometres on its latest sub-100-inch displays.
Samsung's MicroLED TVs promise to be superior to anything seen in people's living rooms so far. MicroLED is a self-emissive technology that provides all the best bits of OLED but without its shortcomings. The self-emissive properties mean that each pixel can switch itself off, just like OLED, to be completely black, while those next to it can display incredibly vibrant colours to create stunning contrast that simply isn't possible on a regular LCD TV, for example.
MicroLED pixels are brighter than their OLED equivalents too, so it means the TVs should be able to deliver more spectacular contrast and better pictures overall. In addition, MicroLED pixels are said to be inorganic, which means they won't degrade over time and suffer from issues such as image retention.
Samsung Electronics has already launched one MicroLED – the 110-inch version – and had promised to launch a 99-inch model in March or April this year, as well as its first products in the 70-inch to 80-inch range within the next 12 months. But the company has been unable to deliver on those promises as it has struggled to reduce the distance between pixels on those smaller sets to achieve 4K resolution.
Support for 4K resolution is a necessary requirement for any new TV today, as virtually all new movies are made in that format, as is most content from popular streaming services like Netflix and Amazon Prime Video.
But achieving 4K resolution on smaller MicroLED displays is tricky, as it necessitates reducing the space between each LED, and Samsung Display has reportedly been struggling for some time to do that. As The Elec explained, a single error during the transfer process, which is where the LED chips are placed onto the substrate, would mean that 80,000 pixels of the 8 million total in each display would need to be replaced.
Unsurprisingly, The Elec reported that Samsung Display has a much lower manufacturing yield as a result of this difficulty, meaning that the price of production goes up. The issue for Samsung is that most consumers naturally expect a smaller screen size to come at a more affordable price tag, but making those smaller screens costs much more money.
The Elec said that while Samsung Display is making progress, it will delay the launch of smaller MicroLED TVs until it can overcome these profitability issues.