Report: Samsung and Sony to launch first QD-OLED TVs at CES
By Mike Wheatley
- 18 November 2021
Samsung Electronics and Sony Corp. will both launch their first QD-OLED TVs at the Consumer Electronics Show 2022 in Las Vegas in January, multiple reports from South Korea say.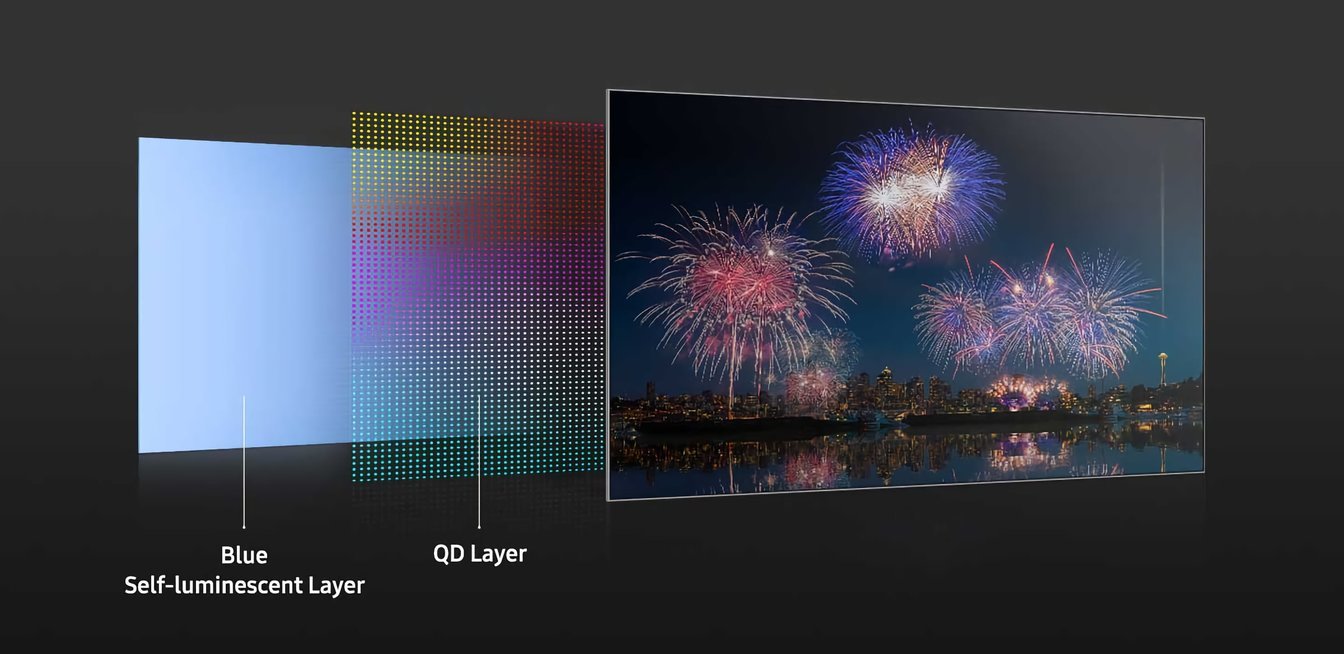 We've known for some time that QD-OLED is in the final stages of development so the news that Samsung will launch its first TVs soon is certainly no thunderbolt from the blue. Samsung Display, the company's display panel making subsidiary, first detailed its QD-OLED technology in the summer. Sony's interest in the technology is more of a surprise, however.
QD-OLED is a new display technology that holds a lot of promise. It combines the Quantum Dots used in Samsung's most advanced LCD panels with the OLED displays that have been popularised by LG Electronics. The idea is that by merging the two technologies, QD-OLED displays contrast levels that match those of LG's OLED panels, with much higher brightness.
It's this merging of the two technologies that Samsung is planning to leverage in its bid to differentiate its first OLED TVs from those of its rival LG Electronics, whose panels are based on what's known as White OLED technology, Business Korea reported.
Samsung did once try to manufacture OLED TVs using WOLED, showing off a number of prototype displays circa 2012, at the same time as its rival's first OLED televisions emerged. However, Samsung Display gave up trying to manufacture them because it failed to achieve its desired production yields, meaning the technology was unprofitable.
LG Display did crack the problem however and it has since come to dominate the OLED TV market as the world's only large-sized OLED panel supplier.
Since withdrawing from OLED, Samsung Electronics has been focused on advancing LCD display technology, firstly with its quantum dot technology and more recently, with its newest Mini-LED TVs. At the same time, the company has continually criticized OLED displays for not being bright enough and for their susceptibility to burn-in problems.
Now, with its first OLED TVs on the horizon, Samsung is effectively doing an about face, though reports say the company is planning to stress the technological differences between QD-OLED and traditional OLED.
While both technologies consist of OLED light-emitting sources and colour filters, Samsung Display's QD-OLED panels create their colours differently, by using a blue OLED layer as the light emitting source and placing colour filters and red and green quantum dots on top of it. LG's WOLED panels, on the other hand, create white by vertically stacking blue, yellow and green OLEDs and using that as the light source.
As for Sony, the Japanese firm has always been much more open to OLED. It's one of LG Displays' biggest customers and its OLED televisions are considered to among the best that money can buy. As such, Sony is unlikely to stop selling OLED televisions using LG's panels. Instead, if it really does launch QD-OLED TVs in 2022, it will be part of an expanded product lineup that also includes LCD-based Mini-LED TVs.
There's every reason to believe that will happen. A report from Chosun Biz last month suggested that Samsung Display was planning to supply Sony with its first QD-OLED panels in early November, so the Japanese firm may already have its hands on those. And Business Korea added to the rumours, saying in its report yesterday that "Sony, the third-largest player in the TV industry, will also release their QD-OLED TV models" next year.
The reports do not specifically mention Sony will unveil its QD-OLED TVs at CES, unlike with Samsung, but it seems safe to assume that is the plan, if indeed QD-OLED models are on the menu for 2022.
For its part, Samsung Electronics will unveil its QD-OLED TVs at its annual Samsung First Look event, which is traditionally held just prior to CES, ETNews said.
The burning question of course is, will Samsung Display's QD-OLED TVs be any better than the traditional OLED TVs popularized by LG? The answer is that until we see them it's impossible to say - Samsung Display has kept QD-OLED such a closely guarded secret that no one knows how they compare, with the exception of a few privileged Korean and Japanese executives and engineers, of course.
That said it's important to remember it's not just the quality of the panel that affects a TV's performance, but also the manufacturers' own image processing capabilities.