LG's transparent OLED displays arrive in Seoul parking lot
By Mike Wheatley
- 14 September 2021
LG Display has installed transparent OLED displays at a parking lot at the Coex Convention & Exhibition Center in Seoul's Trade Tower, under a new partnership with Kakao Mobility.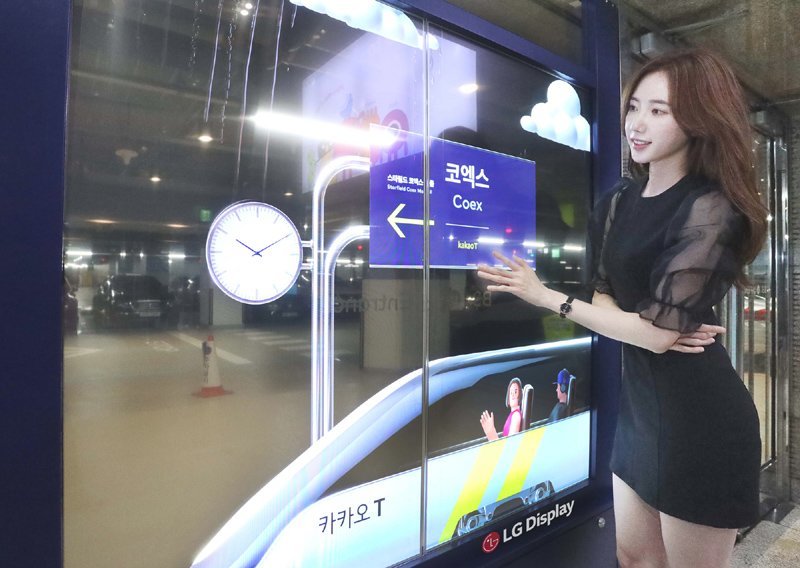 The company said this week it has supplied a batch of 55-inch transparent OLED displays to Kakao for interior use at the parking lot of "Kakao T Parking, in COEX Samseong-dong, Seoul, according to a report by Korea IT Times.
The displays have been installed at the six main entrances that connect the building's car park to Kakao's store inside. The panels were attached to existing glass windows, creating the impression that the glass itself is capable of display images, LG said.
Kakao said the 'windows' are being used to display branded greetings messages to customers and employees as they enter the building.
In addition, LG Display supplied a 55-inch OLED digital signage display that shows usage information and customer participatory advertisements.
Kakao Mobility said the idea is to create a differentiated parking service experience at COEX, which is the company's "city center smart mobility base", according to the report. It's certainly a great place to showcase its technology innovations, as the facility is said to count more than 40 million visitors annually. The parking facility is said to be one of the largest in the country.
"LG Display's OLED enables large-scale digital signage as well as content that provides user benefits, which is expected to achieve another innovation in parking service," said Choi Yun-gyu, director of Kakao Mobility Infrastructure Business Team.
Cho Min-woo, who leads transparent tasks at LG Display, said the company will "continue to creative innovative space designs and differentiated information delivery methods" with its transparent OLED displays.
LG Display has a lot of hopes for its transparent OLED technology, which it believes is where the future of digital signage and advertising displays is headed. The company has previously installed its displays in subway cars in the Beihing and Shenzhen metros in China, and at various locations in South Korea, and always makes a big deal out of it.
The company has also proposed the idea of transparent OLED sliding doors and menus for restaurants, among its other ideas. It has also supplied the transparent OLED panel for TVs such as Xiaomi's Mi TV LUX OLED Transparent Edition.
Most recently, LG showcased a prototype transparent OLED panel with higher contrast that it developed in partnership with the smart glass technology firm Gauzy.