LG's 2020 soundbars launch in the U.S. with AI Sound Pro tech
By Mike Wheatley
- 6 May 2020
LG Electronics has launched its 2020 soundbar lineup in the U.S., with five new models all boasting its new AI Sound Pro technology.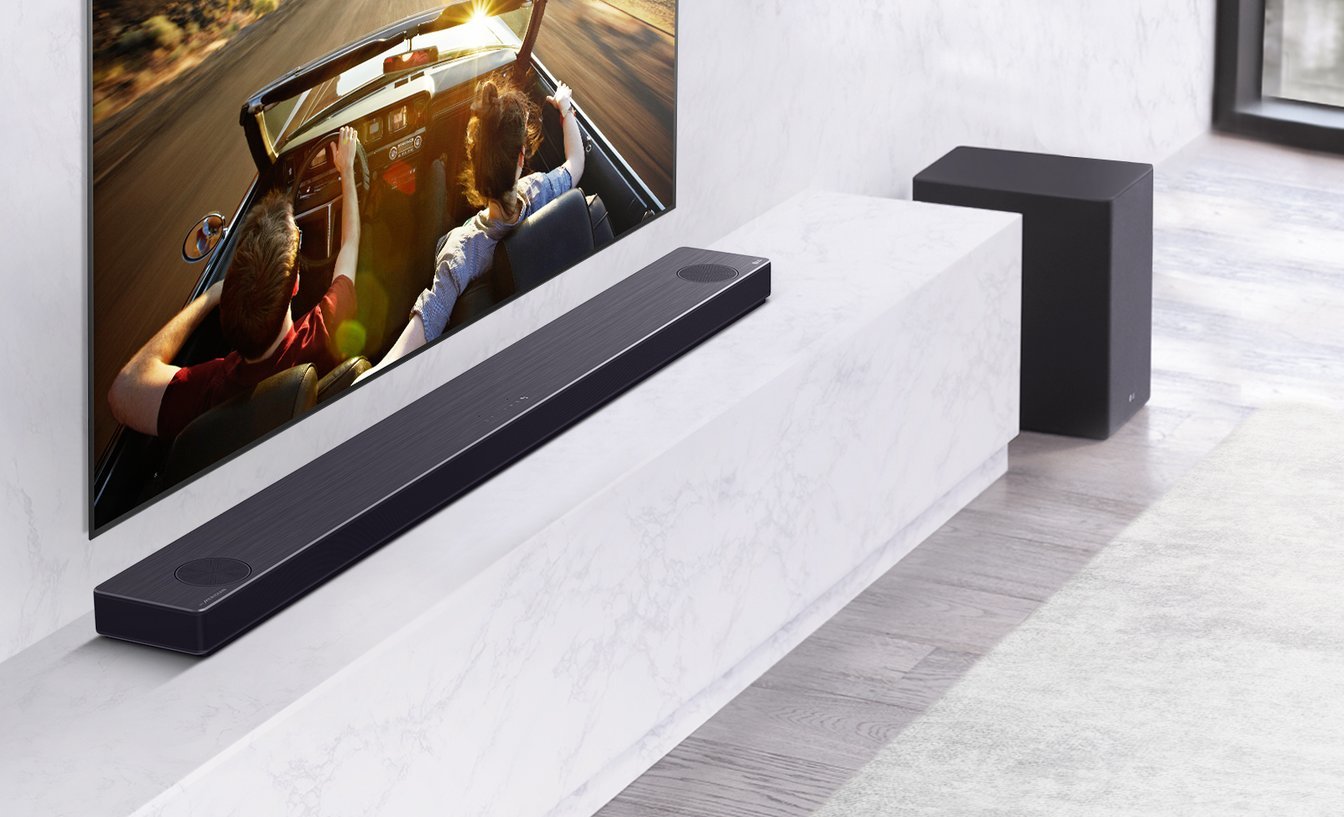 The AI Sound Pro tech was first revealed ahead of CES 2020, and is meant to deliver the optimal sound settings for whatever content is being played through adaptive sound control, which means that the soundbars will analyze the room they're in and adjust the sound according to its layout.
Top of the range is the new LG SN11RG (pictured), which is a 770 watt, 7.1.4 hi-res audio setup that offers two wireless rear speakers that are both forward and up-firing. Being the premium soundbar in this year's lineup, the SN11RG supports Dolby Atmos and DTS:X and features Meridian Audio's Advanced Sound Technology enhancement. Meridian Audio's enhancements are said to boost low frequencies and widen the soundstage, while raising the perceived height of vocals and instrument sounds. The soundbar also comes with Google Assistant built-in, enabling voice controls.
LG said the SN11RG is available to buy in the U.S. from today, priced at $1,700.
One tier down from the SN11RG is the LG SN10YG, which is a 5.1.2 channel audio system that also features Dolby Atmos, DTS:X and Google Assistant, as well as Dolby Vision and 4K passthrough. The SN10YG is priced at $1,300.
Next in line is the LG SN8YG, which offers similar specs and the same features in a 3.1.2 channel setup. The SN8YG is notable for its compact design and simple setup, and is perhaps the preferred option for smaller rooms with TVs of 49-inches and wider. It's priced at $800.
Further on down are LG's more affordable soundbar options for this year, including the LG SN6Y, which is a 3.1 channel setup featuring DTS Virtual:X and a dedicated centre channel. Dolby Atmos and Google Assistant are off the menu at this price point, but the system does offer Bluetooth, HDMI ARC and optical connectivity options. Not bad considering the price is just $350.
The final soundbar this year is the LG SN5Y, which is a 2.1 channel setup with DTS Virtual:X and Bluetooth connectivity. LG says the SN5Y is priced at $230 and is best suited to TVs ranging from 40 to 49-inches.
The three lesser-priced soundbars can all be transformed into full surround-sound systems through LG's SPK8 Wireless Rear Speaker Kit, which is sold separately, priced at $180.
There's no word on when the soundbars will be launched in the U.K., but we expect it won't be too long before they finally hit our shores.