LG Display is building sliding doors with its transparent OLED displays
By Mike Wheatley
- 10 December 2020
LG Display is bringing the future to the present with the news that it's partnering with a Swedish company to make automatic sliding doors out of its transparent OLED displays.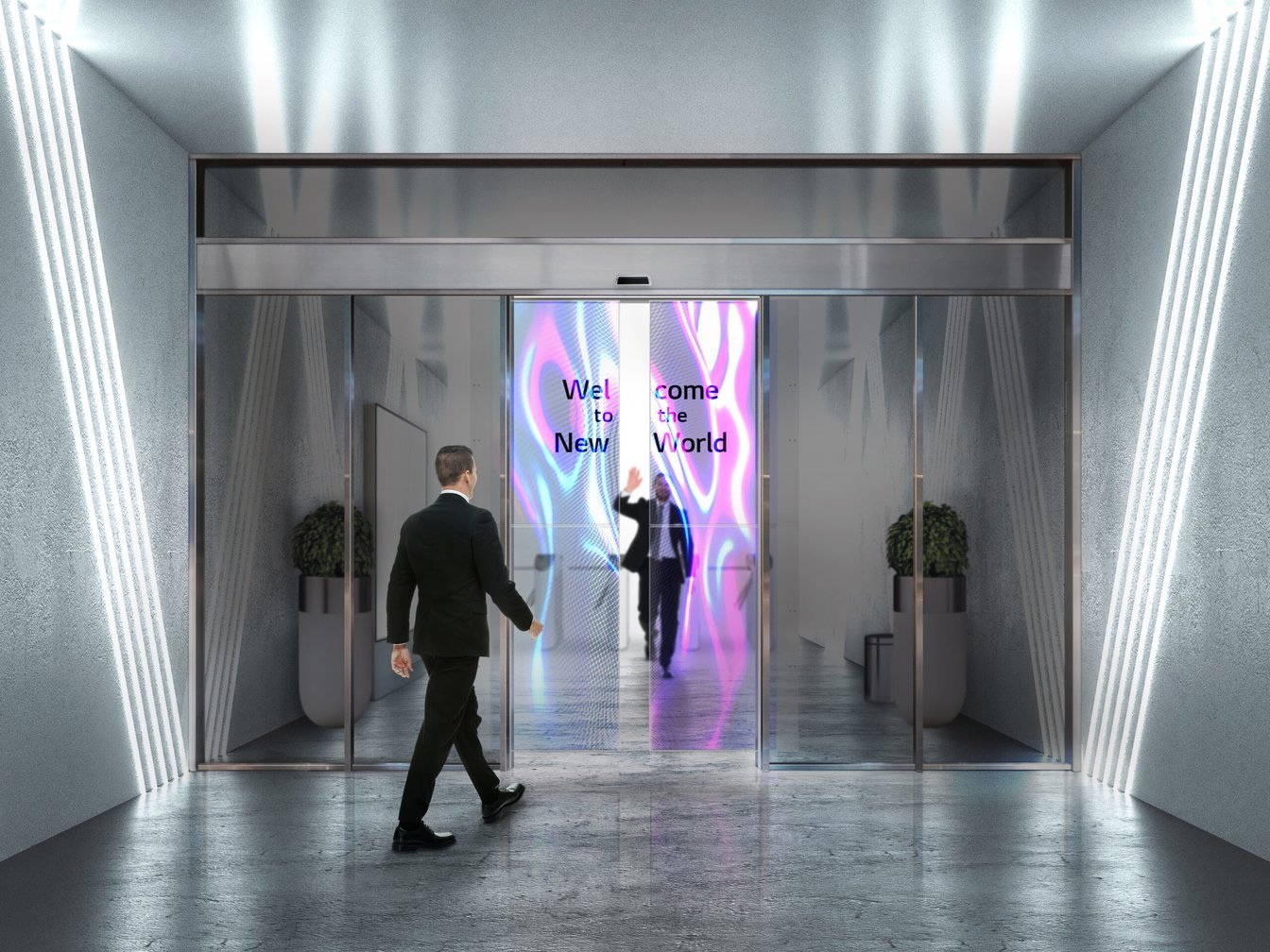 While we may have to wait a while for flying cars and pills that can keep you looking forever young, the futuristic sliding doors are much closer to reality than we might have expected. LG Display said it's working with Assa Abloy Entrance Systems to build a range of doors like the ones pictured above. They'll be mostly transparent, automatic sliding doors that are essentially just an elongated OLED display stood on its end.
LG Display said the screens will be able to display ads, show important messages and greet customers or employees at the buildings they're installed in.
The doors are of course aimed at business customers, and it's just the latest example of a commercial application for transparent OLED, which many thought was little more than a gimmick when the first concepts began to appear. Earlier this year, LG said it was partnering with train operators in the Chinese cities of Beijing and Shenzhen to install transparent OLED displays in the windows of some of their subway cars. The displays are pretty cool, and are used to show real-time information about subways schedules, locations and transfers, as well as details about flights at connecting airports, the weather, news reports and, of course, the occasional advertisement.
Other companies are pursuing the idea too. Xiaomi earlier this year launched what it said was the first commercially available transparent OLED TV, a kind of luxury version of its first ever OLED TV. That really was a gimmick as we're yet to see any particular advantage of a see-through TV, though doubtless some people will probably want to buy one anyway. Meanwhile, Panasonic last month announced a range of transparent OLED displays. Those are TV-shaped but they're not TVs, but rather, more futuristic advertising displays designed to be used in shopping malls, retail outlets, exhibitions and so on.
Both Xiaomi and Panasonic are using transparent OLED panels supplied by LG Display.
It's not clear when the first transparent sliding OLED doors will start being installed in offices, but given how far the technology has come already, don't be surprised if you come across one soon.