Global 8K TV Sales Fall Off A Cliff In Third Quarter
By Mike Wheatley
- 27 November 2019
Sales of 8K TVs fell sharply in the third quarter of this year, and it's said that the war of words between LG Electronics and Samsung over what constitutes a "real" 8K TV could be the reason.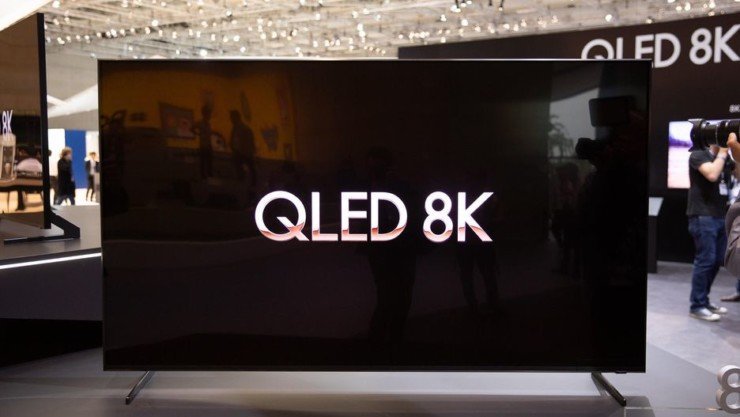 Global sales of 8K TVs in the third quarter of this year numbered just 16,300 units, down almost 50% from the number of units shipped in the previous quarter, Business Korea reported, citing data from IHS Markit. The market is still extremely nascent and therefore quite volatile, but sales had been appreciating steadily since the first 8K models went on sale in 2017. In the first quarter of this year, 15,100 units were sold, rising to 32,500 in the second quarter.
Business Korea cites analysts as saying the slump in sales is likely due to the kerfuffle that followed LG Electronics criticism of the picture quality of rival Samsung's 8K TVs during a demo at the IFA show in Berlin in September. Launching what LG said was the world's first "real 8K TVs", the company demoed its product alongside a similar model from Samsung, and happily pointed out that its rival's did not meet accepted 8K quality standards.
LG's claims that Samsung's 8K TVs aren't up to scratch centre on a metric called the "Information Display Measurement Standard" (IDMS) which was established by the International Committee for Display Metrology (ICDM). According to that standard, in addition to having the right number of pixels, each pixel must also be distinguishable from the others using professional measuring tools. More specifically, the standard says Contrast Modulation should be above 25% for images and over 50% for text. LG's 8K TVs both score around 90%, therefore surpassing all expectations.
LG says that its 8K TVs are the only models presently available that meet this standard.
LG later held a similar demonstration to hammer home its point during an event in South Korea.
Samsung initially chose not to respond to LG's claims, but later reversed its stance and tried to counter those criticisms. But it wasn't done any favors when the Consumer Technology Association suddenly announced in September that it had finalised its list of specifications for TV makers who wish to display its 8K logo on their products. The CTA's specs require that displays "meet a minimum of 50% contrast modulation using a 1x1 grill pattern", which seems to rule out all of Samsung's 8K TVs, but not LG's.
At the time the row erupted, experts said it was likely to have a positive impact on 8K TV sales as it was at least generating more publicity about the technology. But for whatever reason that hasn't happened.
Of course it could just be that the selection of 8K TVs currently available is too limited, and too expensive. At present, just five companies - Samsung, LG, Sony, Sharp and TCL – are actually selling 8K TVs, and in the case of TCL, its models are only available in China. And they all come with a bumper price tag.
As such it seems unlikely that IHS Markit's original forecast for 8K TV sales will come true. The analyst firm said earlier this year it expects around 167,000 models to ship globally in 2019, but cumulative shipments so far this year add up to just 75,000 units, and there isn't much time left.
Still, IHS Markit stands by its prediction that 8K TVs will really start to take off from 2020, forecasting 633,700 units to be shipped that year.