LG To Ship World's First 'Real 8K TVs' Later This Month
By Mike Wheatley
- 3 September 2019
LG will ship what it claims are the world's first "real 8K" TVs later this month in the U.S., U.K., Australia, France and Germany, including its first ever 8K OLED model.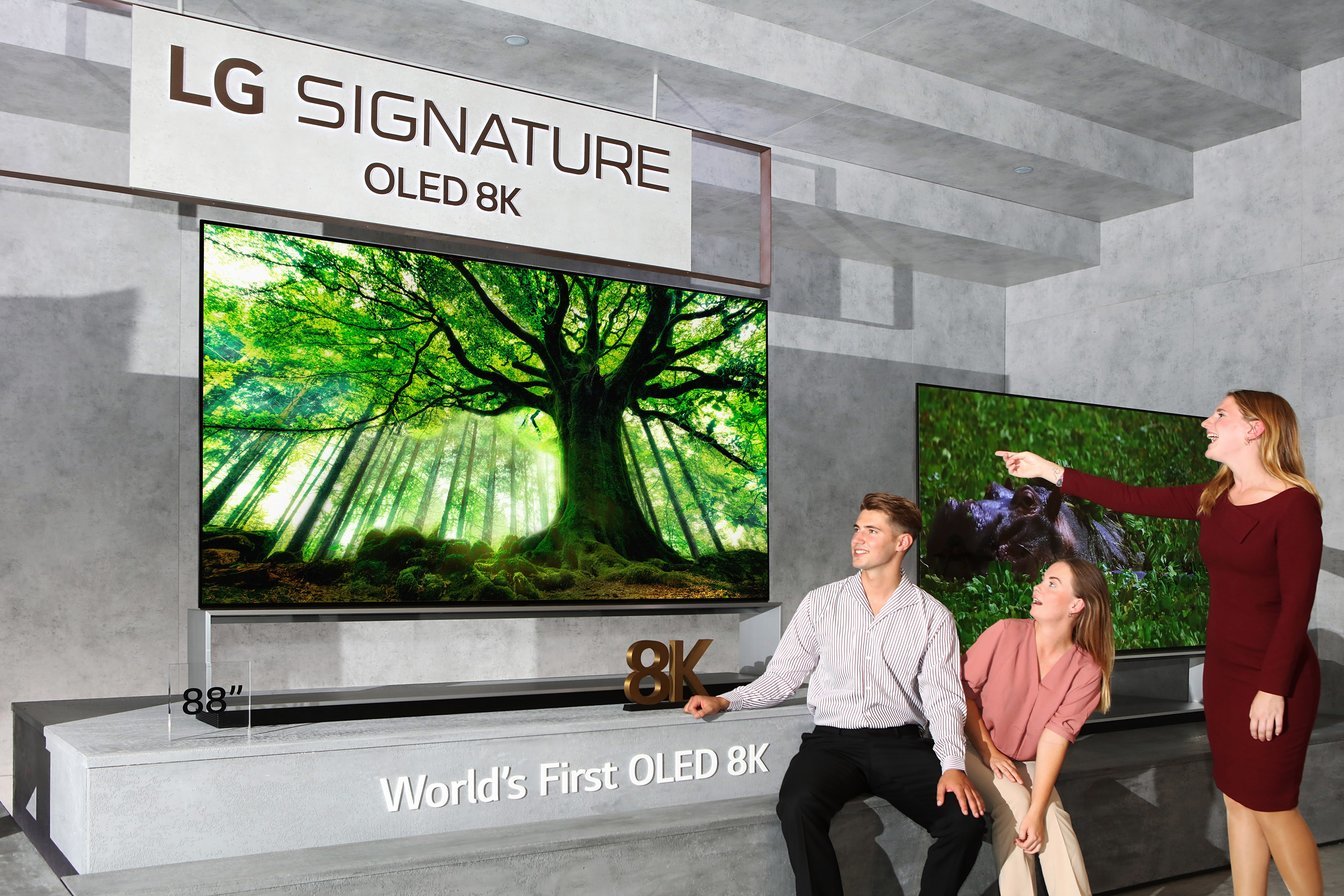 The LG 88Z9 OLED 8K TV is the company's largest model to date, and delivers 8K Ultra HD resolution images of 7,680 x 4.320 with 33 million self-emitting pixels, which is about four times the number seen in a 4K TV and 16 times that of a Full HD television.
It'll cost a pretty penny too. While exact pricing hasn 't been announced for the U.K. just yet, it's said that the LG 88Z9 OLED 8K TV will cost a whopping $29,997 in the U.S., which works out at around £24,900 in our money.
A bit cheaper perhaps is LG's 75SM99 75-inch 8K NanoCell TV, which is just a tad smaller but still hefty enough for most of us. The NanoCell version uses LG's Full Array Local Dimming Pro technology that's optimised for 8K, allowing for more precise control of the backlighting for deeper blacks and higher contrast.
The bigger deal though is LG's claim that these are the world's first "real" 8K TVs. So how did the company come to that conclusion when they have the same number of pixels as 8K models from other brands? Well, that's because it not just about the pixels, LG insists.
Instead, LG points to a metric called the Information Display Measurement Standard (IDMS) which was established by the International Committee for Display Metrology (ICDM). According to that standard, in addition to having the right number of pixels, each pixel must also be distinguishable from the others using professional measuring tools. More specifically, the standard says Contrast Modulation should be above 25% for images and over 50% for text. LG's 8K TVs both score around 90%, therefore surpassing all expectations.
LG adds that its 8K TVs are the only models presently available that meet this standard.
Rival firms Samsung and co. will likely want to argue the toss. After all, LG's claim comes just days after the 8K Association, whose members include Samsung, Panasonic, Hisense and TCL, but notably not LG, published its own set of standards for 8K TVs. The 8K Association's standards detail stuff such as HDMI 2.1, high frame rates and a minimum 600 nits peak brightness, but there's no mention of the IDMS standard used by LG.
In any case it'll be the buyers who ultimately decide which 8K TV is best, and LG's are certainly enticing. As well as claiming to be "real", both models feature the necessary 8K upscaling technology required to display non-8K content as something close to native 8K on screen. The TVs also incorporate LG's latest Alpha 9 Gen 2 intelligent processor, and support HDR formats including Dolby Vision, Advanced HDR by Technicolor, HDR10 and HLG. The TVs will also come with support for Apple's AirPlay 2 and HomeKit at lauch, and will have built-in Amazon Alexa and Google Assistant in some markets.