LG Adds Support for Apple's AirPlay 2 & HomeKit
By Mike Wheatley
- 25 July 2019
LG's 2019 TVs are finally getting support for Apple's AirPlay 2 and HomeKit via an update that will begin rolling out this week. The update was first revealed in a tweet from the company's Australian Twitter account, and later confirmed in an official announcement on Wednesday.
The company said support for AirPlay 2 and HomeKit will arrive via a firmware upgrade that will start rolling out this week. It will first introduce the upgrade to its 2019 model LG OLED TV AI ThinQ, which is currently only available to buy in South Korea, on Thursday. The upgrade will then be introduced to other 2019 LG TVs on a step-by-step basis, with the process expected to be completed by the end of the year.
AirPlay 2 is Apple's wireless protocol for streaming music to third-party devices, and can be used by connect TVs to compatible speakers to create a kind of multi-room sound system. The protocol also adds improved audio buffering, integrates with Apple's voice assistant Siri, and provides multiple control access across iOS devices, which is useful for those who want to stream their sound to more than one room.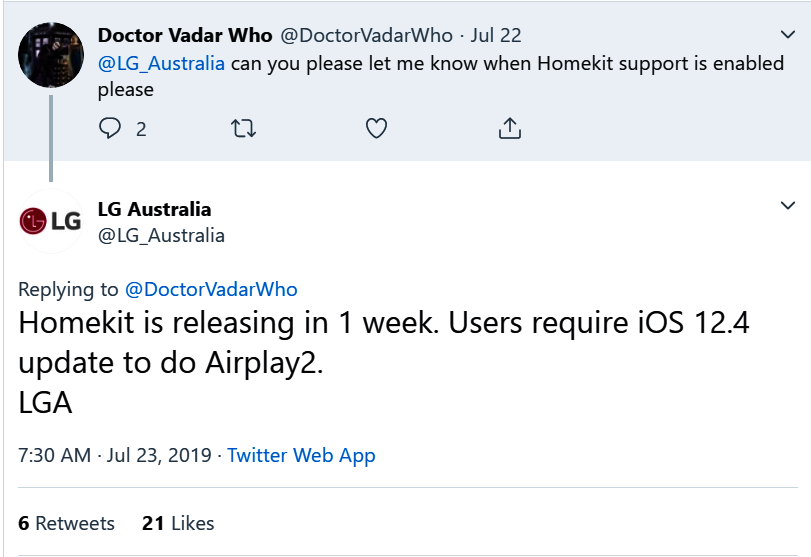 HomeKit meanwhile allows users to control their TV and other smart home devices via Siri or the Apple Home app.
LG first promised the features would come to its TVs when they were launched in March, saying they would arrive around summertime. The updates follow the addition of support for Amazon's Alexa digital assistant, which was introduced in the U.K. in June.
LG's rival Samsung has also announced that it will add support for Apple AirPlay and iTunes for both its 2018 and 2019 smart TV models. That may cause some angst for those who own an older LG TV set, as the company has made no mention of adding support for its 2018 TVs.
Vizio has also announced that it too will support AirPlay 2 via a firmware update expected later this year.