Amazon has launched its first Amazon Fire TVs with Alexa controls
By Mike Wheatley
- 10 September 2021
Amazon.com has launched its first ever branded TV sets, confirming rumours of an imminent launch that first appeared last week.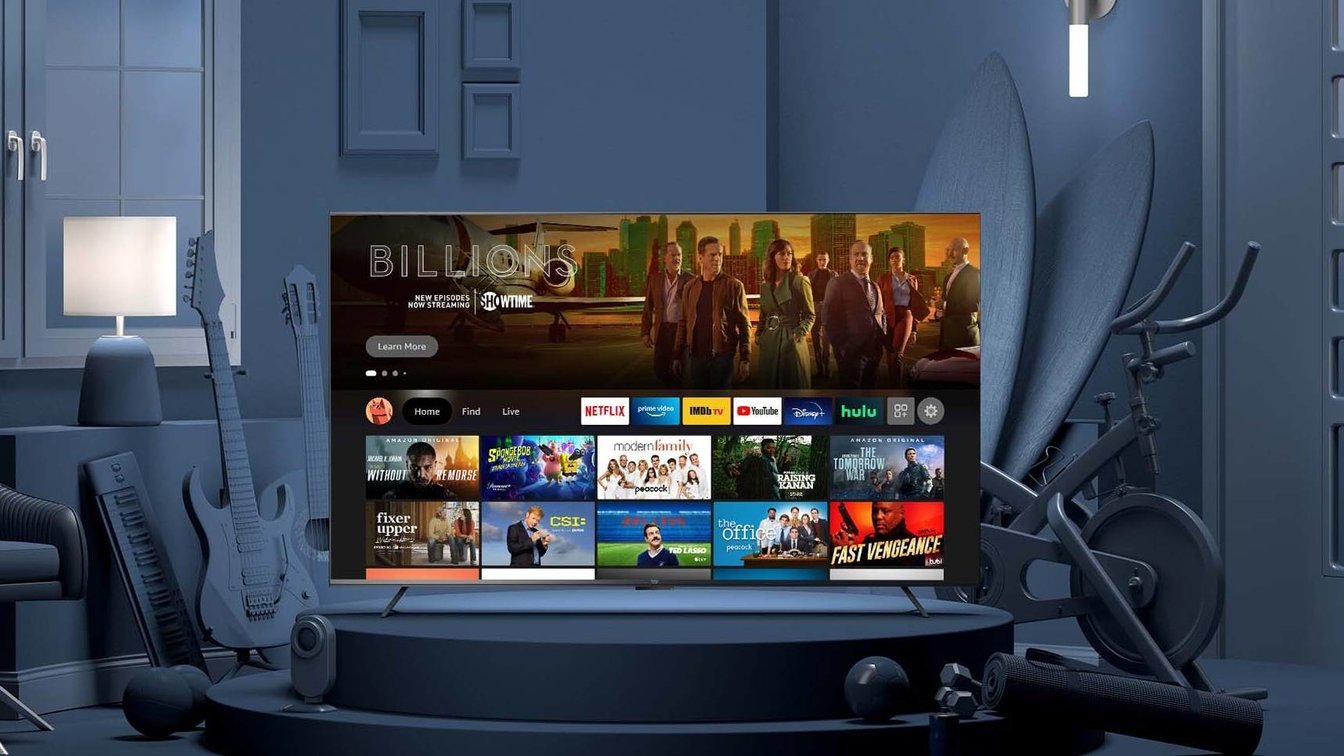 The company has announced two different models, including a fairly high-spec Amazon Fire TV Omni Series (pictured), and the more affordable Amazon Fire TV 4-Series. Both models support 4K resolution.
The launch of the TVs brings Amazon into direct competition with TV makers such as Sony, Samsung Electronics, LG Electronics and Panasonic, and is a step up from its previous TV efforts. Up until now, the company had worked with brands like Toshiba and Insignia to launch TVs powered by its Amazon Fire interface and launched a number of streaming devices, but these are the first actual TVs of its own.
Amazon's strategy mirrored that of its main competitors, such as Roku and Google, which also sell various streaming sticks and boxes and work with third-parties to power their television hardware.
But the company has now gone one step ahead of those rivals.
Amazon said it's launching its own TVs because it believes that by building the hardware itself, it will be better able to integrate its Fire TV software with Amazon Alexa voice controls. What went unsaid is that the launch also gives Amazon the freedom to set its own prices, giving it an opportunity to undercut competitors. That's a familiar tactic by Amazon to win market share. For example its Amazon Fire tablets typically sell at a fraction of the price of Apple's iPads or higher-end Android tablets.
Amazon is also promising a "frustration-free" setup for its TVs. You simply open the box, pull it out, plug it in and switch it on. So long as you have an Amazon account and have already previously connected an Amazon device to your Wi-Fi, it will automatically connect to your home network and be ready to roll, the company promised.
As far as the TVs themselves go, buyers have a few options. Amazon said the Fire TV Omni Series will come in a choice of five sizes ranging from 43-inches ($409), 50 inches ($509), 55--inches ($559), 65-inches ($829) and 75-inches ($1,099).
The big feature is Alexa, which makes it possible for viewers to control the TV without a remote control. Simply ask it to play any show or movie and it will come on immediately. Alternatively, ask it for a song, the news headlines or the latest weather forecast and it will immediately oblige, Amazon said. The TV features a built-in microphone that Amazon says is sensitive enough to understand a user's voice command from anywhere in the room. Alternatively, those who fear the invasion of privacy can switch the microphone off and use the remote, Amazon said.
The Fire TV Omni also supports Zoom video calls with its built-in camera and should provide fairly decent quality pictures and sound, with its LCD display supporting colourful Dolby Vision HDR and the built-in speakers compatible with Dolby Digital Plus audio.
The lower-spec Fire TV 4-Series will come in three different sizes: 43-inches ($369.99), 50-inches ($469.99) and 55-inches ($519.99), Amazon said. Those models also integrate with Amazon Alexa for voice control, but that feature will only work if the user taps a button on the remote first, unlike the Fire Omni TVs where it's possible just to raise your voice.
The Fire TV 4-Series have a noticeably thicker bezel around the edges of the screen too so they definitely look cheaper, and there's no webcam for video calling either. Also lacking is Dolby Vision, though they do support the HDR10 and HLG standards that provide some improved clarity for darker and brighter scenes.
One neat feature they do have is the ability to automatically detect and add Amazon Echo speakers, which can then be used as part of a surround sound setup.
Amazon said an update later this year will make it possible for both TV models to interact with and control other smart home devices, such as lights, thermostats and video cameras, through a software dashboard that will appear on the screen.