Sony launches Apple TV app and enables HDMI 2.1 on select TVs
By Mike Wheatley
- 15 October 2020
Apple's video streaming service Apple TV+ is being made available to Sony XH90 TV owners as part of a firmware upgrade, the company said this week.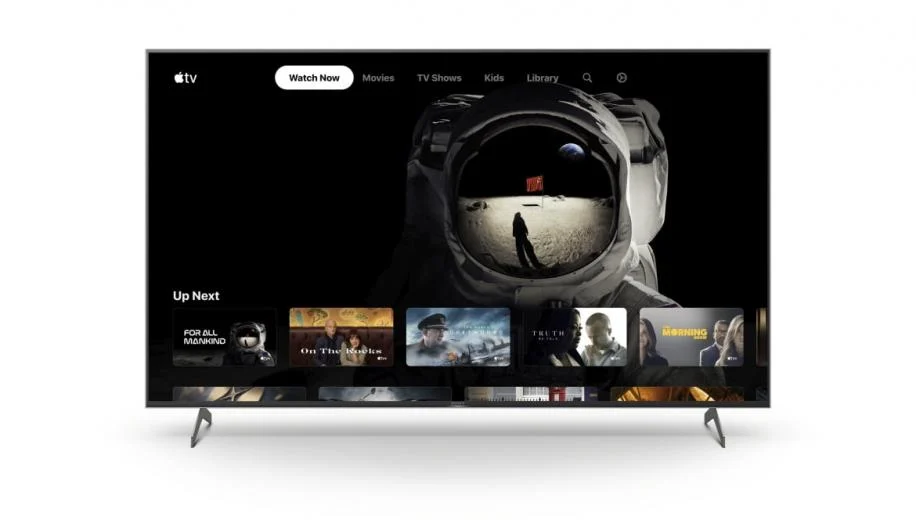 The Apple TV app is being introduced on all 55-, 65-, 75- and 85-inch Sony XH90 LED LCD TV models. In addition, Sony said it's also enabling some HDMI 2.1 features on the XH90 and its 8K Sony ZH8 LCD TV this week.
The Sony XH90 is the Japanese firm's flagship LCD TV this year, and already comes with Apple's AirPlay 2 wireless protocol and Apple HomeKit, which enables interoperability with various Apple devices. But the addition of the Apple TV app is a compelling update, as it brings much more content from the iPhone maker's various TV platforms.
The most prominent of those is Apple TV+, the company's one year old video streaming service that provides access to original shows, movies and documentaries including the Greyhound movie starring Tom Hanks, plus The Morning Show, See, Defending Jacob, Ted Lasso, The Banker, Boys State and Beastie Boys Story.
In addition, the app brings the full library of content available on iTunes, which consists of more than 100,000 movies and TV shows in all. On iTunes, it's possible to both buy and rent content, and there are numerous shows and movies available in 4K HDR and with Dolby Atmos to take advantage of the TV's premium features. Perhaps the best thing about the app however is its Family Sharing feature, which enables up to six members of the same household to share their subscrptions to specific Apple TV channels.
"The Apple TV app is available starting today in Europe on Sony's XH90 series via a software update, and will roll out to over 100 other countries and regions soon," Sony Europe announced.
While the Sony XH90 is getting the Apple TV app now, other Sony TV owners will be pleased to hear that it's set to arrive on most 2020 and 2019 models, as well as select 2018 models, before the end of the year.
Sony's second update brings more exciting capabilities to video games enthusiasts. Sony said this week the Sony XH90 and the 8K Sony ZH8 are both receiving a firmware upgrade that enables certain HDMI 2.1 features on the TVs.
This is important, because both models have been categorised by Sony as "Ready for PlayStation 5", an official designation which means they're able to support the most advanced features of the company's upcoming PS5 console, and presumably, Microsoft's upcoming Xbox Series X as well.
Firmware update v6.4775 enables greater bandwidth on the compatible HDMI 2.1 ports on both TV models, which means those games consoles and some media players will be able to feed the XH90 TV with a 4K signal at 120 frames per second, and the ZH8 TV with an 8K signal at up to 60 frames per second. The upgrade also enables a second feature called enhanced Audio Return Channel that provides better sound quality.
The company is also planning to add Variable Refresh Rate and Auto Low Latency Mode features via a later update once they have been formally certified, it said.