Samsung's The Premiere HDR10+ laser projectors now on sale
By Mike Wheatley
- 15 November 2020
Samsung has announced the world's first HDR10+ laser projector can now be purchased in the U.K.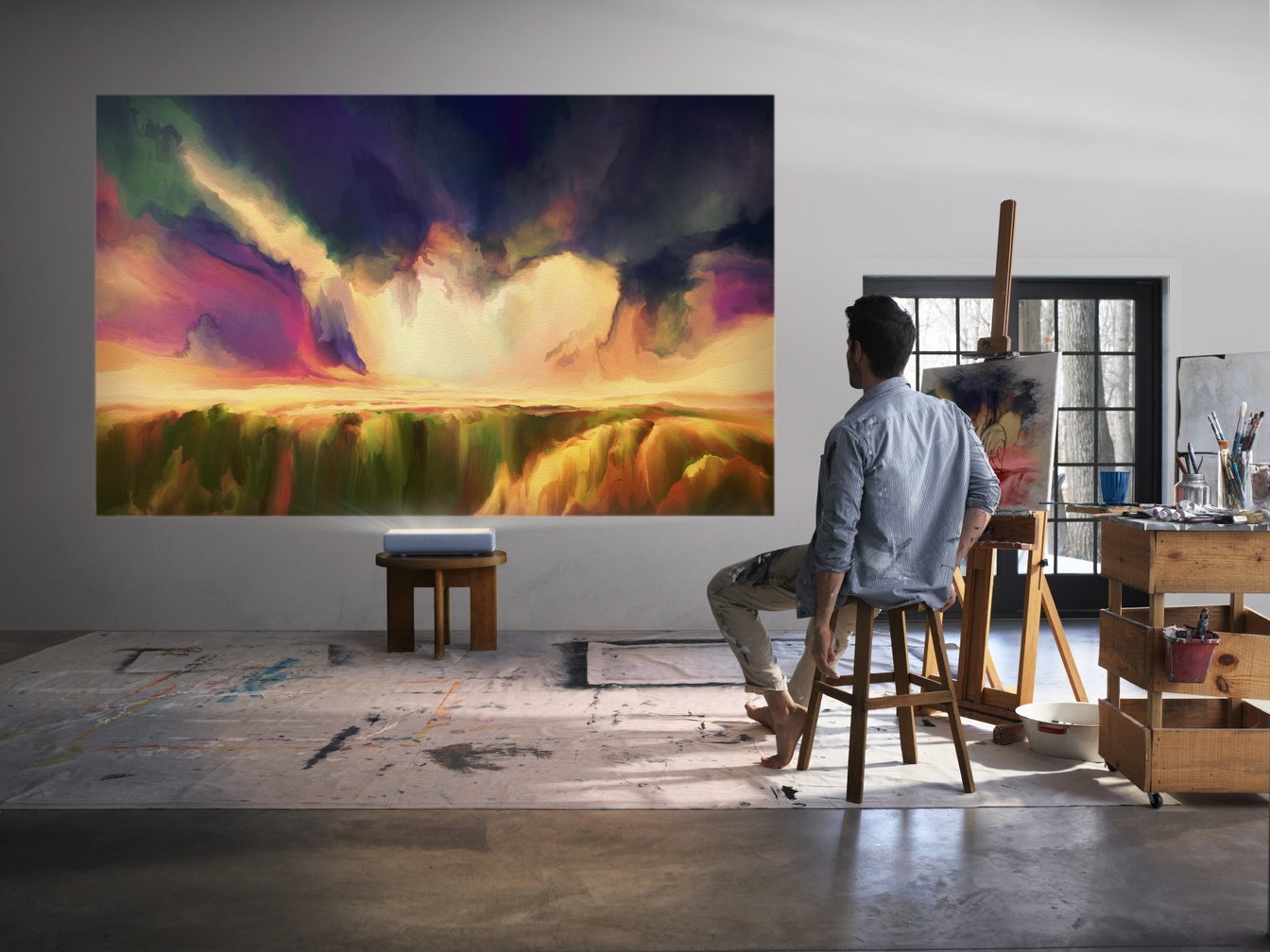 Samsung's ultra-short throw projectors are known collectively as "The Premiere" and they're being marketed as part of the company's lifestyle range of TVs, which puts them up in the same bracket as its luxury The Sero, The Frame and The Serif models.
The biggest difference is that these are, of course, projectors rather than traditional TVs, and there are not one but two models to choose from, the LSP9T and the LSP7T. Because they're ultra-short projectors, it's possible to sit them just a few inches from a wall and throw up an image of 130-inches, anywhere in your home.
The LSP9T is the more expensive of the two, offering a peak brightness of 2,000 ANSI lumens – more than enough to see clearly in brightly-lit rooms. It comes with a 40 watt, 4.2 channel speaker system built in, and also benefits from Samsung's Acoustic Beam technology for more precise audio.
The LSP9T is capable of delivering 4K HDR images thanks to its triple laser light source, with one laser for each of the primary colours, which means there's no need for a colour wheel as in traditional projectors. That helps to elminate the possibility of colour fringing and any excess machine noise, Samsung said.
The LSP7T is a bit more affordable because it uses a single laser light source with a colour wheel. It also offers a slightly smaller display of just 120-inches though the peak brightness is higher, at 2,200 lumens. The speaker system is less powerful, with a 30 watt, 2.2 channel setup built in.
The support for HDR10+ is interesting, as The Premiere is the first laser projector to have this. HDR10+ is a premium high dynamic range format that rivals the better known Dolby Vision. HDR10+ uses dynamic metadata so the brightness range can be adapted on a frame-by-frame basis, which means the full colour range can be deployed in any scene, even in those that are predominantly dark or light. While HDR10+ isn't as popular as Dolby Vision, there is a growing catalogue of available content, with Google Play Movies being the latest service to announce support for the format.
Of course, it's worth mentioning that there's no support for Dolby Vision itself, something that's neglected with all of Samsung's TV products.
The projectors are also said to support the new Filmmaker Mode that's supported by several major Hollywood producers and tries to reproduce content exactly as the creator intended, without any additional processing.
Both of the projectors are powered by Samsung's Tizen operating system, and have access to all of the most popular TV apps you could think of, including Amazon Prime Video, Apple TV, Disney+ and Netflix. The projectors also provide three HDMI inputs and a USB port for additional media sources.
The Premiere was first announced in September, and with the range being included in Samsung's lifestyle collection, it means they're really being pitched as an alternative to a regular living room TV.
It remains to be seen how many takers Samsung will have though, as The Premiere projectors aren't exactly cheap. The Samsung LSP9T has been priced at £6,999, while the cheaper Samsung LSP7T retails at £3,999. They're available to buy now at Harrods and Samsung's online store.