Samsung teases Lifestyle TV owners with a free pot of paint
By Mike Wheatley
- 23 October 2020
Samsung is offering its Lifestyle TV owners in the UK a free tin of paint – that's right, paint! - to spruce up their homes.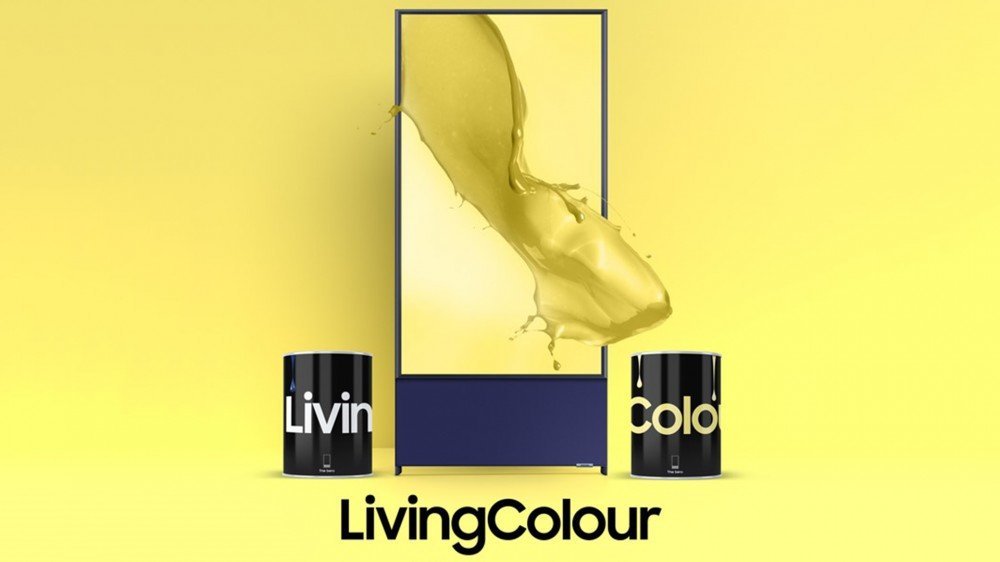 It said there are six different colour shades in its LivingColour paint range for each of its three Lifestyle TVs, with a choice of two for each one. One shade is designed to match the exact colour of each TV, while the other is said to "create a positive emotional response by using color psychology," Samsung said.
So, for example, owners of Samsung's The Serif TV can choose from "Serif Cotton Blue" or "Champagne Bliss" which helps to provide gentle energy that soothes and relaxes the mind, while The Frame owners have a choice of "Frame Beige" and "Restful Pine", which is a peaceful and restorative green that's said to promote feelings of safety and harmony. Meanwhile, The Sero TV has been matched with "Sero Navy Blue" (pictured, below) and "Bright Spark", a cool yellow that envokes a lively can-do attitude, Samsung said.
Samsung said it worked with a colour expert to come up with two paint shades for each model in order to showcase their "innovative aesthetics". The company also worked with three social media influencers, including artist Yinka Ilori, to display the paints in feature rooms alongside their corresponding TV models.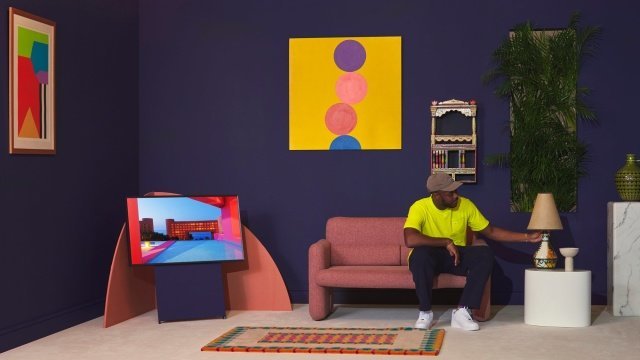 The free paint giveaway is a colourful marketing stunt for sure, but if you're into DIY or just bored stiff from being locked down in your home, redecorating may not be a bad idea. Samsung said the offer is available to Lifestyle TV owners in London from its Kings Cross concept store, as long as supplies last.
Samsung TV Plus
Samsung also has some more serious news with an update to its free, ad-supported streaming service, Samsung TV Plus.
Samsung TV Plus provides access to a range of content from more than 80 live and on-demand channels including Euronews, Qwest, Fuel TV and Movie Central, and gives users another option besides built-in streaming apps such as Netflix, Disney+ and YouTube.
The company said the upgraded service is available now on all of its 2017 to 2020 TV models, from its flagship Q950TS QLED 8K TV through its entire Full-HD range.
As part of the update, there's a new "overlay bar" that gives users a quick summary of their most recently viewed channels, plus a new top recommendations list that's customized for each user based on their viewing habits. Meanwhile the redesigned Home Page has a new "Continue Watching" feature that enables viewers to pick up at the exact spot from whatever show they were watching before.
"This is a proud moment for us at Samsung; as we continue to embrace innovation and enhance our customers' user experience," said Gus Grimaldi, Head of Product Europe at Samsung Electronics UK. "We're delighted to offer an exciting new upgrade to Samsung TV Plus, our free entertainment service. Samsung TV Plus is available on all Samsung Smart TVs from 2017 to 2020 offering diverse linear and on-demand content across the UK and multiple European territories."