Philips OLED855 TV scoops 2020 iF Design Award
By Mike Wheatley
- 13 February 2020
TP Vision, the company that operates the Philips TV brand in Europe, is in a celebratory mood after four of its latest products scooped prizes in the annual iF Design Awards.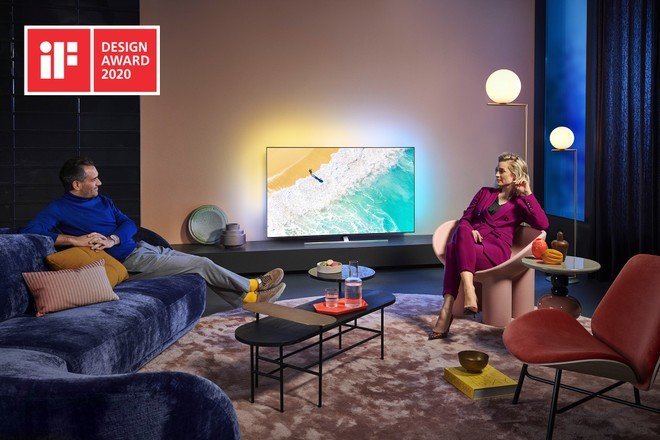 The iF Design Awards are given to various consumer electric products in recognition of their outstanding design, with the main criteria for consideration being innovation, formal quality, functionality and ecological compatibility.
Philips' winning products include its latest high-end OLED TV, the Philips OLED855, which was announced at an event in Amsterdam last month. They also include Philips' new Fidelio X3 headphones, and two monitors – the Philips 279c9 4K monitor, and the TWA8805, all of which were developed especially for the European market by the company's Amsterdam-based design team.
HDTVTest had an early look at the Philips OLED855 during the launch event and was fairly impressed with what it saw. The TV boasts the company's latest P5 video processor that uses machine learning to enhance the picture quality. The AI processor is able to analyze the picture based on factors including its source, colour, contrast, motion and sharpness, and apply adjustments to optimise it according to the content type.
All well and good but the iF Design Awards are more about style than substance, and the Philips OLED855 has bucket loads of that too, with its bold and minimalist design. The TV itself is made using premium materials and finishing that exudes quality and a sense of exclusivity. In addition, the Philips OLED855 has a nice finishing touch in the form of its Ambilight technology, which is a mood lighting system that throws up colourful lighting effects around the screen and looks especially cool in darker rooms.
The net result, according to the iF Award judges, is a product capable of conveying a sensation of high build quality and video.
As for the Fidelio X3 supra-aural headphones, these are said to reinterpret the legacy of the classic Fidelio brand. The materials used include a light steel frame, Kradvat sound-transparent fabric and Muirhead leather.
"The best of European Design is a key unique differentiator for our products," said Rod White, chief design officer at TP Vision. "We feel the way customers interact with our products and the pride-of-ownership created are equally as important as their class leading performance."