LG Dazzles CES With Its OLED Wave Exhibition
By Mike Wheatley
- 9 January 2020
LG Electronics has once again dazzled attendees at the Consumer Electronics Show in Las Vegas, showing off an "OLED Wave" made up of 200 55-inch OLED digital signage displays, and a "Fountain" exhibition which features a moving performance involving multiple LG Signature OLED TV R rollable displays.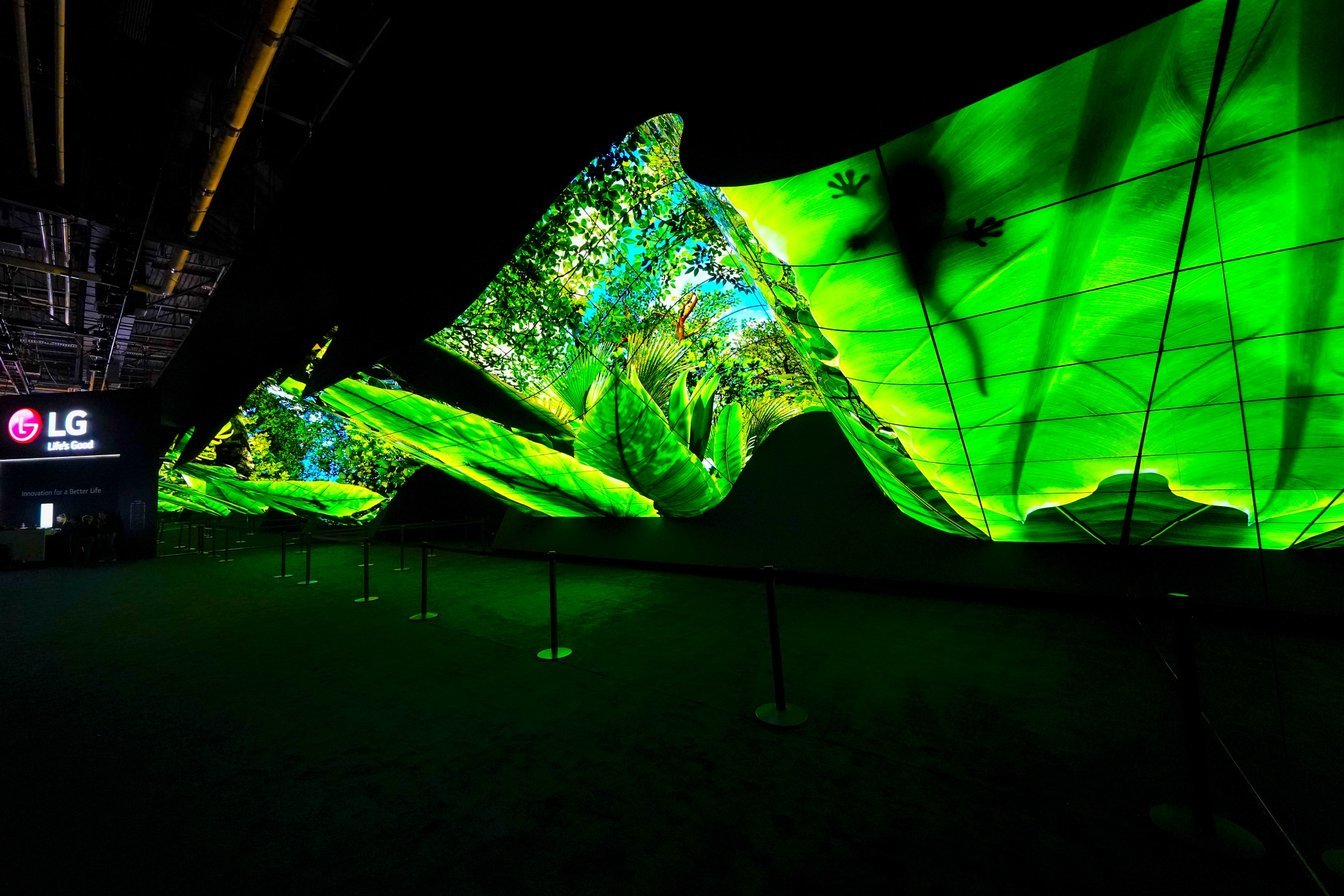 LG's OLED Wave is formed by 128 convex and concave screens and another 72 flat displays with a mirror finish. The colossal OLED Wave is 20 feet tall and 82 feet wide and displays the "glory of the natural world", the company said in a statement.
"From the raw power of the oceans to the birth of the Aurora Borealis in the northern sky, LG OLED Wave fills the senses with images and sound that surround, transporting the audience to some of the most memorable natural events and locations on Earth," LG said.
Meanwhile the Fountain is a synchronised performance involving 20 of LG's revolutionary rollable OLED TVs. The super-thin, super expensive displays showed off their excellent image quality while rolling up and down in a spectacular choreographed sequence.
LG has become famous for its dazzling OLED installations at CES. The first one in 2016 saw LG create an "OLED Tunnel" with screens setup in a dome-shaped configuration to display mesmerising scenes of the night sky, helping it to win a Red Dot Award for Spatial Communication. And at last year's CES, it picked up another Red Dot Award with its stunning OLED Falls exhibition.
In other news at CES, LG has announced that its 2018, 2019, and 2020 TVs will soon get access to the Apple TV app.
"New for 2020, the Apple TV app allows customers to subscribe and watch Apple TV+ and Apple TV channels as well as access their iTunes video library and buy or rent more than 100,000 films and TV shows. Customers with 2018 and 2019 LG TV models will also be able to enjoy the Apple TV app this year," the company said in a statement.
Apple TV+ is Apple's new video streaming service meant to rival Netflix, which was launched in November. User's can access Apple TV+ content via the Apple TV app, which also provides access to the iTunes movie catalogue in 4K HDR10 picture quality.
LG said the Apple TV app would be available on its TVs sometime later this year.