You can now buy one of LG's massive Direct View LED TVs
By Mike Wheatley
- 15 September 2021
If you're willing to go all-out in your hunt for a new, premium TV to adorn your living room you could do lot worse than checking out LG Electronics' new Direct View LED displays, which is the company's name for what's more commonly known as "MicroLED". They were previously only available for commercial uses such as advertising, but now the company says it will sell them to regular folks too.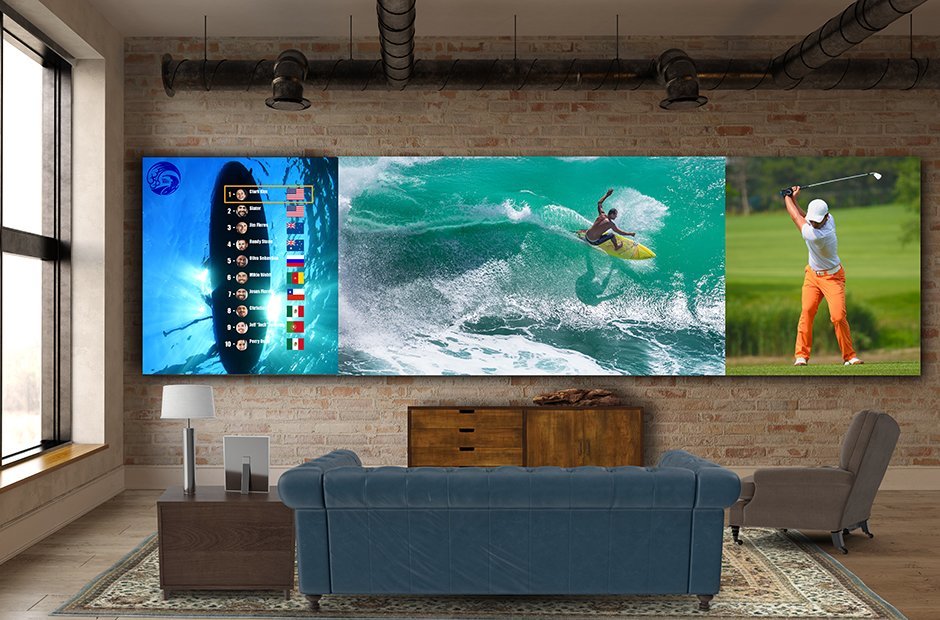 LG's DVLED Home Cinema TVs are absolutely massive, with the smallest size starting at 81-inches and the biggest configuration maxing out at 325-inches. Users can choose from 2K, 4K or 8K resolution.
The display tech is pretty impressive too. With Direct View LED TVs, the images are produced directly by the self-emissive LEDs. That's different from regular LED TVs, which use LCD technology with the LEDs serving as backlights to improve brightness. As LG explains, by using the LEDs to generate the images, users will see appreciably superior contrast ratios and greater brightness. It's a much more vivid and immersive viewing experience overall, LG assures.
Buyers will be able to choose from a standard 16:9 aspect ratio, or as the image above shows, a far wider 32:9 ratio that could be used to view multiple feeds at the same time. So you could watch two live football games at once, with an erotic movie in the middle, if you want to spice things up. Altogether, LG is offering a full range with over 30 pre-built and packaged screen solutions as well as custom configurations.
The LG DVLED Home Cinema TVs are a custom installation, which means you can't just stroll down to your local TV shop and pick one up. Rather, interested buyers must contact LG, who will send an authorised dealer to come and install it in their home. The independent dealers who meet LG's qualifications receive full training in installation and customer support, and also get a subscription to LG's Connected Care software that enables them to monitor each customer's system performance. LG said will send one of its own engineers to assist with on-site installation, plus twice annual on-site "health checks" for three years after it's all set up.
LG said the TV and all accessories will arrive in branded flight cases, ensuring that everything is fully protected while it's shipped to the customer's home.
Such a TV almost certainly won't come cheap. LG isn't publishing any prices, but rather asking prospective buyers to fill in a form on its website so a salesperson can contact them. That means it will almost certainly cost some serious wedge. Therefore, only serious buyers need apply.